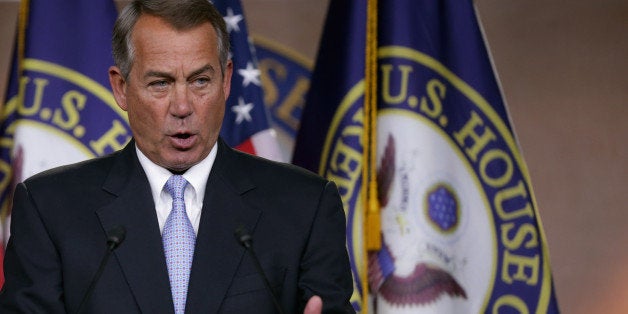 WASHINGTON -- The grudge match between Republicans and Democrats over the president's immigration policies and funding the Department of Homeland Security ended Tuesday -- with a win for Democrats.
House Republicans approved $39.7 billion in funding for DHS without any measures to block President Barack Obama's executive actions on immigration, which could allow as many as 5 million undocumented immigrants to remain in the country and work for three years.
The vote was 257 to 167, with most Republicans voting against the bill.
It was the end of a months-long fight, and a loss for the conservative members who vowed to do anything -- even shut down DHS -- to block Obama's immigration policies. Instead, the House ultimately settled for what many observers predicted was the only realistic solution all along: a "clean" DHS funding bill without the sure-to-be-vetoed provisions to block not only the president's most recent actions, but also previous deportation relief policies and long-standing prioritization on deportations.
But conservatives didn't go down without a fight. Congress took DHS to the brink of a shutdown last Friday, when the Senate passed a clean DHS bill and the House declined to take it up. The first alternative, a three-week continuing resolution, was rejected as well after 52 conservatives broke ranks to vote with Democrats against it. With hours to go before a shutdown, the House voted for funding for one week.
But Senate Republicans had already thrown in the towel by allowing the clean DHS bill to pass, and Democrats put the final nail in the coffin Monday by blocking a House request to go to conference on the legislation. On Tuesday morning, Boehner told Republican members in a closed-door meeting that it was over, according to a source who attended.
He said it was clear a short-term bill might not pass, and that Congress had to prevent a DHS shutdown in light of terrorist threats. Boehner also put some blame on Senate Republicans for failing to do what the House did and pass a DHS funding bill with immigration measures.
"Unfortunately, the fight was never won in the other chamber," Boehner said, according to the source. "Democrats stayed united and blocked our bill, and our Republican colleagues in the Senate never found a way to win this fight."
Conservatives were unhappy, and said House leaders should have pushed harder. But some said they always knew it would end this way.
"Maybe I should be more angry, but I'm not. I'm just sort of resigned to the fact this is exactly where I knew we would be," Rep. Mick Mulvaney (R-S.C.), who opposed the bill, told reporters ahead of the vote. "I think anybody who follows Washington knew this is exactly where we were going to be."
Last month a federal judge in Texas temporarily halted the implementation of the programs announced in 2014 from moving forward as he considers a lawsuit on their constitutionality. Some GOP members see that as a more promising means of undoing the president's immigration executive actions, and voted accordingly.
"When there are differences of opinion as to what's constitutional and what's not constitutional, a court makes that determination," Rep. Mike Simpson (R-Idaho) said on the House floor, urging his members to support the bill.
Republicans also said they would fight on. Sen. Ted Cruz (R-Texas) has said the GOP should block all Obama nominations, including attorney general nominee Loretta Lynch, until he stops his immigration policies.
Sen. Jeff Sessions (R-Ala.), another outspoken opponent of the immigration policies, told HuffPost Tuesday that the next step is to enact legislation on immigration to create a "lawful system." But he said that need not include bills to address the undocumented immigrants whom Obama's executive actions were designed to help, namely those who came to the U.S. as children and the parents of U.S. citizens or legal permanent residents.
"I don't know about that," Sessions said when asked if anything should be done for those groups. "I think foremost, how did all this happen? How did we end up with this many people here unlawfully? That's what the American people are angry with their government leaders about."
UPDATE: 8:15 p.m. -- After the House vote, President Obama issued a statement:
"Every day, the men and women of the Department of Homeland Security work to secure our borders, respond to disasters, guard our coasts, protect our cybersecurity, and keep our ports and airports safe. They're law enforcement professionals and brave patriots who do a remarkable job, and deserve our gratitude and respect. Today, after far too long, Congress finally voted to fully fund their mission. To make sure the Americans who protect our country and our people have the resources they need to get the job done, I will sign this bill into law as soon as I receive it."
Calling all HuffPost superfans!
Sign up for membership to become a founding member and help shape HuffPost's next chapter
BEFORE YOU GO
PHOTO GALLERY
U.S. Capitol Photos