WASHINGTON -- House GOP leaders are looking to reverse course and agree to tea party demands to try to use a vote this week on a must-pass temporary government funding bill to block implementation of President Barack Obama's health care law.
A GOP aide says the latest strategy, to be offered to rank-and-file Republicans at a closed-door meeting on Wednesday, would be to link a "defund Obamacare" provision to a continuing resolution and send it to the Senate. The aide required anonymity to discuss the strategy because it has not been announced.
GOP aides said no final decision has been made – "or will be made, until House Republican members meet and talk tomorrow," Michael Steel, a spokesman for House Speaker John Boehner, R-Ohio, said Tuesday.
The Senate would likely strip out the health care provision and send it to the House, raising the possibility of a confrontation that could lead to a partial government shutdown after the Sept. 30 end of the budget year.
The earlier strategy, rejected last week by angry conservatives, would have sent the measure to the Senate as two bills to ensure the Democratic-controlled chamber would be able to ship the spending measure straight to the White House and more easily avert a government shutdown. The idea was to avoid a subsequent vote on a "clean" stopgap spending bill in the House after Senate Democrats vote to strip the provision out. Stopgap funding bills are typically routine, with neither House nor Senate looking to use them to pick a fight.
The fear is that angry GOP conservatives might withhold their votes rather than surrender to the Senate and its top Democrat, Majority Leader Harry Reid of Nevada.
The idea of defunding Obama's health care law has been a crusade of tea party conservatives such as Sen. Ted Cruz, R-Texas, and outside groups like the Heritage Foundation. Conservatives are frustrated that Republicans control only one chamber of Congress and have little chance to enact their agenda over the opposition of Obama and Senate Democrats.
Conservatives want to take a must-pass bill hostage and add the assault on the Affordable Care Act in an attempt to force Obama and congressional Democrats to make concessions. GOP leaders have viewed the effort with skepticism since Democrats would never go along and that Republicans are likely to get the blame if the impasse leads to a partial government shutdown.
An impasse would leave the government without funding authority to pay its workers, including the military, or enter into new contracts until a bill is passed. But essential programs like the military, air traffic control, food inspection, and disaster relief and firefighting would continue to function since they're related to protecting life and property. And so-called mandatory programs like Social Security and Medicare, which are funded as if on autopilot, would also continue.
National parks would close, most passport applications could not be processed, and the space program would mostly be put on hold, among other hardships.
A top House Democrat, Steny Hoyer of Maryland, said Tuesday that he would not support the stopgap funding bill under any circumstance since it would fund programs at an annualized funding rate of $986 billion, a level consistent with automatic, across-the-board spending cuts known as sequestration that Democrats are trying to reverse.
But if the Democratic Senate goes along with that funding level, as insiders have signaled, and if Obama endorses the straightforward funding measure, House Democrats could likely be counted upon to provide the votes. The question is whether GOP leaders would want to pass the measure with help from Democrats, which Boehner did on several occasions earlier this year to the consternation of conservatives.
Treasury Secretary Jacob Lew said Tuesday that the GOP move is a nonstarter.
"The president's been clear. I've been clear. Efforts to either defund or delay the Affordable Care Act are unacceptable," Lew told the Economic Club of Washington. "That is not a path towards something that can ultimately be signed into law."
The GOP aide required anonymity because the strategy has not been announced.
Before You Go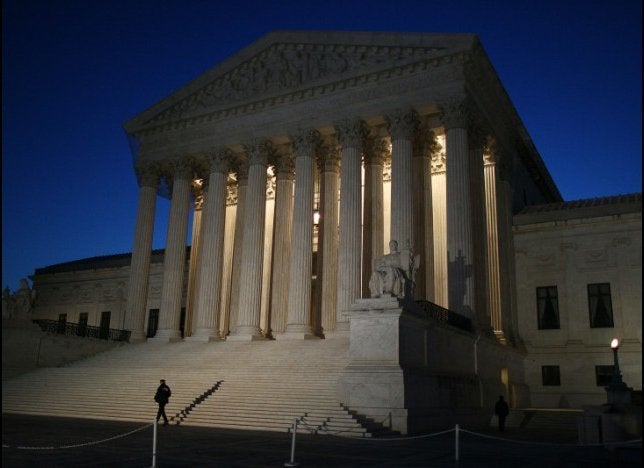 Political Reaction To Health Care Ruling
Popular in the Community