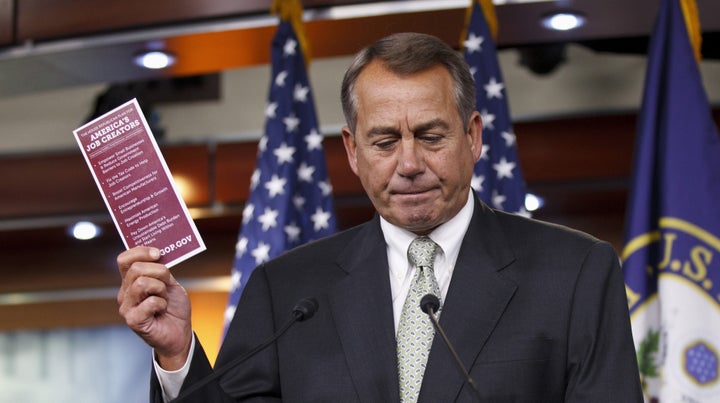 WASHINGTON--Republicans in the U.S. House of Representatives pushed back on Wednesday against suggestions that their drive for deeper spending cuts would break a budget deal they made last summer with Democrats and President Barack Obama.
House Republicans are expected to unveil a budget plan next week that contains at least a $19 billion cut in discretionary spending below the caps enshrined in the Budget Control Act, passed in August to end an impasse over raising the debt limit.
The reductions are being sought to placate fiscally conservative Republicans who are eager to show voters before November elections that they are serious about shrinking the size of government as $1 trillion-plus deficits pile up.
Democrats are crying foul, saying that reneges on an agreement on fiscal 2013 spending levels that was aimed at maintaining fiscal peace and preventing the threat of a government shutdown.
Michael Steel, a spokesman for House Speaker John Boehner, argued there was nothing in the August budget law that prevented Republicans from seeking lower spending. Doing so does not break any deal that Democrats thought existed, as the law does not specify actual spending levels, he said.
"Webster's Dictionary defines a cap as 'an upper limit, as on expenditures,'" Steel said. "This is not a matter of how two sides 'view' anything. The law says that $1.047 trillion is a cap - and a cap is an upper limit. That's not really debatable."
The spending cap in last August deal covers everything from defense spending to student loan programs and government agency budgets. It does not include automatic spending on government benefits such as the Medicare and Social Security healthcare and retirement programs for the elderly.
The August agreement, which averted a threatened default on U.S. Treasury debt, was widely seen in Washington as setting a guide for the total dollar amount of the appropriations bills needed to keep the government running. It was meant to avoid the disputes that threatened government shutdowns last year.
"A deal's a deal and one assumed that they'd be held to it," said Ethan Siegal, a fiscal policy expert who advises institutional investors on Washington politics.
On a strictly legal basis, however, Siegal said House Republicans did have the right to seek lower caps, but political realities meant the effort would never leave their chamber. It would die in the Democratic-controlled Senate or face veto from the White House,
"The only ones who want to reopen this now are a good hundred or so Republican members of the House. They see the only spending cut you can get now is from the annual appropriations," Siegal added.
"The Budget Control Act was a compromise that forced both Democrats and Republicans to accept things they didn't like - this is the very nature of compromise," said Representative Chris Van Hollen, the top Democrat on the House Budget Committee who helped negotiate the budget deal last summer.
"If House Republicans turn around and violate our agreement, it makes the process much more difficult," he said.
But House Budget Committee Chairman Paul Ryan, who is preparing the budget plan, called "A Blueprint for American Renewal," characterized the Republican discretionary spending cuts as getting a head start on dealing with automatic spending cuts that will start to kick in next year unless Congress can agree on $1.5 trillion in future cuts.
A $97 billion across-the-board cut will come on top of the discretionary caps anyway in January, including "devastating" cuts to national security, Ryan said in a statement indicating that defense and homeland security spending would get priority under his plan.
"House Republicans are continuing their efforts to reprioritize the savings called for under the Budget Control Act, because our troops and military families shouldn't pay the price for Washington's failure to take action," Ryan said.
(Reporting By David Lawder; Editing by Peter Cooney)
Popular in the Community