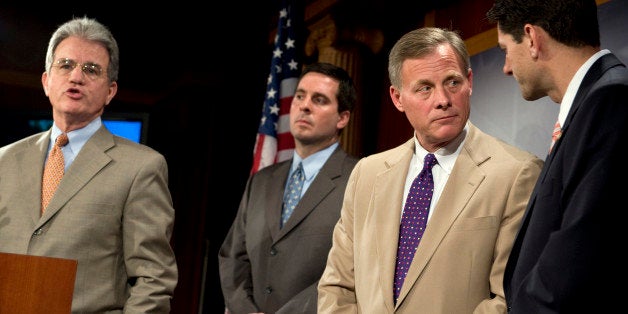 WASHINGTON -- As House Republicans prepare to vote this week on a continuing resolution that would defund Obamacare, several Senate Republicans continue to think they're playing a losing hand.
Sen. Richard Burr (R-N.C.) told The Huffington Post that he still thinks demanding that President Barack Obama's health care law be defunded in order to avoid a government shutdown is a "dumb idea," as he deemed it last July.
"I said it was the dumbest idea I'd ever heard of," Burr said. "I still think it's a dumb idea, because you can't defund Obamacare."
The North Carolina Republican added that he hadn't determined how he'd vote on a continuing resolution, because it wasn't clear what type of bill Senate Majority Leader Harry Reid (D-Nev.) plans to bring to the floor. But a source close to Burr said he opposes a strategy that would tie an effort to defund the health care law to the government funding measure.
Fellow Sen. Tom Coburn (R-Okla.) never intended to vote for a continuing resolution in the first place, his office confirmed, because it would only be a temporary stopgap measure to keep the government running. And he won't do so even if the House version defunding Obamacare makes its way to the Senate floor. But in a statement to The Huffington Post, his top spokesman John Hart said that Coburn continues to see the legislative strategy as a political dead end for the GOP, despite his desire to see the health care law repealed.
"Dr. Coburn is not inclined to support a CR regardless of what it says regarding Obamacare. He views CRs as a terrible and irresponsible way to govern," said Hart. "He believes members are elected to make specific decisions, set priorities, conduct oversight, debate amendments and pass spending bills, which we haven't done in years.

"On the CR, the [Congressional Research Service's] finding is still true –- a government shutdown won't shut down Obamacare. Unfortunately, this plan will delay the fight against Obamacare and lead to higher spending and a more entrenched health care law. President Obama has zero incentive to end his signature achievement while he has shown with his actions he is willing to accept changes. In fact, the bill has been modified on 19 separate occasions. As much as Dr. Coburn would like to immediately defund and replace and repeal the health care law we don't have the leverage to do so and we are undermining better strategies by pretending we do."
Sen. Jeff Sessions (R-Ala.), likewise, told HuffPost he was reluctant to sign onto the 'Defund Obamacare' effort being pushed by his fellow Republicans.
"I think it's admirable that Sens. Cruz, Lee and Rubio have gotten us to this point. We're talking about it at a national level," he said, referencing the three senators who have led the push. "I unequivocally believe we should repeal Obamacare, but I'm just not sure this is the right way and that's why I have been reluctant to sign onto their letter."
And Sen. Kelly Ayotte (R-N.H.) shot down the idea during a Wednesday appearance on CNN.
"Let me say that I have heard so much concern about Obamacare and I have supported repealing it," Ayotte said. "But I don't think shutting down the government is productive. I think we should make every effort we can to make sure we stop this law, but I don't believe they should shut down the government to do so, and I don't think that is a strategy that is good for America."
The comments from the four senators further complicate the House GOP's position heading into a critical stretch of budget fights. Despite resisting the calls from the conservative wing of his caucus for weeks, House Speaker John Boehner (R-Ohio) announced Wednesday that House Republican leaders would bring a stopgap government funding bill to the floor as soon as Friday that permanently strips the Affordable Care Act of its funding.
"We're going to continue to do everything we can to repeal the president's failed health care law," Boehner told reporters at a press conference, flanked by House GOP leadership. "The law is a train wreck. The president has protected American big business. It's time to protect American families from this unworkable law."
Few House GOP leaders appear to truly be holding out hope that Obamacare will be defunded through this process. Instead, they are hoping to wage the fight now so that when the continuing resolution fails in the Senate, they can assure their conservative members that an attempt was made. After that, the focus will shift to October's fight over raising the nation's debt ceiling, which will likely offer another attempt for Republicans to go after the president's signature health care law.
UPDATE: Sen. Sessions, through a spokesman, sent over a clarifying quote, noting that he supports any effort to defund Obamacare -- including what the House is doing with the continuing resolution -- but suggesting that there are other ways to do so.
I am glad the House is taking steps to defund Obamacare and am supportive of its efforts to do so. Suggesting I am not supportive of the House effort is absolutely false. My position has simply been that we should not be limited in the tools we use to accomplish this goal or wed to any one single tactic. Obamacare is a monstrous law and I am dedicated steadfastly to its elimination.
Luke Johnson contributed reporting.
Before You Go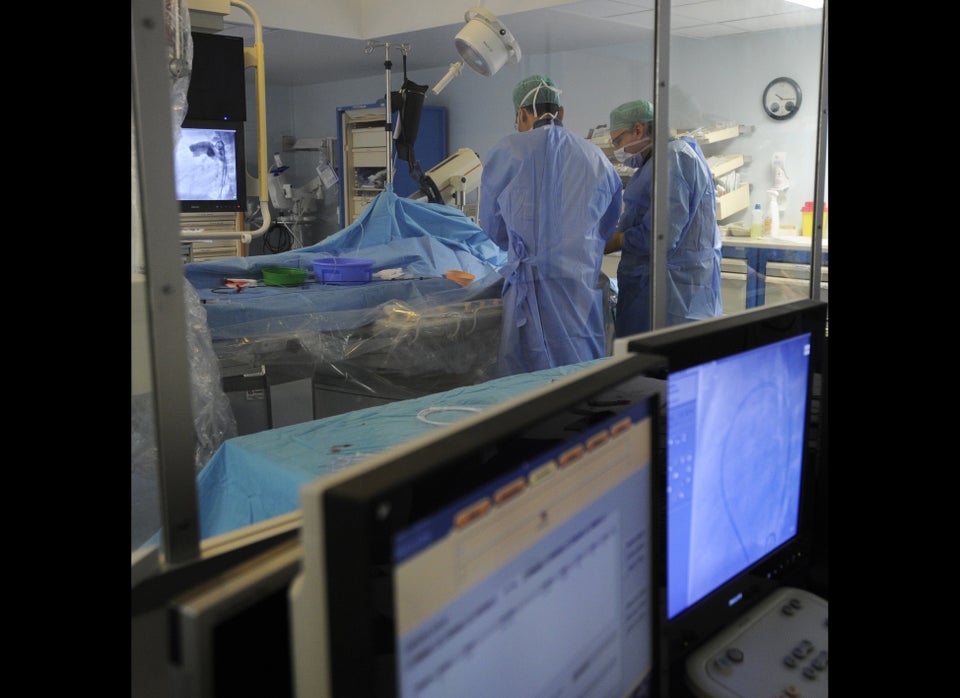 Lies And Distortions Of The Health Care Debate
Popular in the Community