WASHINGTON -- House Republicans are set to vote next week on a bill to fund the Department of Homeland Security that will be coupled with a number of hard-line conservative measures going after President Barack Obama's central immigration policies. The bill is likely to set up a weekslong fight between Republicans and the president that could risk shutting down DHS at the end of next month.
The $39.7 billion DHS funding package was introduced on Friday, and will be coupled next week with amendments limiting the president's immigration authorities. One amendment is expected to block Obama's recently announced executive actions on immigration, which could give work authorization to up to 5 million people who are in the country illegally. Members said the legislation would also halt the 2012 Deferred Action for Childhood Arrivals policy, which protects undocumented young people who came to the U.S. as children.
Along with those measures, members said the amendments would reinstate the controversial Secure Communities immigration enforcement program, which DHS Secretary Jeh Johnson announced would be ended late last year due to pushback from state and local officials. The package is also expected to do away with most of the "Morton Memos," guidance from Immigration and Customs Enforcement that instructs agents to focus deportation efforts on immigrants who are perceived as more dangerous or who have recently crossed the border illegally.
GOP members huddled on Friday morning to discuss the plan before it was introduced. The package pleased conservatives in the House, but is likely doomed in the Senate. Even if it passed in the upper chamber, though, the bill would almost certainly get a veto from the president.
Republicans said they were aware that their bill will face opposition from Obama and Democrats, but wanted to stake out their position early in the DHS funding process.
"We're starting from a conservative standpoint as opposed to negotiating with the Senate before we even pass a bill," Rep. Robert Aderholt (R-Ala.), whose immigration bill will be partially integrated into the funding measures, told reporters after the House GOP conference meeting. "So we're starting from a very conservative aspect on this."
The bill could lose some GOP members, though likely not many. Rep. Jeff Denham (R-Calif.) said he was "not happy with the current status of the bill," pointing specifically to the DACA provision.
"We've got to deal with immigration -- immigration as a whole, reforming our system across the nation," said Denham, who has opposed previous bills to end DACA. "Just picking on the children that came here through no fault of their own, I think, is the wrong way to start."
Rep. Matt Salmon (R-Ariz.), who supports the plan, said only a small group of House Republicans had expressed concern about the bill. He noted that all of the issues raised had been about the DACA provisions, not the strength of the bill overall. Almost everyone else is on board, he said.
"This is as close to 100 percent as we've ever gotten on a tough issue like this," Salmon said.
House Speaker John Boehner (R-Ohio) said during a Thursday press conference that he does not expect that to happen, and that his conference would move forward with efforts to block Obama's executive actions on immigration.
"I don't believe that the funding of the department is, in fact, at risk," he said. "What is at risk is the rule of law and the sanctity of America's constitution. The president has taken actions that are beyond the scope of his ability and Congress cannot just sit here and look the other way."
Boehner, when asked whether House Republicans would ever pass a DHS funding bill that did not stop Obama's immigration actions, didn't give a yes or no answer.
There are "a lot of options available to us," he said. "When we pass our bill, we'll see what the Senate can do with it and then we'll act."
Rep. Raul Labrador (R-Idaho) said Friday that he had told fellow GOP members during the conference meeting that they needed to begin thinking about what the next step would be, once the Senate likely rejects the House bill. He said they will discuss the matter at a GOP retreat next week, which will take place after the vote on DHS funding.
Republicans, Labrador said, needed to "draw a line in the sand so the president understands he's putting the nation's national security at risk and he's putting illegal immigration ahead of people that are here legally."
Labrador said the most vital aspect for a final funding bill will be to go after the executive actions that the president announced late last year.
"It doesn't have to have all of these measures, but I think we need to roll back what [Obama] did in November," Labrador said.
This story has been updated to include more information about the DHS funding package.
Before You Go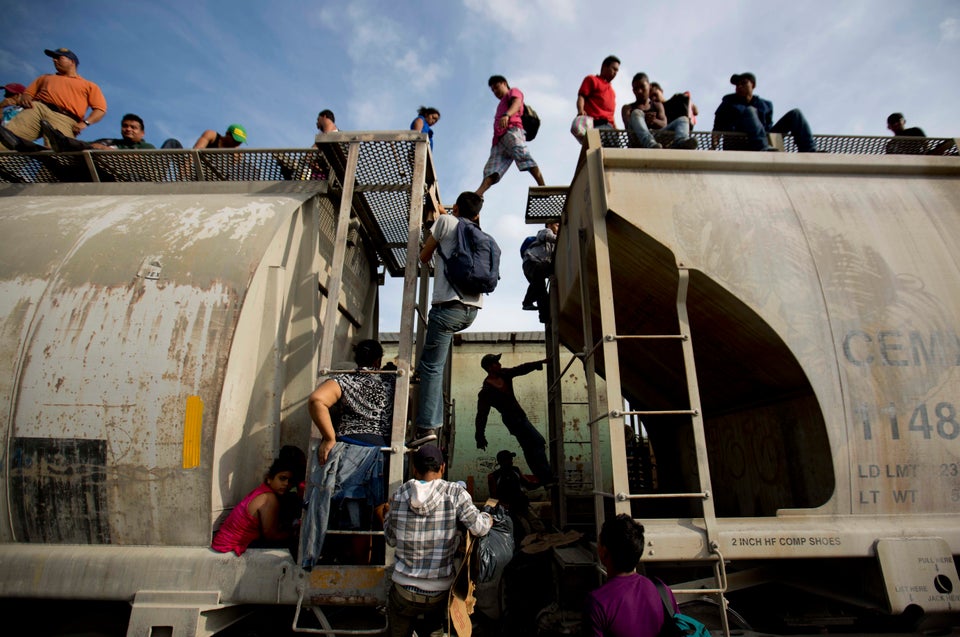 Why Latin Americans Really Come To The U.S.
Popular in the Community