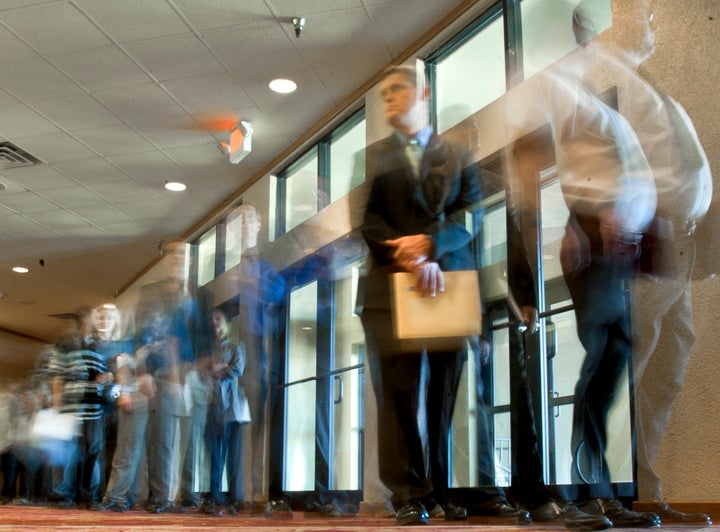 Congressional Republicans announced legislation on Thursday that would let states cut unemployment insurance for the long-term jobless and toughen work search requirements for benefits recipients.
The Jobs, Opportunity, Benefits, and Services Act -- get it? "JOBS Act" -- would allow states to use federal funds to pay for state-level jobless benefits and to pay back federal loans to depleted state unemployment trust funds.
The bill is sponsored Rep. Dave Camp (R-Mich.), chairman of the House Ways and Means Committee, which oversees jobless aid. "The JOBS Act is about giving States the flexibility to spend current funds better, preventing job-destroying tax hikes and helping unemployed individuals find new jobs," Camp said in a statement. "It doesn't add to the deficit, and simply lets States use current funds more wisely."
States pay the first 26 weeks of unemployment insurance benefits for workers laid off through no fault of their own. During recessions, Congress temporarily gives the jobless additional weeks of federally-funded benefits, and during the current jobs crisis, the federal government has given the long-term unemployed in 25 states an unprecedented 73 weeks of extra aid. House Republicans say there's $31 billion of aid remaining before the federal programs expire at the beginning of next year.
According to the National Association of State Workforce Agencies, state unemployment trust funds are insolvent in 30 states, forcing the agencies to borrow from the federal government or capital markets to pay those first 26 weeks of benefits. As of March, 33 states owe the federal government $46 billion. Higher federal taxes can automatically kick in for states that have outstanding unemployment loans for multiple years.
Congressional Republicans want to give states the ability to limit the federal dollars flowing through their workforce agencies and use the money instead to pay back the feds. According to a summary of the bill, "States will have the ability to decide fewer weeks of benefits make more sense, and use any savings to prevent job-destroying unemployment tax hikes," the summary said. "The choice would be theirs, not Washington's. It's that simple."
Democrats don't like the idea.
"This is the opposite of a jobs bill –- it is a hatchet job on the unemployment insurance program," said Sandy Levin (D-Mich.), the top Democrat on Ways and Means. "With this legislation, Republicans are proposing to end this year's guaranteed benefit for the long-term unemployed, just like they've proposed ending the guaranteed benefit for Medicare recipients."
Earlier this year, congressional Democrats proposed a two-year moratorium on state interest payments to the federal government for unemployment benefits. That proposal has stalled.
Several states have already decided to limit benefits. When Congress reauthorized federal benefits in December, it gave states with high unemployment levels the option of remaining eligible for the federal Extended Benefits program, which provides the final 20 weeks of benefits. North Carolina, Tennessee and Wisconsin did not take Congress up on the offer and dropped the program on April 16; Arizona is set to do the same thing in June.
In Missouri and Michigan, lawmakers traded continued EB eligibility for reduced state benefits. A spokesman for Missouri state senator Jim Lembke (R), who filibustered to block the federal benefits earlier this year in an effort to send an anti-spending message to Washington, said he approved the GOP's JOBS bill. "We find it encouraging that the federal government is listening and paying attention to the states," Lembke spokesman James Murphy said.
The new legislation would give states a lot of freedom to modify federal unemployment programs. For instance, states would be able to reduce the number of weeks available in the Emergency Unemployment Compensation program, which provides up to 53 weeks of benefits for workers who exhaust 26 weeks of state benefits. The EUC program is broken into four tiers, which trigger on and off depending on a state's unemployment rate. The rate is high enough for the full 53 weeks in 29 states, according to an analysis by the Center on Budget and Policy Priorities, a progressive Washington think tank.
The National Employment Law Project, which lobbies in favor of more generous benefits for the jobless, will oppose the measure.
"This will allow states to take the money Congress has allocated for unemployment benefits and instead allow them to use it to pay off the debt they brought on themselves because they did not forward-fund their unemployment programs," said NELP's Judy Conti. "We agree states should not have to pay interest right now but the answer to that is not to steal money from the mouths of the unemployed."
The JOBS Act also includes reforms to require those in danger of exhausting benefits without finding work "to engage in education or training" and to "strengthen job search requirements." Conti said the latter provision would likely require newly laid-off workers to take any available job, even "ridiculously inferior employment," rather than holding out for something more comparable to a worker's previous job.
Click here for a one-page PDF summarizing the bill.
Support HuffPost
The Stakes Have Never Been Higher
Popular in the Community