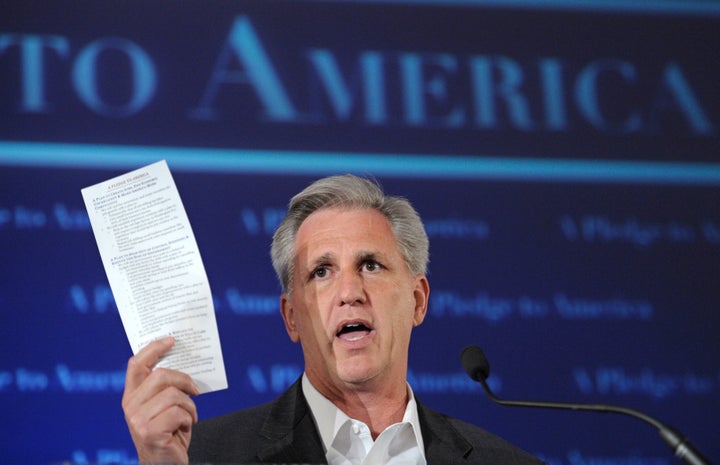 WASHINGTON -- House Majority Whip Kevin McCarthy reaffirmed Tuesday that House Republicans would push for another temporary extension on government funding, despite concerns from the White House that heated debates surrounding a string of short-term budget stopgaps could roil skittish markets.
The California Republican, following up on a statement on the House floor by Majority Leader Eric Cantor (R-Va.), said his party would introduce either a two-, three-, or four-week funding bill in an effort to prolong negotiations over a compromise that would fund the government through Sept. 30, the end of the fiscal year.
Speaking during a Christian Science Monitor breakfast, McCarthy didn't detail which programs would be targeted in another short-term bill, but he said Republicans will include at least $2 billion in funding cuts per week to meet their goal of trimming $60 billion from the budget by fiscal year's end. He said Republicans still have "quite a few" ideas for additional cuts.
The White House has offered $6 billion in further reductions. Though the Obama administration has opposed the prospect of a series of short-term funding allocations, Democratic officials have recently warmed to the idea, more concerned by the threat of a government shutdown if no budget bill makes it through Congress.
Senate Democrats have said the House Republicans went too far with a bill that includes $61 billion in cuts, which passed through the House in February but is expected to fail a test vote in the Senate this week.
"I don't know if [Senate Majority Whip Dick] Durbin can get there, but Durbin is in a completely different place than the rest of the country," McCarthy said.
McCarthy said Democrats, particularly in the White House, were too slow to engage in the debate over government funding. Senate Democrats originally proposed funding the government at a level $40 billion below Obama's budget request for fiscal year 2011. After weeks of insisting they would not concede any further cuts, they did just that -- a legislative cave that McCarthy predicted would come to pass again.
"Now we got to the two-week CR, and the Democrats gave up on their principle about freezing," McCarthy said.
Once funding for the remainder of the year is determined, McCarthy said House Republicans will turn their attention to next year's budget and will push to change the way entitlements are distributed. He said freshmen Republicans, who are by and large more conservative than the conference as a whole, are focused on a macroeconomic approach to funding cuts.
Compromises over the government funding set the stage for the entitlement fight to come, McCarthy said.
"You have to crawl before you walk and walk before you run. Right now we're in the crawling stage," he said. "To deal with entitlements, we'll have to be really steady on our feet."
Calling all HuffPost superfans!
Sign up for membership to become a founding member and help shape HuffPost's next chapter