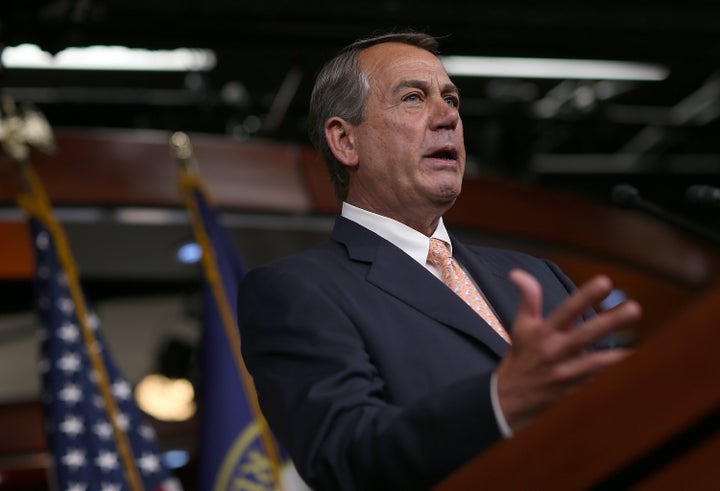 WASHINGTON -- If House Republicans get their way, cities and counties would either need to cooperate fully with immigration enforcement or lose federal grants for their police forces.
The House of Representatives approved a bill Thursday to block law enforcement grants to so-called sanctuary cities. The vote was 241 to 179, mostly along party lines.
The bill from Rep. Duncan Hunter (R-Calif.) received a veto threat from the White House earlier in the day. But it's only one of many bills introduced in the House and Senate after the shooting of Kathryn Steinle in San Francisco earlier this month. The undocumented immigrant man charged with her murder, Juan Francisco Lopez-Sanchez, had seven prior felony convictions and had been deported five times.
Lawmakers from both parties have said he should not have been on the streets and that something should be done to prevent those like him from being released. But Democrats, human rights groups and many mayors and law enforcement officials say Republican proposals go too far -- potentially promoting unconstitutional detentions, threatening public safety and overstepping states' and localities' ability to set their own policies.
Many of the more than 300 jurisdictions around the country that limit work with ICE agents, usually to a lesser degree than San Francisco, don't consider themselves "sanctuaries" at all, particularly since most partially cooperate. Officials in those jurisdictions argue their policies prevent unconstitutional detention of people they have no warrant or judicial order to detain, and help ensure immigrants will come to them to report crimes.
Republicans say those arguments are bogus, and that there is blood on the hands of local officials and the Obama administration for allowing undocumented immigrants to go free.
"In my view, someone in this administration probably should be arrested for negligent homicide or for any of another dozen crimes that are so frequently committed by illegal immigrants in this country who shouldn't even be here," Rep. Lamar Smith (R-Texas) said at a House Judiciary Committee hearing on Thursday.
Federal and local officials have been pointing fingers at each other over Lopez-Sanchez's release. He was most recently sentenced in May 2011 for illegal re-entry into the U.S. after being deported, and was in federal prison until March 2015. After he served his sentence, the Bureau of Prisons transferred Lopez-Sanchez to the San Francisco Sheriff's Department for a 20-year-old marijuana possession charge. When prosecutors declined to pursue that charge, he was released. San Francisco Sheriff Ross Mirkarimi said ICE should have taken steps to keep him in custody, but ICE officials say they were not notified that he was set to be released.
ICE officials have said this didn't need to happen. Under the Priority Enforcement Program, or PEP, a new policy meant to bring on board jurisdictions that limited cooperation with ICE, the agency asks local law enforcement for notification before releasing certain people suspected of being undocumented.
Democrats have proposed making policy changes surrounding notifications to ICE or communication to prevent individuals like Lopez-Sanchez from being released. Sen. Dianne Feinstein (D-Calif.) said this week she is working on legislation that would require local law enforcement to inform ICE before making such releases. House Minority Leader Nancy Pelosi (D-Calif.) and Rep. Zoe Lofgren (D-Calif.) suggested that federal prisons should not release individuals to local law enforcement on warrants when there is a high likelihood those charges will be dropped, as happened for Lopez-Sanchez.
Tax-payers in other jurisdictions should not be punished for what happened in San Francisco, said House Democratic Caucus Chairman Xavier Becerra. He represents Los Angeles, which limits its cooperation with ICE.
"This is not the way we do justice in America and it is wrong," he said on the House floor. "It is wrong for you to tell all these communities that have established a working relationship between their police officers and their growing immigrant communities that they're going to now lose funds to hire more police officers."
Republicans want to go beyond threatening federal law enforcement grants. Some bills would mandate a five-year minimum sentence for illegally re-entering the U.S. after being deported, and require local law enforcement to hold suspected undocumented immigrants based on ICE detainer requests regardless of qualms over constitutionality, cost or impact on policing.
Judiciary Committee Chairman Bob Goodlatte (R-Va.) said on the House floor Thursday that he received a commitment from House Majority Leader Kevin McCarthy (R-Calif.) that more immigration enforcement legislation will be brought to the floor.
He and other Republicans have cited figures that ICE released 30,558 convicted criminals in fiscal year 2014, 1,423 of whom went on to commit other crimes, as reasons that additional immigration reform laws are needed.
Homeland Security Secretary Jeh Johnson and ICE Director Sarah Saldaña have said that mandating detainers would be counter-productive, although they said they want local law enforcement to work with them. That's the goal of PEP, and 33 of the 49 priority jurisdictions have already signed on, according to Johnson and Saldaña.
In the veto threat, administration officials said Hunter's bill would harm those efforts.
"The Congress should give PEP a chance to work, instead of displacing that collaborative approach -- which prioritizes the worst offenders -- with the coercive approach of this bill, which makes no such differentiation," the statement of policy reads.
Popular in the Community