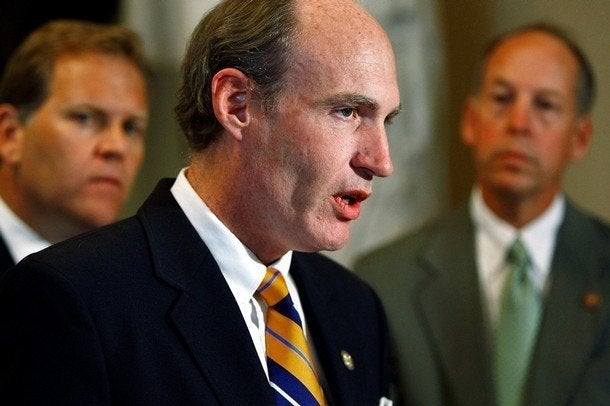 Even as his party blocks Democratic attempts to expand health insurance for humans, a Republican congressman is trying to round up support for a bill that would provide a $3,500 annual tax deduction for Americans to pay for the medical care of their pets.
Rep. Thaddeus McCotter (R-Mich.) sent out a "Dear Colleague" letter on Tuesday asking fellow members to co-sponsor his Humanity and Pets Partnered Through the Years (HAPPY) Act, despite the upsurge in concern over the rising cost of health care coverage for actual humans.
"Dear Colleague," the letter reads.
"According to the 2007-2008 National Pet Owners Survey, 63% of United States households own a pet. Indeed, the human-animal bond has been shown to have a positive effect upon people's emotional and physical well being. In families with children, pets help to create a nurturing environment and provide ample educational opportunities. For people in later stages of life, pets offer important companionship. No matter the age of the owner, pets have been shown to reduce stress, safeguard against depression, improve social skills, and even ease loss.
"In light of this, please join me in becoming a cosponsor to H.R. 3501, the Humanity and Pets Partnered Through the Years (HAPPY) Act. If enacted, H.R. 3501 would amend the Internal Revenue Code (IRC) to allow an annual tax deduction of up to $3500 for qualified pet care expenses. Specifically, "qualified pet care expenses" would be defined as funds spent in connection with providing care (including veterinary care) for a legally owned, domesticated animal."
McCotter's proposed legislation has, not surprisingly, been praised by pet's rights advocates who say it will help provide proper care for animals and ensure that people suffering from the recession don't abandon their pets.
But considering the political context in which the bill is being pushed, it's hard not to scratch one's head. It has become a mantra within the GOP that health care reform legislation (for humans) being considered by Democrats would drain the government of money at a time when the deficit is already out of control. Moreover, as pointed out by the site, Blogging for Michigan, the congressman's legislation would result in many Americans having a greater financial incentive to provide health care coverage to their pets than to themselves.
The IRS only allows me to deduct medical and dental expenses that exceed more than 7.5% of my adjusted gross income. Here's an example from their website:

'Your adjusted gross income is $40,000, 7.5% of which is $3,000. You paid medical expenses of $2,500. You cannot deduct any of your medical expenses because they are not more than 7.5% of your adjusted gross income.'

But apparently I could deduct up to $3500 that I spend on my dog!
McCotter has defended the introduction of his legislation by arguing that Congress can, in fact, do more than "one thing at a time." Introduced at the end of July, the bill currently has no cosponsors.