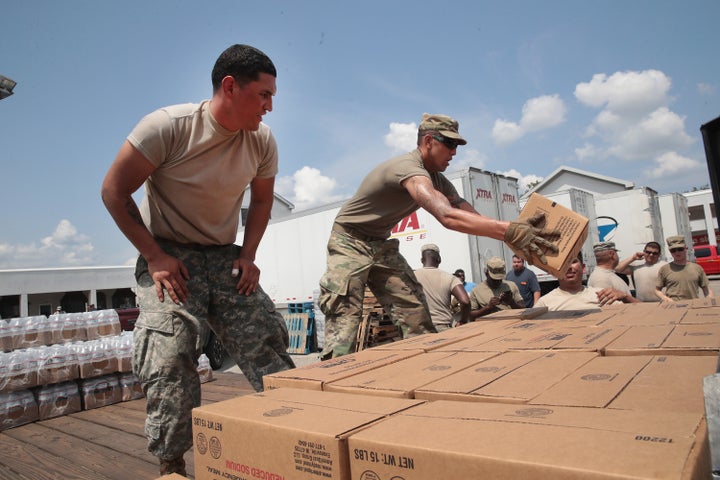 WASHINGTON ― House Republican leaders announced on Monday that lawmakers would vote this week on an initial relief package for victims of Hurricane Harvey, potentially removing a key carrot for winning over GOP votes on a deal later this month to raise the U.S. debt ceiling and avert a government shutdown.
The $7.85 billion package includes $7.4 billion earmarked for the Federal Emergency Management Agency's disaster relief fund. The money would replenish FEMA coffers so that it can continue to respond to Harvey and meet the immediate needs of other crises that may arise. The other $450 million would go to the Small Business Administration's disaster loan program, designed to help individuals and small businesses begin rebuilding their homes.
While the package almost certainly won't be the last funding legislation responding to the damage caused by Harvey in southeastern Texas, it could complicate other urgent matters facing Congress.
Government funding runs until Sept. 30, close to the time that the government's borrowing authority expires. A leading option for congressional leaders has to address both issues in a bill to extend funding until mid-December through a so-called continuing resolution and raise the debt ceiling for some yet-to-be-determined period.
Although such legislation may not naturally be too popular among Republicans ― especially if it doesn't fund President Donald Trump's border wall and does fund certain Obamacare payments to win over Democrats ― GOP leaders had believed the inclusion of Harvey aid could be enough to get many of their party members to support the bill.
A second round of disaster relief ― tightly focused to the specific needs of southeastern Texas ― still could be part of a continuing resolution/debt ceiling measure. But there's also the chance that acting this week of partial Harvey-related aid will remove some of the motivation for conservatives to grudgingly back a spending/debt ceiling deal.
The conservatives could more reasonably argue that they showed their support for Harvey aid at the beginning of the month, but that they do not back raising the debt ceiling without structural spending reforms or funding the government if Trump doesn't get money to build his wall.
In August, Trump told a rally in Phoenix that he was getting funding for that wall even "if we have to close down our government." That sort of condition could be a real problem for GOP leaders, as Democrats seem to have no intention of giving in to Trump's demands and are reasonably confident that the public would blame Republicans for a shutdown.
Again, GOP leaders may still intend to attach a larger Harvey aid package in the final version of a continuing resolution/debt ceiling bill. They can still argue that Harvey aid is a key win for Congress, and that voting 'no' would come with the political backlash of ignoring a devastated community.
But letting lawmakers vote on the initial Harvey aid package first, tempering any immediate criticism that they're heartless, could prove to be a political misstep, even as the GOP leaders try to do the right thing.
REAL LIFE. REAL NEWS. REAL VOICES.
Help us tell more of the stories that matter from voices that too often remain unheard.