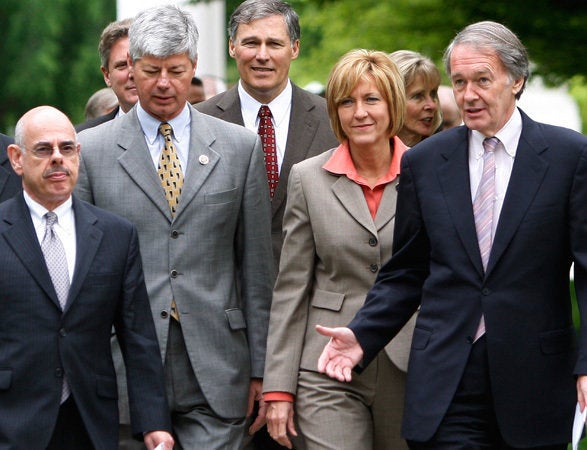 After nearly two weeks of delays, a health care bill passed the House Energy and Commerce Committee late Friday night, setting the stage for a full floor vote in the lower chamber -- but not for more than a month, as the House will be on vacation until Sept. 8.
The committee passed its reform bill 31 to 28, with five Democrats joining every Republican in voting no. House Speaker Nancy Pelosi and other Democratic leaders said at a press conference earlier Friday that they will spend much of their August recess working to reconcile the Energy and Commerce bill with the stronger bills passed by the Ways and Means and Education and Labor committees on July 17.
Energy and Commerce Chairman Henry Waxman (D-Calif.) had been furiously negotiating with warring Democratic factions since negotiations broke down early last week.
"Today is a historic moment for the House of Representatives and a defining moment for our country," Waxman said in a statement. "It is a significant victory that all three committees in the House have worked together to pass comprehensive health reform legislation for all Americans. This bill will deliver the results the nation's health care system so desperately needs: lower costs, better quality, and broader coverage. I hope that when we return from recess, the House will act expeditiously to enact this bill into law."
The seven conservative Blue Dog Democrats on Waxman's committee stood as the primary obstacles to the bill throughout the past two weeks. The five Democrats who ultimately voted against the bill included three of those seven -- Reps. Jim Matheson of Utah, Charlie Melancon of Louisiana and John Barrow of Georgia -- plus Reps. Bart Stupak of Michigan and Rick Boucher of Virginia.
The four Blue Dogs who voted to support the bill were Reps. Bart Gordon of Tennessee, Baron Hill of Indiana, Zack Space of Ohio and frontman Mike Ross of Arkansas.
With the aid of Obama administration officials, Waxman and those four struck a deal Wednesday that delayed the full House vote past August, weakened the bill's public health care option and cut $100 billion over 10 years, much of it in subsidies for uninsured members of the middle class who would be ineligible for the public plan.
Those concessions prompted an outcry from House progressives, 57 of whom signed a letter to House leadership and the three committee chairmen protesting the Blue Dog deal. Waxman struck a deal between the progressives and Blue Dogs early Friday morning that left the public option delinked from Medicare and forced to negotiate its own rates, but restored the middle-income subsidies by shifting funds from existing federal health care programs. The deal also slightly reduced the cost of premiums for the uninsured, from 12 percent of a household's annual income to 11 percent.
Alongside that agreement, Pelosi promised a floor vote on a single-payer health care system that would be fully government-run, Waxman told the committee Friday night. After Waxman's announcement, Rep. Anthony Weiner (D-N.Y.) agreed to withdraw his single-payer amendment from consideration in the Energy and Commerce bill. Weiner then high-fived Rep. Tammy Baldwin (D-Wis.), who with Reps. Eliot Engel (D-N.Y.), Mike Doyle (D-Penn.), Bobby Rush (D-Ill.), Jan Schakowsky (D-Ill.) and Peter Welch (D-Vt.) helped cut the deal with Pelosi.
Though Republicans were sidelined throughout the private negotiations among Democrats, they managed to briefly delay the incorporation of the intraparty Democratic deals as the committee debate stretched into Friday night. Finally Waxman overrode the procedural complaints of ranking member Joe Barton (R-Texas) and forced a vote on the Blue Dog agreement. First, however, Republicans expressed disappointment that the Blue Dogs were unable to water the bill down more or cut the public option entirely. "You allowed them to pick the color of the lipstick that's going on this pig," Rep. Mike Rogers (R-Mich.) grumbled to Waxman shortly before the amendments were added to the bill.
The final Energy and Commerce vote was even closer than the votes in the two other two House committees. Education and Labor passed its bill by a vote of 26 to 22, opposed by all committee Republicans and three Democrats -- Reps. Jason Altmire (D-Penn.), Jared Polis (D-Col.) and Dina Titus (D-Nev.). The Ways and Means markup, which includes tax increases, passed 23 to 18. There, too, three Democrats joined the united Republican opposition: Reps. Ron Kind (D-Wis.), Earl Pomeroy (D-N.D.) and John Tanner (D-Tenn.).
While the House has now cleared its last remaining obstacle to a full floor vote, things are moving more slowly in the Senate. Ted Kennedy's Health, Education, Labor and Pensions Committee passed its bill two weeks ago under the stewardship of Sen. Chris Dodd (D-Conn.), but Sen. Max Baucus (D-Mont.), who chairs the Senate Finance Committee, told reporters Thursday that he would not have a final version of the Finance bill before the Senate leaves for vacation at the end of next week.
Both parties are already sharpening their knives in preparation for each member's monthlong battle for public opinion back home. Republican talking points leaked Friday argue that reform will simultaneously hurt both the insurers and the insured. "During a recession that has seen the loss of 6.5 million jobs, Democrats propose a government takeover of health care that will lead to increased costs, fewer jobs, higher taxes and less health coverage," the Republican memo reads.
"Democrats appear ready to leave town for the August recess with a so-called deal in hand. I think it's safe to say that, over the August recess, as more Americans learn more about their plan, they're likely to have a very, very hot summer," House Minority Leader John Boehner (R-Ohio) said Thursday.
For their part, Pelosi and other House Democratic leaders sought this week to unite their party against the insurance companies Pelosi deemed the real "villains."
"The glory days are coming to an end to the health insurance industry in our country," Pelosi said at a press conference Friday afternoon, calling the industry's profits "obscene." In a conference call with reporters immediately before the press conference, Pelosi lieutenant Rep. Chris Van Hollen (D-Md.) condemned the Republican "campaign of lies."
The White House is reaching out to help its allies in Congress frame the debate. Senior Obama adviser David Axelrod and Office of Health Reform head Nancy Ann DeParle held a closed-door messaging strategy meeting with House Democrats Friday morning, and Pelosi said Friday afternoon that the president will continue to stump for the forthcoming reform bills during the recess.
Calling all HuffPost superfans!
Sign up for membership to become a founding member and help shape HuffPost's next chapter