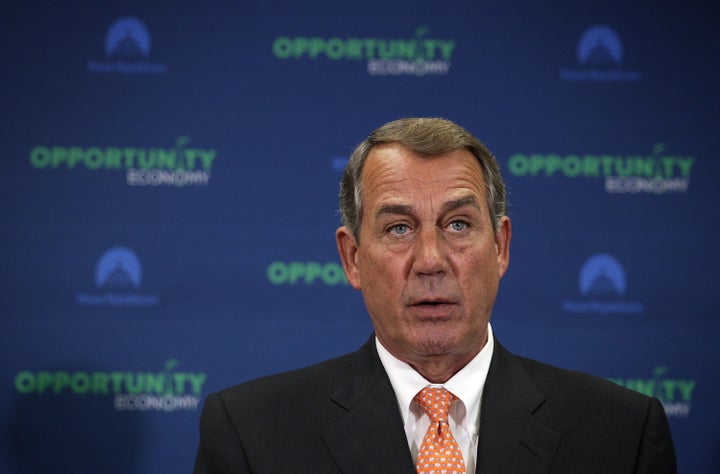 WASHINGTON -- In an effort to stave off a lapse in highway funding, House Republican leaders are pushing another bill through the chamber, but this time it will pay for the nation's transportation infrastructure for three months. 
The Highway Trust Fund, which on average accounts for over half of the money states funnel into their roads, bridges and highways, is set to run dry on July 31, unless Congress passes legislation extending funds. 
After voting two weeks ago on a five-month bill, which has been ignored by the Senate, the House is trying again with a three-month extension. 
House Speaker John Boehner (R-Ohio) told reporters on Tuesday that the House would vote on the three-month extension Wednesday and then leave town a day early. The House had originally planned to leave after handling business on Thursday. 
House Majority Leader Kevin McCarthy (R-Calif.) said the shorter extension in funding would allow time to "work out our disagreement in the process" before pushing through a longer bill. 
"Within that bill we will also deal with the shortfall in the [Veterans Affairs] when it comes to funding," McCarthy added. The provision will allow the Veterans Affairs Department to redistribute about $3 billion to cover a budget shortage.
The House decision to move a shorter bill for the plagued Highway Trust Fund, which has experienced 33 small patches since 2009, comes as the Senate is full steam ahead on its own version.
Senate Republican leaders went their own route, moving a three-year bill over the last week. The upper chamber is expected to pass that legislation early Wednesday morning.
Asked if House leaders had discussed the new plan with Senate Majority Leader Mitch McConnell (R-Ky.), Boehner said they had, but that no consensus was reached.
"It was discussed, but was it pre-baked? No," Boehner said, adding that he didn't get any confirmation the Senate leader would move the bill. 
In recent months, House and Senate Republican leaders have found themselves on opposing paths over major legislation, including NSA reforms. 
"Sen. McConnell and I work very closely together on a whole host of issues, but there are times when the Senate has to do what the Senate has to do and the House has to do what the House has to do," Boehner said. "It doesn't happen very often; it's just happening this week." 
Calling all HuffPost superfans!
Sign up for membership to become a founding member and help shape HuffPost's next chapter