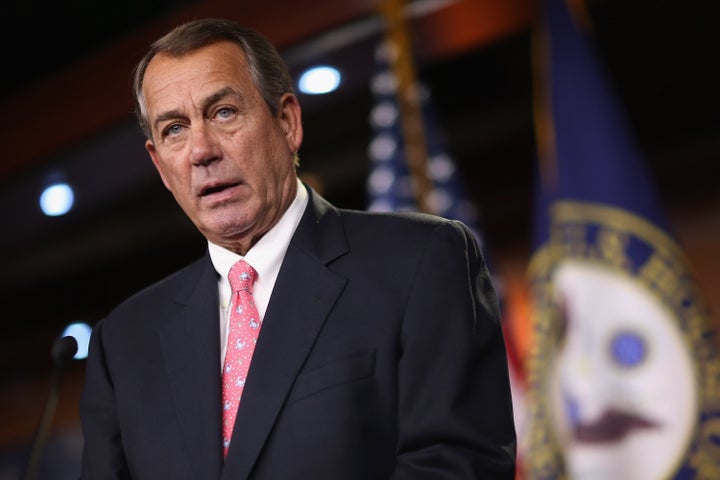 WASHINGTON -- The House voted 385-34 Wednesday to extend funding for the nation's troubled transportation infrastructure for three months. 
It's the second time in a little over two weeks that the House has voted to stave off a lapse in the Highway Trust Fund, which runs out of money on July 31. The first bill, which would have paid for the fund for another five months, didn't get any love from the Senate.
The upper chamber decided to take the route less traveled and squeeze out a three-year highway funding bill before the deadline. The House didn't bite, leaving Republican leadership in Congress rushing to come to a consensus four days before falling off the highway cliff. 
Democrats railed against House Republicans on the floor ahead of the vote, asking why they didn't produce a longer fix for the ailing highway fund. House GOP leadership said the short patch will afford the House the time it needs to work on a strong, multiyear bill. 
"We never fix anything here," Rep. Jim McDermott (D-Wash.) said.
The three-month bill passed by the House will extend funds until Oct. 29. The plan, as of right now, is that the two chambers will conference their respective multiyear bills in time to stave off a lapse in funding when the next deadline is reached. 
The House took some grief from transportation and manufacturing groups for refusing to take up the Senate's larger bill. National Association of Manufacturers CEO Jay Timmons accused Congress of letting the world pass the U.S. by.
"Congress had the opportunity to pass two bills that would immediately secure and create jobs for manufacturers in the United States and help our nation achieve sustained prosperity: a long-term highway funding bill and a bill to reauthorize the Ex-Im Bank," Timmons said. "Congressional inaction on both is gambling jobs in the United States, ceding our mantle of economic leadership to foreign competitors and hurting small businesses and manufacturers."
The Senate bill would have reauthorized the Export-Import bank, which provides loans to those purchasing American exports, but going to conference puts that provision at risk.  
The Senate is expected to quickly pass the extension before the impending July 31 cliff. Democrats have said they will support the legislation, which includes a provision to help the Veterans Affairs Department by allowing it to transfer $3 billion to cover a budget shortfall. 
When Congress returns after its August recess, lawmakers will be under increased scrutiny to find a way forward on a bill for the highway fund. Since 2009, Congress has passed 33 short patches, leaving states constantly guessing when and how much money they will receive for major transportation projects and maintenance. 
Calling all HuffPost superfans!
Sign up for membership to become a founding member and help shape HuffPost's next chapter