WASHINGTON -- Rep. John Carter (R-Texas), a member of the bipartisan House group working on an immigration bill, said Monday that his group's plan will have a tougher path to citizenship than the Senate "gang of eight" legislation -- which he said could be defined as "amnesty."
"It's not as easy as the Senate side, [but] it's not as bad as anybody might think it is," Carter said of the House group's bill at a discussion hosted by the National Immigration Forum and the Texas Tribune, in conjunction with the Greater San Antonio Chamber of Commerce and the San Antonio Hispanic Chamber of Commerce. "It has compassion. It allows people to be human beings, to live a normal life, to have a job, to take care of their family, to pay their taxes, to obey the law and go about their lives."
Carter appeared with another House immigration reform supporter, Rep. Luis Gutierrez, in San Antonio, Texas. They wouldn't get into specifics of their bill -- the House's eight-person group has been tight-lipped about timing and details -- but did say they agree with some of the broad strokes of the "gang of eight" plan.
That bill, which was released earlier this month, would allow undocumented immigrants to gain legal status and a path to citizenship, but only after certain border provisions were met. It would also mandate employer verification and address undocumented young people, two issues that Carter and Gutierrez said their bill will also address.
The House is expected to be a tougher haul than the Senate for passing immigration reform, and last week its immigration leaders announced they would pursue a piecemeal path. Carter and Gutierrez are pushing for comprehensive reform in a single bill, unlike House Judiciary Chairman Bob Goodlatte (R-Va.) and Immigration Subcommittee Chairman Trey Gowdy (R-S.C.).
Immigration matters are supposed to go through the Judiciary Committee, and Carter acknowledged that could pose a problem -- although he said he wants his group's legislation to go through regular order. But, he said, he thinks in the end that the bill could win support from a majority of Republicans and a majority of Democrats, which would mean House Speaker John Boehner (R-Ohio) could remain within the realms of the so-called "Hastert Rule," which informally states that speakers should not pass bills opposed by a majority of the conference.
"I think Speaker Boehner is going to allow this bill to come to the floor, and we hope it will be the majority of the majority, but we don't know," Carter said. "We went into this whole project saying that there's x number of people on both sides of the aisle that aren't going to vote for immigration reform no matter what -- take those out and see what we have left to get this passed. That's probably what's going to happen."
Both congressmen said they're not 100 percent pleased with the agreement, but they're willing to compromise. The other members of the group are Reps. Mario Diaz-Balart (R-Fla.), Xavier Becerra (D-Calif.), Sam Johnson (R-Texas), Raul Labrador (R-Idaho), Zoe Lofgren (D-Calif.) and John Yarmuth (D-Ky.).
"There are going to be things that I accept as part of our bipartisanship that I wouldn't have come up with, that I wouldn't have suggested," Gutierrez said.
Carter said the "gang of eight" bill seems less likely to convince Republicans who are skeptical of reform and view a path to citizenship as amnesty.
"I would argue they haven't touched all of the bases they should touch, but they're definitely going in the right direction," he said. "They're going to have a hard time getting past the fairly sizable group of people in this country who are saying, 'You're giving them something for breaking our laws in this country without any consequences.' There's an awful lot of people that -- they're not against the immigrants, they're against the law-breaking."
Asked whether that means he views the bill as amnesty, he gave a partial yes.
"I'm sure they would argue it doesn't, but yeah, I think in the definition that's out there in the general public, that awarding citizenship without really any consequences is amnesty," Carter said. "Now, there's various views of that, and others disagree. What's wrong with the word 'amnesty' is there's an awful lot of disagreement on what it means."
Before You Go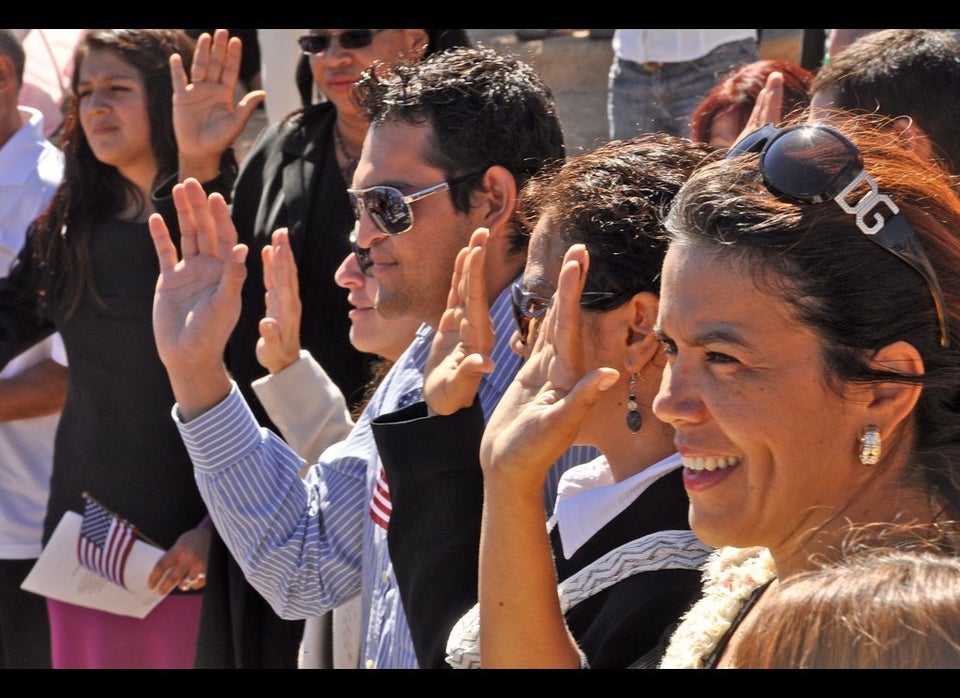 10 Major U.S. Federal Immigration Laws
Popular in the Community