An effort by a bipartisan House group to create a comprehensive immigration reform bill has stalled, group member Rep. Luis Gutierrez (D-Ill.) said Friday, and likely won't produce any bill this fall, as two Republicans have dropped out of negotiations.
The group of seven members had been working for years on comprehensive immigration reform that would, unlike most GOP proposals, include a path to citizenship for undocumented immigrants. It suffered a blow in June when Rep. Raul Labrador (R-Idaho) dropped out over health care issues, but the remaining members continued to insist they were close to a deal. They announced they had agreed to key principles in May, but observers began to worry they wouldn't release a bill at all when the process continued to drag on. It was never clear whether House GOP leadership would allow a vote on the group's legislation, even if they were to introduce it.
The group consisted of Democratic Reps. Gutierrez, Zoe Lofgren (D-Calif.), Xavier Becerra (D-Calif.) and John Yarmuth (D-Ky.), plus Republican Reps. Mario Diaz-Balart (R-Fla.), Sam Johnson (R-Texas) and John Carter (R-Texas) -- but Johnson and Carter have now quit negotiations.
Johnson and Carter issued a joint statement on Friday afternoon saying they "are honored to have worked" with the group, but will no longer do so.
"After years of hard work and countless meetings, we have reached a tipping point and can no longer continue working on a broad approach to immigration," they said. "We want to be clear. The problem is politics. Instead of doing what's right for America, President Obama time and again has unilaterally disregarded the U.S. Constitution, the letter of the law and bypassed the Congress -- the body most representative of the people -- in order to advance his political agenda. We will not tolerate it. Laws passed by Congress are not merely suggestions, regardless of the current atmosphere in Washington. Laws are to be respected and followed by all -- particularly by the Commander-in-Chief."
They went on to say Obama's actions on Obamacare have proved he should not be granted additional discretion because "any measure depending on the president's enforcement will not be faithfully executed."
"The administration's practice of hand-picking what parts of laws they wish to enforce has irrevocably damaged our efforts of fixing our broken immigration system," they said.
Lofgren issued a statement after Johnson and Carter had announced their decision saying she is "sure that they would agree that our efforts during these last several years were characterized by mutual respect and serious legislative work." She went on to say the group's efforts could still be used to help move forward immigration reform.
"In the end, it's the Republican leadership that must make a decision on whether they intend to allow the current broken immigration system to continue as it is, or whether they will allow the House to vote on reform," she said. "I continue to be hopeful that Republican leaders will schedule votes on serious reform measures that aren't host to known poison pills. It can be done. Let's hope Congress can perform this basic task."
Gutierrez also put out a statement in response to the news, and said advocates will continue to pressure House leaders to allow a vote on comprehensive reform. The statement read in part:
John Carter, Sam Johnson, and Mario Diaz-Balart put a lot of blood, sweat and tears into our group and are among a few dozen Republicans I think will be critical to successfully getting a solution out of the House. Right now things are partisan and polarized and Carter and Johnson took a shot at President Obama in pulling out of the group, but everyone knows there are two critically important reasons we need to pass immigration reform. One, our commitment to justice, our security, our economy and the growth of our nation require a modern immigration system based on the rule of law and both parties understand we need legislation to get us there. Secondly, there are enough sensible Republicans who understand that the future of their party depends on getting this issue resolved.
Becerra said in a statement that he was saddened the group is now at an impasse, but also promised to continue to push for immigration reform.
Only one Republican, Diaz-Balart, is still with the group, although he said in a statement that he shares his GOP colleagues' frustration with the president.
"I will continue to work with my colleagues on both sides of the aisle to solve the issues of our country's broken immigration system," he said. "I've long said that immigration reform will not be easy, but I'm continuing to find other avenues that will ultimately lead to a solution that the American people demand," he added later.
This post has been updated with comment from additional members.
Before You Go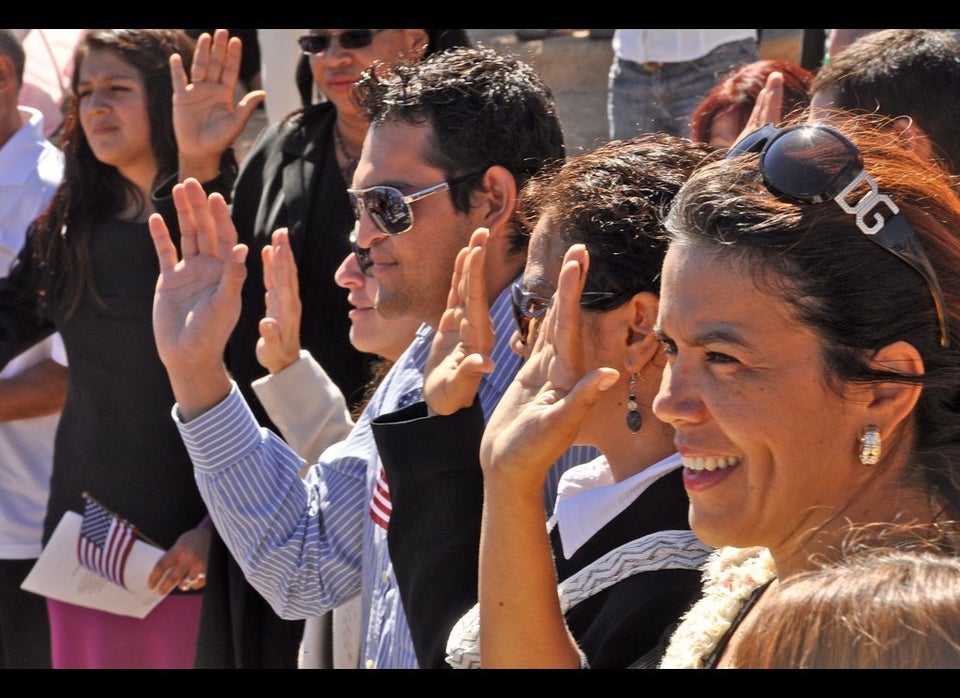 10 Major U.S. Federal Immigration Laws
Popular in the Community