WASHINGTON ― Fifty-eight House Democrats voted to advance the impeachment of President Donald Trump on Wednesday, in direct defiance of the pleas of House Democratic leaders earlier in the day.
A vote to table the impeachment resolution was agreed to 368-58, with four Democrats voting just "present" and 126 other Democrats voting with Republicans to kill the resolution.
It may seem like this was an overwhelming confirmation of Trump ― and it was, in the sense that no Republican voted to advance impeachment and more than two-thirds of Democrats joined their GOP colleagues ― but 58 Democratic votes is still a significant statement on impeachment.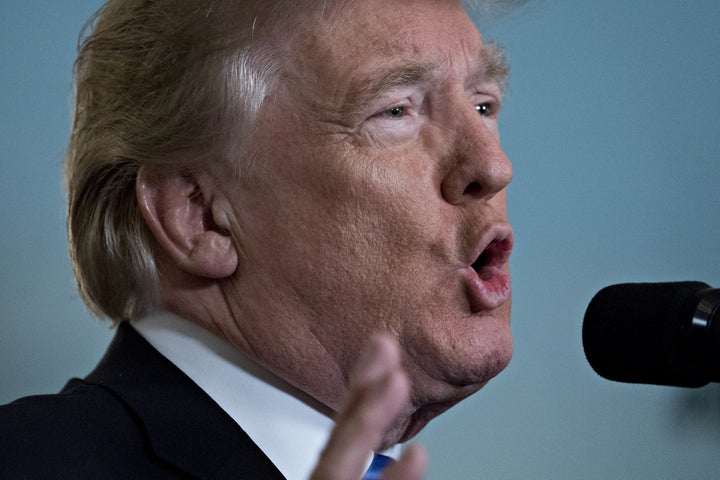 House Minority Leader Nancy Pelosi (D-Calif.) and Minority Whip Steny Hoyer (D-Md.) issued a joint statement just before the vote urging their Democratic colleagues to reject the impeachment resolution. They presented the vote as a distraction from efforts to kill the Republican tax bill, which is swiftly making its way through Congress, and they cited the special counsel's investigation of Trump, as well as inquiries from congressional committees, to plead with Democrats to hold off.
"Now is not the time," Pelosi and Hoyer wrote.
But the most progressive wing of the Democratic caucus, bolstered by a large number of Congressional Black Caucus members ― including the No. 3 Democrat, Assistant Democratic Leader Jim Clyburn (S.C.) ― ignored Pelosi and Hoyer and voted for impeachment.
The resolution was introduced by CBC member Al Green (D-Texas), who was talked out of forcing an impeachment vote earlier in the year.
Green, wearing an American flag tie, said his resolution wasn't about Democrats or Republicans; it was about democracy, about "the fate of our republic."
"May everyone vote their conscience knowing that history will judge us all," Green said.
Rather than attacking Trump over issues like Russia, Green's impeachment resolution hits Trump for race-baiting, bigotry, anti-Semitism, and a number of Trump's comments, including his statements after the protests in Charlottesville, Virginia; comments against the governor of Puerto Rico; and even Trump's crusade against NFL protests.
By not bringing Russia into the matter, the resolution may just be a proxy for the general anger toward Trump in the Democratic base, and Green may have had an easier time arguing to his colleagues that his resolution should proceed.
Despite Pelosi and Hoyer's concerns that the impeachment resolution would simply become a cudgel to divide Democrats, the vote will likely help some Democratic members, particularly those in far-left districts.
But the vote might not be without consequences. Unabashed liberal Rep. Jared Polis (D-Colo.) and more moderate Rep. Tim Walz (D-Minn.), who are both running for governor of their respective states, also voted to advance the impeachment process.
Still, Green argued that civility from Democrats had prevented them from confronting Trump for too long.
"In doing this, hatred disguised as acceptable political correctness has festered in our body politic and polluted our discourse to our detriment. It divides and damages the social fabric of our country in ways that obstruction of justice cannot. It causes unparalleled destruction to our society in the long- and short-term that will not easily heal," Green wrote in a letter to his colleagues.
Popular in the Community