WASHINGTON ― House Intelligence Committee Chairman Devin Nunes (R-Calif.) announced on Thursday that he will temporarily step down from leading the panel's investigation into Russian meddling in the U.S. election.
But if Democrats and others are hoping this will enable a no-holds-barred examination of possible ties between the Kremlin and President Donald Trump's campaign, they may be in for a bit of disappointment.
Nunes' decision to recuse himself came amid questions over his independence from the White House and his commitment to uncovering possible collusion between the Trump campaign team and Moscow. In his place, Reps. Mike Conaway (R-Texas) ― assisted by Trey Gowdy (R-S.C.) and Tom Rooney (R-Fla.) ― will take control over the inquiry.
The three men have voiced similar doubts about ties between Russia and the Trump administration.
Last month, the House Intelligence Committee convened a high-profile public hearing in which members had the chance to question FBI Director James Comey and National Security Agency head Adm. Mike Rogers about the intelligence community's assessment that Moscow interfered in the 2016 election to help Trump win. Conaway told the witnesses he was skeptical of the conclusion by 17 U.S. intelligence agencies that Russian President Vladimir Putin favored Trump.
"The logic is because he really didn't like candidate Clinton, that he automatically liked Trump. That assessment is based on what?" Conaway asked Comey.
"It's based on more than that, but part of it ... is the logic," Comey said, before borrowing a sports metaphor. "Whoever the Red Raiders are playing, you want the Red Raiders to win. By definition, you want their opponents to lose."
"I know, but this says that you want her to lose, and him to win," Conaway said of the assessment.
Comey appeared perplexed. "They're inseparable. It's a two-person event," Comey said.
"When did you decide [Vladimir Putin] wanted him to win?" Conaway asked.
"Logically, when he wanted her to lose," Comey said, to laughter.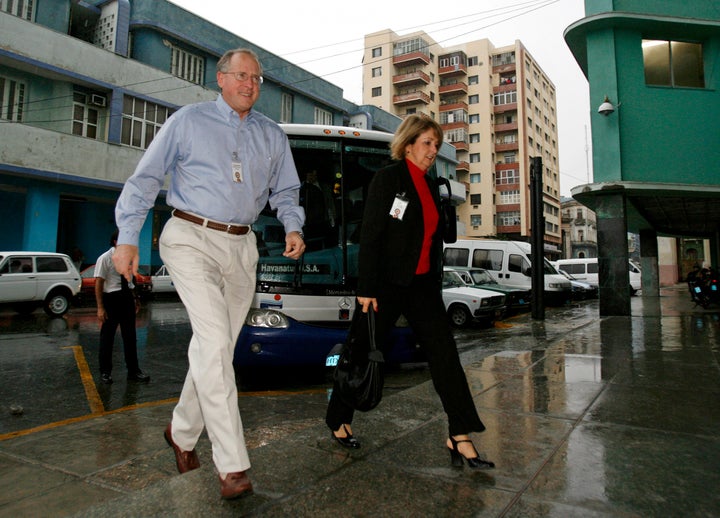 Intelligence officials acknowledge that ascribing motive to an action is one of the harder parts of their jobs. But Conaway has cast doubt on whether the action in question ― Russian meddling in the election ― even took place.
In an interview in January with the The Dallas Morning News, the congressman compared foreign cyber attacks and leaks targeting Democrats to efforts by the Democratic party to get out the vote among Latino communities in Nevada. He noted that Democrats last year brought in a famous Mexican singer and Mexican band as entertainment for a "fiesta" following the third presidential debate in Las Vegas.
"Those are foreign actors, foreign people, influencing the vote in Nevada. You don't hear the Democrats screaming and saying one word about that," he said in an interview with The Dallas Morning News.
Asked whether his example was truly on par with an unprecedented foreign intrusion into a U.S. election, Conaway replied, "Sure it is, it's foreign influence. If we're worried about foreign influence, let's have the whole story."
The seven-term Texas congressman was a vocal Trump supporter during the presidential campaign, standing by him even after video emerged last year of Trump bragging about sexual assault. Conaway's wife, Suzanne, also helped campaign for Trump in North Carolina.
"The logic is because he really didn't like candidate Clinton, that he automatically liked Trump. That assessment is based on what?"
Gowdy, one of the panel members who will be assisting Conaway, honed his investigative skills as the head of the two-year, multi-million dollar probe into former Secretary of State Hillary Clinton's role in the Benghazi attacks ― which ultimately found no evidence of wrongdoing by Clinton.
For all of Gowdy's enthusiasm for investigating Clinton, he appears less concerned by the intelligence community's assessment that Russia interfered in last year's election in an effort to help Trump win.
During last month's hearing with Comey and Rogers, Gowdy used a significant portion of his allotted time to question the witnesses about the possibility of prosecuting journalists who publish classified information and their sources.
"Is there an exception in the law for current or former U.S. officials requesting anonymity? Gowdy asked Comey, referring to a statute that forbids classified leaks.
There is no exception for U.S. officials, Comey responded.
"Is there an exception in the law for reporters who want to break a story?" Gowdy continued.
Comey appeared unsure of how to respond. "That's a harder question," he said, explaining that it was not something that had been prosecuted in his lifetime.
Rooney, the other committee member who will assist Conaway in leading the Russia investigation, is not a close Trump ally. Unlike Conaway and Gowdy, he withdrew his support for Trump in October when the video emerged of the then-candidate bragging about assaulting women.
But in past comments, Rooney appears to have prejudged the outcome of his committee's investigation. "We have zero evidence that the Russian government and Trump campaign coordinated in any way," he told constituents at a town hall meeting last month.
Popular in the Community