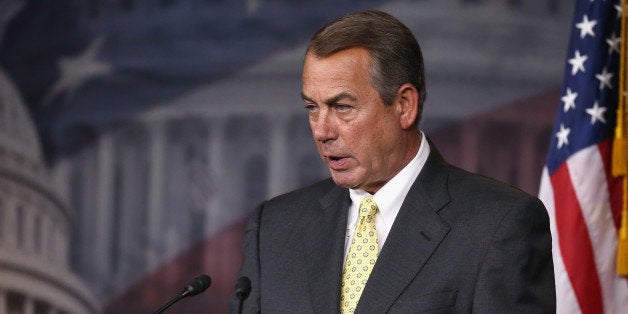 WASHINGTON -- A bill designed to give Congress authority to weigh in on a nuclear deal with Iran passed easily in the House on Thursday, by a vote of 400 to 25. The legislation passed in a form identical to the version approved by the Senate last week, which President Barack Obama has said he would sign.
The ease with which the Iran bill, originally authored by Senate Foreign Relations Committee Chairman Bob Corker (R-Tenn.), is moving through its final stages belies the contentious nature of the original effort. Up until just hours before the bill passed unanimously out of the Senate panel in April, Obama had been threatening to veto the bill, while Democrats remained wary of offering their support to legislation that the administration opposed.
"Why did we change our position on the Corker bill? The short of it is there were certain things in the original legislation that were extraordinarily problematic for us," Colin Kahl, national security advisor to Vice President Joe Biden, said on Thursday, speaking at an Arms Control Association event just before the House vote.
The White House took specific issue with language in the original bill that was understood to give Congress the right to vote any final nuclear deal up or down. The administration argued that this constituted an unprecedented intrusion into the president's ability to conduct foreign policy and could derail sensitive negotiations over Iran's nuclear program.
"I think there is concern that Congress setting the precedent of weighing in on every executive agreement in the national security space could be quite problematic for the conduct of foreign policy -- not just for this president, for any president, Republican or Democratic," said Kahl.
Another deal-breaker for the White House was a clause in Corker's original bill that required the president to certify to Congress that Iran was not supporting acts of terrorism against the United States. According to Kahl, this certification would have created "a circumstance in which the worst actors in Iran could engage in the worst activities around the world and do it to sabotage the deal -- which doesn't strike me as something we'd want to encourage."
Recognizing that it would be impossible to get a veto-proof majority on the original version of the bill, Corker teamed up with Senate Foreign Relations Committee ranking member Sen. Ben Cardin (D-Md.) to craft a compromise that would make the legislation more palatable to the White House, and therefore to congressional Democrats. The compromise shortened Congress's review period to a maximum of 52 days (originally it had been 60) and clarified the extent to which lawmakers would be able to weigh in on the nuclear agreement. The deal, reached by Corker and Cardin in the final hours before the committee vote, also removed the controversial terrorism certification requirement.
While the compromise bill ultimately passed with bipartisan support in both the House and the Senate, not all members were pleased with the watered-down result. "No country that I know of exports terrorism more than Iran does," said Rep. John Fleming (R-La.), who cast one of the few opposing votes on Thursday. "So why wouldn't we do everything possible to prevent them from getting the most potent weapon devised by man?"
A final nuclear agreement with Iran is expected on June 30. Assuming Obama signs the Iran bill, he will be required to provide Congress with all documents pertinent to the agreement. In addition, his ability to suspend congressionally enacted sanctions after reaching a deal will be frozen during a congressional review period of 30 to 52 days. At the end of that period, Congress can decide to vote on a resolution of approval or disapproval of the nuclear deal. Alternately, it can elect to do nothing and allow the agreement to be implemented without weighing in.
Because it is improbable that a resolution of disapproval would get the two-thirds majority necessary to override a presidential veto, the nuclear deal is likely to move forward.This was readily apparent to lawmakers who opposed the bill.
"I just don't think that Congress should be rubber-stamping a president who negotiated behind our backs with a state sponsor of terrorism and then go along with a deal I think is doomed to fail, which means that Iran will end up where it wants to be, which is to be a nuclear power and could be a big threat to the world," Fleming said after the vote.
While Congress deliberates about the lifting of certain unilateral sanctions, other elements of the nuclear deal are likely to move forward, including the lifting of United Nations and European Union sanctions in exchange for a significant dismantling of Iran's nuclear program.
Laura Barron-Lopez contributed reporting.
This is a developing story and will be updated.
REAL LIFE. REAL NEWS. REAL VOICES.
Help us tell more of the stories that matter from voices that too often remain unheard.
BEFORE YOU GO
PHOTO GALLERY
Scenes From Capitol Hill