WASHINGTON -- The House of Representatives sent a bipartisan message to President Barack Obama Friday, warning the commander-in-chief that lawmakers do not want him to escalate war in Iraq without first going to Congress for permission.
Passed by a large 370 to 40 majority, the resolution declares: "The President shall not deploy or maintain United States Armed Forces in a sustained combat role in Iraq without specific statutory authorization for such use enacted after the date of the adoption of this concurrent resolution."
It's unclear whether the Senate would pass such a resolution, or whether it would trump the two authorizations to use military force that Congress granted the White House after 2001, both of which remain in effect.
Nevertheless, lawmakers intended Friday's vote as a strong signal to Obama that they want him to go to them first, before a crisis might force him to take aggressive military action in a situation that both parties acknowledged could deteriorate even further than it has already.
"The time to debate our re-engagement in Iraq, should it come to that, is before we're caught in the heat of the moment, not when the first body bags come home, not when the first bombs start to fall, not when the worst-case scenario is playing out on our TV screens," said Rep. Jim McGovern (D-Mass.), who sponsored the resolution with Rep. Walter Jones (R-N.C.). "The time to debate Iraq is when we can weigh the pros and cons of action, the pros and cons of supporting the violent and sectarian policies of the Maliki government, or whatever government is cobbled together should Maliki be forced to step down."
Foreign Affairs Committee Chairman Ed Royce (R-Calif.) acknowledged that legislators would be divided on whether to commit more forces if Obama asked, but argued that the president should at least honor Congress' constitutional authority to go to war.
"If they did decide to take more action in Iraq, members on both side of the aisle would be deeply split," Royce said. "Some believe we should be more active in this region, believing our absence has turned it into a vacuum. But where I think all members can agree is that if the president of the United States ordered U.S. armed forces into sustained combat in Iraq, then he should be coming to Congress to seek an explicit statutory authorization and backing."
While the Senate is not obligated to take up the resolution, some senators have expressed concern about the president's unfettered ability to ramp up hostilities. Although Obama has sent several hundred U.S. forces to Iraq to help advise Iraqis on how to quell the insurgency of Sunni extremists in the western part of the country, he has promised there will be no new combat role for American forces in Iraq.
UPDATE -- 3:15 p.m.: The rare bipartisan action won quick praise from a coalition of war opponents, Win Without War. The group's advocacy director, Stephen Miles, said in a statement:
Today the House of Representatives made clear that they stand with the American public, who do not want to go back to war in Iraq. By passing H. Con. Res 105 overwhelmingly, the House also sent a strong message to President Obama that there is no authorization for any escalation of US military involvement in Iraq.

The challenges in Iraq are deeply complex and there is simply not a way for America to bomb our way to a solution. While we continue to welcome the President's opposition to sending combat troops, we remain concerned that over 800 American military personnel are currently in harm's way in a nation increasingly embroiled in a violent sectarian conflict. After nearly 13 years of trying to solve such challenges militarily in Iraq and Afghanistan, with little success, the American people simply do not support another war in the Middle East. Instead, we hope today's clear message against military escalation will encourage the President to double down on diplomatic efforts and a robust humanitarian response.
Michael McAuliff covers Congress and politics for The Huffington Post. Talk to him on Facebook.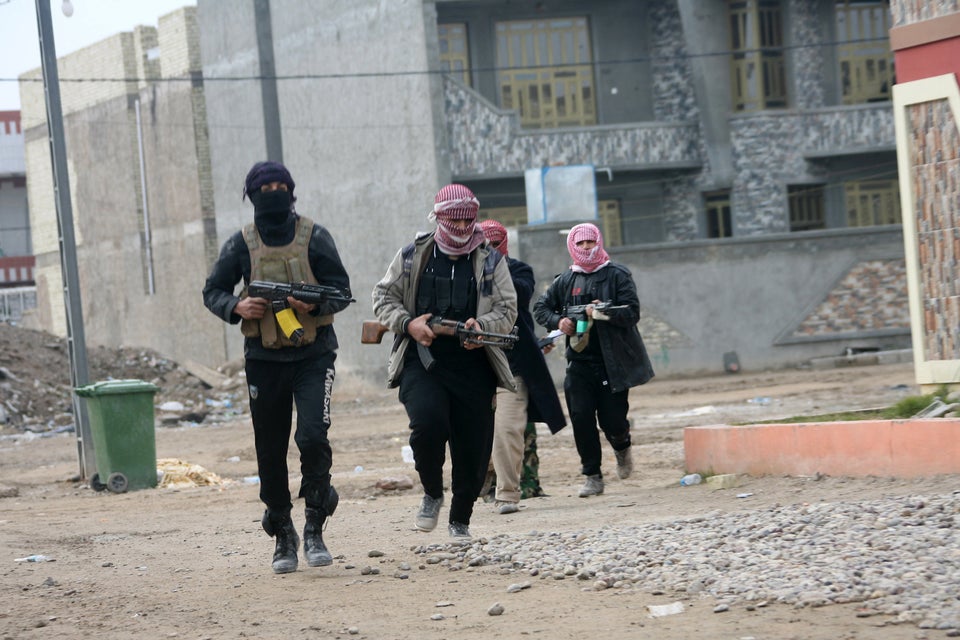 Clashes in Iraq
Popular in the Community