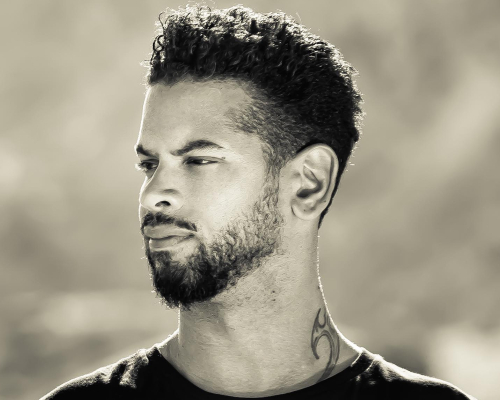 When the early stages of Detroit techno come into discussion, it's storied past usually involves the same names and same tales. While those names have solidified their place as the roots of Detroit electronic music, there's another producer coming from that era whose career has been just as illustrious, albeit understated, with 100s of remixes to his credit. His name is Marc Kinchen.
Kinchen, who records under MK, rose to notoriety in the 1990s with countless remixes that helped shape the sound of house music for decades afterward. MK has had an unique career, including doing in-house production for Pitbull and Will Smith, while still quietly collecting hit records under his belt, like his remix to Storm Queen's "Look Right Through" in 2013.
Recently, I was able to chat with MK about his identifiable sound and about staying under the radar throughout a very successful career, before he comes back home to Detroit to play at this year's Movement Festival.
You're a part of Kevin Saunderson's ORIGIN's on the Made In Detroit Stage at Movement Festival. Talk about what you're going to do for your set.
I played there twice at Movement. The first time I played was maybe 2011 and that was literally when I first started DJing, so it was a little rocky. Then the second time I played, it was two years after that, and I was a little better, and now I feel like I'm right on point. I've been playing all over the world for the past couple of years, had a lot of practice in front of small crowds, gigantic crowds, so I feel like I'm ready and can finally show my friends and family what I've been doing everywhere else.
After all these years, why did you decide fairly recently to start DJing?
I was producing for Pitbull. He was the last artist I was producing and I was actually one of his in-house producers, and I was working on that all the time. It got to the point where it was like a job. You really can't be as creative as want when you are making music for other people. DJing was starting to get really big, and I started seeing more DJs being around Pitbull. I was around Afrojack a lot and he started taking off. Then, I thought maybe I should probably start DJing. That's what did it. I think what sealed the deal was when Jamie Jones and Lee Foss got in touch with me and wanted me to play at one of their parties, and it was right when I was thinking about DJing, so I was like alright, I'm in.
Throughout the years, you've had so many hits and classic remixes. Do you think you get the credit you deserve or do you feel a comfort in the place that you are in?
I'm totally cool with that. I'm not the kind of guy who wants to be in the limelight and noticed for all the stuff I do. If anything, it'll come out eventually if it needs to come out, but I'm not that type of person where I feel I need praise.
Isn't it a bit easier to be under the radar while still having an illustrious career?
Totally! In any profession, it's better to be under the radar. You can be excellent but if nobody is really looking for you than you can just do your thing. It's a little harder now by being in the limelight a little more because now everyone's kind of looking at me.
Back in the 1990s, you had some iconic remixes, and since then you've continuously had records that hit. How were you able to have that longevity and keep it fresh?
Sometimes it's easy, sometimes it's very hard, but what seems to work every time is when I don't think about other people or what other people want. You stay in the genre of what you're doing, but I try to make something that I like. Usually when I like it, 100% of the time I haven't been wrong, as it being a good record or not. I've done remixes where I've not been crazy about it, and it hasn't done that well, but there's been remixes I've made where I knew it was a great record before anyone heard it.
Do you ever have to remix a record where the original is just total shit and you just have a hard time figuring out what to do with it?
Yes! All the time! That happens more times than not. The funny thing is those are usually the best mixes. I actually thought you were going to say did you have to remix a song where the original was so great you thought what were you going to do to it? I've done a lot of songs where the song was like garbage. I would like to name a couple but I don't want offend anybody. There's some out there.
I was going back revisiting a lot of the remixes of yours and there was some that I listened to the original version and I thought how did he polish this turd!
I heard that a lot! That's like the best compliment though. How did you make that into this?
You do have a signature sound when it comes to these remixes. How has that influenced others and do you ever feel protective of it?
What I try to do is, when I have a bad song, I try to take elements of the song and make a good melody, not so much make a good beat. Just make something that's really melodic and catchy. You can pretty much do that with any song. If there's a tone to it, you can do it. It's really just knowing how to do it, and the way I do it is not something that can be taught or even can't be copied really. It's just something I just feel. I'm not worried. I know I influence producers on making stuff and that's great. I'm not worried about somebody doing what I do and leaving me in the dust.
What sort of a kid were you?
I was very quiet, geeky kinda, but I had cool friends though. I always hung out with the cool crowd, but I was like quiet one that had a lot of girlfriends still I guess (laughs).
When did you leave Detroit?
I left Detroit in 1990. I was dating a girl who lived in New York, so I would go to New York all the time. Plus, during that time of me doing production, it was when Detroit was peaking with Kevin [Saunderson], Derrick [May], and Juan [Atkins], but New York and Chicago were also peaking as far as their sounds in music and house music. I liked the New York sound better anyway. Between that and my girlfriend living in New York, I'm out of here.
Back when you were first making music, what music were you listening to at that time?
I was listening to alternative music, like Depeche Mode, The Cure, Bronski Beat, New Order. In the 90s, I started listening to more rap actually. Never listened to house, still don't to be honest.
Then how did that happen that you started making house music?
I think because I was in Detroit and it was just dance music in general, not even house. Dance music was huge, probably bigger than anywhere in the world. Did you remember that show called The Scene?
Oh! Hell yeah! The Scene and The New Dance Show!
Back then, I thought The Scene was shown all over the world, and then I realized it was just in Detroit. I think with that the whole population of Detroit just wants to dance, and it's just in me to know how to make people dance as far as when I produced. Then house music was becoming big and I went to a couple clubs when I was young and saw it for the first time. Just started making it.
What was so great about The Scene and The New Dance Show was that it was so ubiquitous to the whole Metro Detroit area. Even in the suburbs, it came on TV62 and like old white people would know what you were talking about.
It was so ghetto. It was super ghetto but sometimes they played Depeche Mode on it, if it was danceable.
The music selection on there was impeccable, like one moment you'd see black folks dancing to Dan Bell records.
Plus, there was a lot of good dancers on there. I love watching people dance. Sometimes, I go on YouTube and watch people dance, as weird as that sounds. Sometimes, I watch it with the volume down while I make music.
How does watching people dance help you artistically?
I wish I knew how to explain it because watching people dance it looks good if they're really good. It just influences me. I don't know how it helps but it does.
With this newer role of being a DJ, how does it feel to look out into the crowd and see people dancing to the music you're playing?
It's a feeling you really can't describe. For me, it's a little different, because most of the time when I really get them dancing it's a song that I made. There are some DJs who don't make music; they play other people's music. I know it's a different feeling, because I play some of other people's music, and it's not the same feeling as watching somebody dance to something I made. The feeling I can't explain it. You feel like you did something right.
Is most of your set your own stuff?
Yeah, a lot of it. It's been hard because these past couple months, I've been home working on my album, so a lot of new material I haven't played yet. This summer I have like tons of new music to play.
Talk about your album that you have coming out.
I signed to Sony a few months ago. I actually didn't want to do a record deal at the time because I knew once I signed, there would be those pressures and I don't do good with pressure. But, it's been working out pretty good so far. The first single is done. It's called "Bring Me To Life" featuring Milly Pye. I have like six song done and I also have a group called Pleasure State with Lee Foss & Anabel Englund, so I'm working on two project simultaneously, which is difficult doing that and being on the road. I have a studio at home, but I also a laptop with a digital studio that I take with me when I go on the road. I try to work anytime I can in hotel room, or I'll book studios in other countries and work. I'm excited about both projects and I have stuff coming out in the summer for both of them.
So you just try to make music whenever you can.
The hardest about being signed to a record company is once you sign the deal they want their product. It's like they sign you and say let me know when you have something. They call everyday! I'm not used to this.
Would you say that sort of pressure with deadlines is your biggest challenge as an artist?
So far, yes. I'm sure there will be more once I have the songs come out. That's the whole second part of being an artist; I'm sure touring would be crazy and doing press would be hard I imagine. Right now, the pressure is definitely coming up with a hit. The thing about with me, the label wants stuff that can go straight to radio and I'm not always for that. I'm not against the radio, but I like it to happen organically. Like the song I did Storm Queen "Look Right Through", if you heard that the very first time, you wouldn't think that would be a #1 record on the pop charts, but it turned out being a #1 record because of the way it happened. I played it for two years literally on all my shows and it was the biggest song of the night every single show. Eventually, those thousands of people added up to being a lot of people that knew the record, so by that time, when it went to radio, it was like 'I love this song. I heard it when MK played it.' It feels better when songs happen that way.
Do you remember back in the day having that "HOLY SHIT" moment where you realized doing music was your thing?
I was at Sound Factory Bar in New York. I remember it like it was yesterday. I was at the bar with Frankie Knuckles and Kenny Dope was DJing and he played my Chez Damier mix of "Can You Feel It?" and everyone screamed and ran to the dance floor. I was like "OH MY GOD!" and that was the first time I ever seen that. I was like all right, that's a good start! At that point, all the producers in New York, Kenny, Louis [Vega], Frankie, everyone that was hot at the moment was like 'Hey MK, let's go hang out.' It was awesome.
How did that feel to have those heavyweights just appreciate what you were doing?
The thing I actually like the most about doing this, the fans are great, but just having your peers that respect you in all genres. I've basically been asked by most of the EDM guys to do remixes for them or do shows with them, from Calvin [Harris], Hardwell, or [Steve] Aoki, everyone. It's cool being that it's a different genre. I met Calvin Harris a couple months ago. We were in Australia. We were back in the green room and I saw him, and I said 'Hey, I'm MK.' He said 'I wanted to say hi to you so many times when I saw you, but I was scared because I thought you house guys didn't like us EDM guys.' I was like 'What are you talking about?!?!' We became cool. We exchanged numbers. We're talking about maybe doing something together in the future. Same thing with Diplo, exactly same thing, same thing with Skrillex. It's cool to hang out with people in a different genre but all DJs and producers of different status.
Was there anyone that you met and couldn't believe you were talking to them?
Maybe Snoop. It was one of the rap guys. No, it was Will Smith. The first time I met Will. That was it. I was 'Whoa, Will Smith'.
Then you started doing work for him.
Yeah, then we got really close. It got to the point where I was going to his house and hanging out with him. Then, working with his kids. His oldest son Trey, he's DJing now, and I helped him get on that.
How is it to hang out with that family?
Will, he acts exactly like he does on TV. That's him! When he does a movie, after meeting him, its like 'Do they give you scripts? They don't give you scripts, do they?' Everyone in his family is great. That's why nobody ever really has anything bad to say about any of them.
What do you want your legacy to be?
I'm going to dumb it down a bit, but 'that guy MK made some cool shit'. That's it.
MK (Marc Kinchen) is set to play Kevin Saunderson's ORIGIN's on the Made In Detroit Stage at the Movement Festival at Hart Plaza in Detroit on Monday, May 25th from 9pm-10:30pm. For more information on the Movement Festival, visit movement.us. Follow MK on Twitter: @MarcKinchen.
Popular in the Community