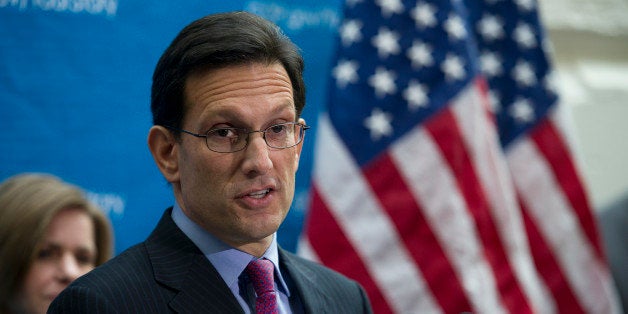 WASHINGTON, Jan 2 (Reuters) - The U.S. House of Representatives plans to consider legislation to make data on the Obamacare website more secure when lawmakers return to Washington next week, House Majority Leader Eric Cantor said on Thursday.
In a memo to his fellow House Republicans, Cantor said he would schedule floor action next week on proposals to make the healthcare website safer as well as notify consumers when their personal information has been compromised.
Cantor noted that several bills on the topic of the website's security had already been introduced by Republicans.
The website HealthCare.gov allows consumers to shop for insurance plans under President Barack Obama's Affordable Care Act, which passed in 2010 and mandated that Americans have health insurance. It also created new marketplaces to buy insurance plans.
The website collects personal data such as names, birth dates, email addresses and other information that criminals could use for a variety of scams.
The portal was bedeviled by technical glitches after its Oct. 1 launch. But in recent weeks its performance has improved, and the administration announced on Tuesday that more than 2 million people already had enrolled in private health insurance plans offered under the law, which is popularly called Obamacare.
Some technology experts warned Congress in November that the Obamacare website had so many security flaws that it was putting people's data at risk and should be shut down until it is fixed.
An administration spokesman responding to Cantor's memo said Thursday that security on the website was a top priority and was protected by stringent standards as well as ongoing testing.
"To date, there have been no successful security attacks on HealthCare.gov and no person or group has maliciously accessed personally identifiable information from the site," Aaron Albright, a spokesman at the Centers for Medicare and Medicaid, which was in charge of launching HealthCare.gov.
House Democratic Leader Nancy Pelosi said in a statement that Republicans appeared intent on undermining the Affordable Care Act - even if it meant "scaring their constituents from obtaining health coverage."
Cantor said that in the coming weeks the House of Representatives would also address other areas where he said greater transparency is needed on Obama's healthcare program, "including the disclosure of reliable and complete enrollment data." (Reporting by Susan Cornwell; Editing by Lisa Shumaker)

Popular in the Community