 If you haven't seen the "House Of Cards" Season 2 premiere, stop reading. No seriously, stop reading. If you don't stop reading, and you haven't seen the Season 2 Episode 1, you're going to be very very upset. You might turn into one of those people who swears never to read The Huffington Post again because we spoiled your favorite TV show, and all the fun there ever was, for that matter. So, please. This is your last SPOILER ALERT.
Zoe Barnes is dead! Frank Underwood pushed her in front of a moving train at the fictional Cathedral Heights metro station and now she is dead! Zoe Barnes flew too close to the sun and now she's gone.
Thirty-seven minutes into the first episode, she confronts Frank in the station, and hints that she suspects he was involved in Peter Russo's murder. A few seconds later, she's dead.
But, what does this tell us about "House Of Cards" Season 2? (Note: The author is taking her sweet time and savoring the show. She has only seen three episodes.) In the first season, viewers will remember that Frank killed a dog within the first few minutes. This first dark scene set up the premise of the show: He's in control and will stop anyone who tries to take that away from him. We've now seen Frank actively take three lives, if you count the dog (and we do).
Now, in what Netflix calls the 14th chapter, one of the main characters is gone. At the end of Season 1, Zoe turned into the show's dominant truth-seeker. She, Janine and Lucas were beginning to put the pieces together that would connect Frank to Russo's death, but even though she was on the good side, the truthful side, it seems like her allegiance had begun to sway just before her demise. Why else would she delete Frank's messages and contact information? She trusted him in some sense. She trusted him enough to meet him in a subway alone. (We're ignoring the fact that the soon-to-be vice president would be alone in the metro wearing a fedora.)
Zoe's death also raises the question: Who will fill her role? As the show progresses (remember, we're only three episodes in!), Lucas seems to take on the majority of her work, part in hazy grief, part because he is an intrepid reporter. Perhaps Jackie Sharp -- the member of Congress bound to become the majority whip with Frank's help -- is destined for terrifying greatness, in this bizarro version of D.C. Frank promises her what he promised Zoe: power.
What do you think of the insane "House Of Cards" moment? Sound off in the comments.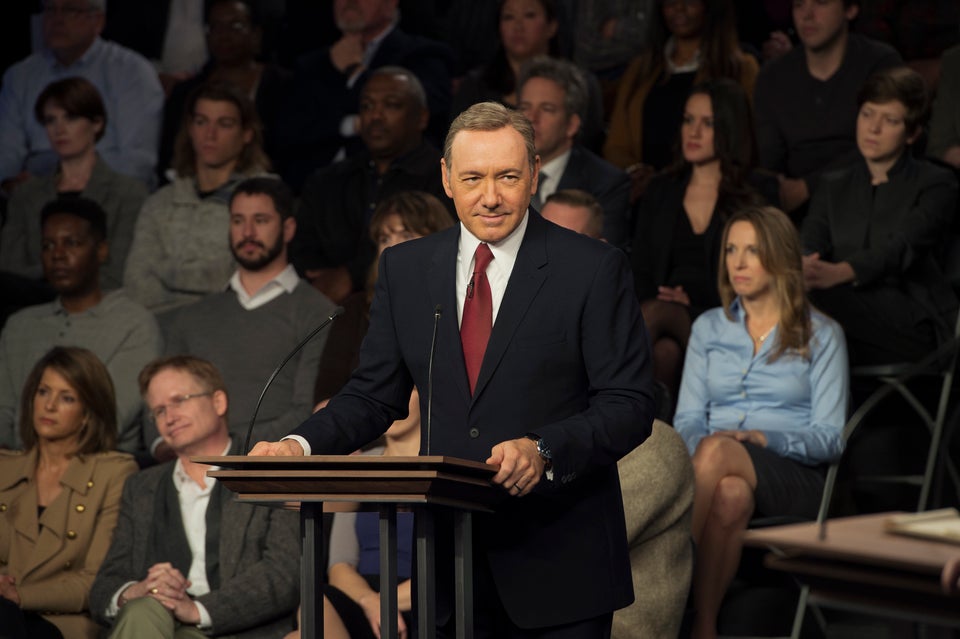 "House of Cards"
Correction: An earlier version of this article mistakenly identified Peter Russo as Frank Russo.
Popular in the Community