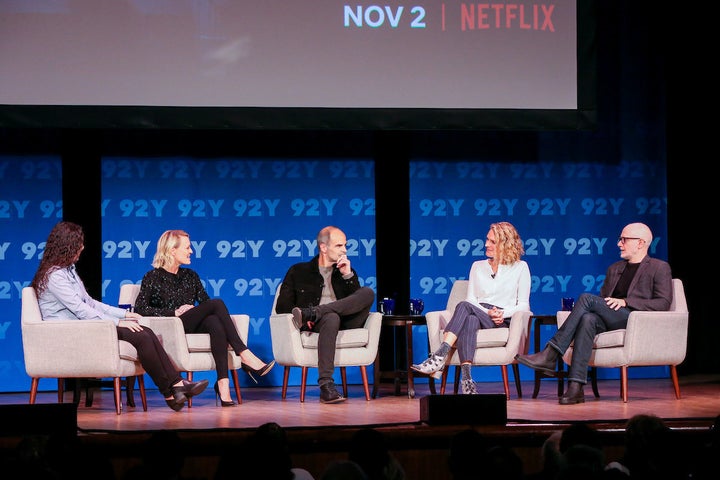 "House of Cards" stars Robin Wright and Michael Kelly and executive producers Melissa Gibson and Frank Pugliese expertly tiptoed around the elephant in the room during a discussion on the Netflix show's upcoming season Wednesday night.
The cast spoke at length of Francis "Frank" Underwood, the ever-scheming House majority whip turned president of the United States, at New York City's 92Y for a preview of the series' sixth and final season. Netflix confirmed this summer that the lead character dies between Seasons 5 and 6. Yet no one mentioned Kevin Spacey, the disgraced actor ousted over accusations of sexual harassment and abuse as the Me Too movement crested in Hollywood late last year.
Spacey's absence was felt strictly in the context of his character, whose death the premiere sets up as a mystery in need of unraveling.
"I think it would have been a big mistake to in any way pretend the character didn't exist, or to erase the character," Gibson said of killing off Frank Underwood.
Netflix announced in a curt statement last November that Spacey had been cut loose from "House of Cards" after the damning accusations were made public. Actor Anthony Rapp was the first to come forward, saying that Spacey had pursued him sexually when he was 26 and Rapp just 14. Spacey apologized but said he did not recall the incident.
Wright broke her silence on the accusations against her former co-star in July, saying they took her by surprise because she only knew him professionally.
Netflix executives spoke at length with the cast and producers over what to do about the show without its central figure. Although the producers said they were not forced to abandon any previously decided-upon conclusion for the series ― because they never had one specific ending in mind ― figuring out the right way forward meant talking "a lot, a lot, a lot," Gibson said.
"House of Cards" was, after all, the streaming giant's first original series, as Kelly noted. After five seasons' worth of hard work, everyone wanted the show to end with integrity. And no one wanted to be "coy" about what happened to Frank, Gibson said.
Instead, the remaining characters are all "stepping up to fill the power void" he left.
Wright's character, Claire Underwood, who filled Frank's shoes as president at the tail end of last season, faces the reality of being the first female U.S. leader: Those around her question her authority and judgment as she receives a chilling number of death threats. Meanwhile, Doug Stamper, played by Kelly, is left to stew over the loss of his beloved boss in a psychiatric center after taking the fall for Zoe Barnes' (Kate Mara) second-season death by subway train.
"The show is about the battle for a position of power, all the way around," Wright said of the series finale. "So," she asked, "who wins?"
"It's so beautifully macabre. It's so moving, and generous, and so macabre and so dark."
Then she joked: "It's going to shock the shit out of you!"
"House of Cards" returns to Netflix Nov. 2.
Popular in the Community