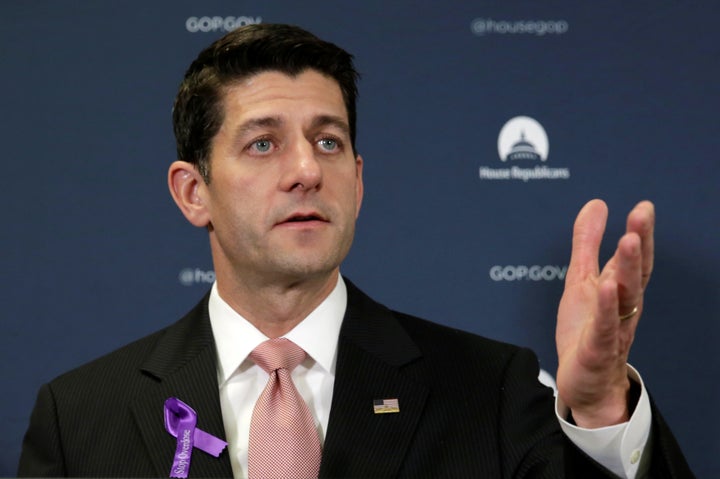 WASHINGTON -- In the modern era of Congress, it's a rare day when lawmakers vote on legislation actually intended to go to the president's desk. It's an even rarer occasion when that legislation is meant to help individuals battling opioid addiction -- as is the case with the bills the House passed on Wednesday and the raft of legislation it's expected to pass in the next few days.
As with most things in Congress, though, this is not an entirely cheery story.
Lawmakers will pat themselves on the back and issue self-congratulatory press releases this week. And there is, in fact, some reason to celebrate. Republicans and Democrats have managed to find some consensus on an important issue. But there's concern from lawmakers, the White House and recovery advocates that the measures are just scratching the surface on addiction treatment.
The House bills come in response to the Senate's Comprehensive Addiction and Recovery Act, which passed the upper chamber by a 94-1 vote two months ago. CARA co-author Sen. Rob Portman (R-Ohio) has been haranguing his House GOP colleagues ever since, insisting that they take up the Senate legislation, which was the result of three years of bipartisan, bicameral work. The House instead took up a smattering of its own bills, and largely dropped the focus on treatment and recovery, instead emphasizing prevention and law enforcement aspects.
"I think that's a fair criticism," said Rep. Katherine Clark (D-Mass.), whose three bills addressing the epidemic are expected to become part of the final package. "I'm hopeful that if we can pass this package of bills... that we'll be able to combine that with the Senate version that has more of a focus on treatment."
But recovery groups warn that by making the process more complicated -- a conference committee must now be convened, which takes precious time to create; it must then meet and negotiate the differences between the Senate and House legislation; then each chamber must take up and pass the new packages -- Congress could easily run out of time. Meanwhile, more than 100 people are dying every day of overdoses.
Don Stewart, a spokesman for Senate Majority Leader Mitch McConnell (R-Ky.), said that the process could move "pretty quick" now that the House has nearly finished its work. "I imagine most of it will be pre-conferenced before they meet," he said. "[McConnell] has made clear that he wants this done quickly."
Portman expressed a similar sentiment Wednesday. "I'm confident that at the end of the day we'll be able to get together and have one comprehensive package go to the president for his signature and begin to help in our communities around the country," he said on MSNBC.
The House is taking up 18 bills this week that try, in various ways, to address the country's epidemic of opioid addiction, from legislation that would help pregnant mothers battling heroin dependency to bills that would crack down on excessive opioid prescriptions. Perhaps most importantly, some of the legislation is aimed at improving what is a thoroughly broken treatment system, with many addicts stuffed into programs that rely on faith-based or 12-step programs, eschewing evidence-based approaches such as medication-assisted treatment.
The assorted House and Senate bills try to nudge the system toward a MAT-based approach. One bill would increase access to such medications by lifting the cap on the number of patients a doctor can treat, and allowing physician assistants and nurse practitioners to prescribe them as well.
Republicans have dubbed Tuesday through Friday "Opioid Week," and GOP leadership -- eager to discuss something that isn't their party's presumptive presidential nominee, Donald Trump -- devoted its weekly press conference on Wednesday to talking about the legislation.
Speaker Paul Ryan (R-Wis.) acknowledged that most reporters were likely at the press conference to discuss his upcoming meeting with Trump on Thursday, but Ryan said he wanted to talk instead about a meeting he'd had that week with the family of Jason Simcakoski.
Simcakoski was a Marine who died of a prescription opioid overdose while under the supervision -- "or the appearance of it," Ryan said -- of a Department of Veterans Affairs medical center.
Ryan charged that Simcakoski's death was the result of mistreatment and loose VA guidelines on the prescription of opioids. Thanks to legislation the House passed Tuesday night -- the Jason Simcakoski PROMISE ACT -- those sorts of deaths would be rarer, he said. (The bill requires the VA to come up with new patient guidelines for prescribing opioids, with the aim of restricting those drugs.)
The House is taking up 12 more of those opioid bills on Wednesday, and is expected to continue passing measures dealing with those issues until Friday. Rep. Clark's legislation to make the overdose reversal drug naloxone easier to get, a bill to create an advisory committee of the U.S. Food and Drug Administration to review opioids more stringently before they're approved -- these are all among the topics to be addressed.
House lawmakers contend that their legislation, as a whole, does more to combat opioid addiction than the Senate version.
That might depend, however, on your perspective, and on what you think Congress should be doing about the opioid crisis.
In some cases, the House bills appear to be several steps behind what states are already doing, or seem like they could be potentially harmful. Kentucky and other states have already passed protections for first responders and loved ones who administer naloxone to overdose victims.
Another bill would establish a pilot grant program for prescribing naloxone to people at risk for an opioid overdose. Many states have already put in place programs to allow residents to receive naloxone without a prescription at all. In fact, Baltimore's health commissioner issued a blanket naloxone prescription for the entire city last year and has suggested that the medication should be in every medicine cabinet.
One bill would authorize the U.S. Government Accountability Office to study the capacity of the U.S. treatment system -- though the system's capacity, or lack thereof, is already well-understood. The bill would require the GAO to complete its work within two years.
Portman, for his part, has suggested the House legislation is still lacking. "More than 70 anti-drug groups have publicly expressed concern that these House bills omit critical initiatives focused on treatment and recovery that are part of CARA," he wrote Tuesday in an op-ed for The Cincinnati Enquirer.
"I'm hopeful that we can reach an agreement with the House soon -- but that agreement must be comprehensive," Portman added. "I will insist on it."
Others have greeted the House bills with more enthusiasm. Dr. Kelly Clark, president-elect of the American Society of Addiction Medicine, praised the House action and noted that although some bills were catching up to individual states, the goal was to widen the scope of the response to the crisis.
"It's a historic day for addiction medicine that the House has recognized the emergency that is the opioid epidemic," she told The Huffington Post. "ASAM is very grateful to the champions who have been out in the front on these issues."
Dr. Clark was especially pleased that a bill expanding access to buprenorphine was expected to clear a legislative hurdle. "There are too many people being doomed to waiting lists because physicians are at their limit," she said.
But Dr. Yngvild Olsen, medical director at the Institutes for Behavior Resources Inc. in Baltimore, saw the bills as not going far enough.
"At a time when opioid-related deaths continue to increase, bold action is needed in Congress to fund the comprehensive effort that is needed to deal with this epidemic," Olsen said in an email. "That includes education, prevention, naloxone for overdose reversal, and expanding access to treatment with buprenorphine by raising the cap for physicians and permanently allowing trained nurse practitioners and physicians assistants to prescribe buprenorphine."
The plan is for the House to combine its 18 opioid bills into one, then go into a rare conference with the Senate to work out the differences. "We intend to put a bill on the president's desk fast," Ryan said Wednesday.
But the administration has expressed concern that "without the resources necessary to prevent opioid addiction and increase access to treatment and recovery services, [these bills] would do little to help the thousands of Americans struggling with addiction."
The White House pointed out this week that it asked Congress in February for $1.1 billion in new funding to combat opioid addiction. The administration further noted that 28,647 people died in 2014 as a result of opioid pain medication and heroin, and that in 2012, 259 million prescriptions were written for prescription opioids, with four out of five heroin users starting with the abuse of prescription opioids.
"These trends will not change by simply authorizing new grant programs, studies and reports," the administration said.
The White House continued that it looks forward to working with Congress to secure funding to address opioid abuse. But it doesn't exactly sound impressed by everything the House has come up with.
Of course, this could be an opening gambit for Congress. Getting lawmakers to agree on anything is no small achievement. The House legislation could ultimately evolve into something that more closely resembles the Senate version as far as treatment provisions, and the Senate could add many of the House provisions to its own comprehensive legislation.
The federal budget is filled with pots of money, which Republicans say can be made available for the new legislation if and when it all passes. But there's wide agreement that the funding doesn't add up to the $1.1 billion the White House says is needed. Rep. Jim McGovern (D-Mass.) said on Wednesday that lawmakers not only need to pass the bills -- they also have to provide the funding.
"If we don't do that, all the speeches that we give this week will amount to empty rhetoric," he said.
For more news on the opioid epidemic and the response to it, sign up here to receive Ryan Grim's newsletter in your inbox.
Popular in the Community