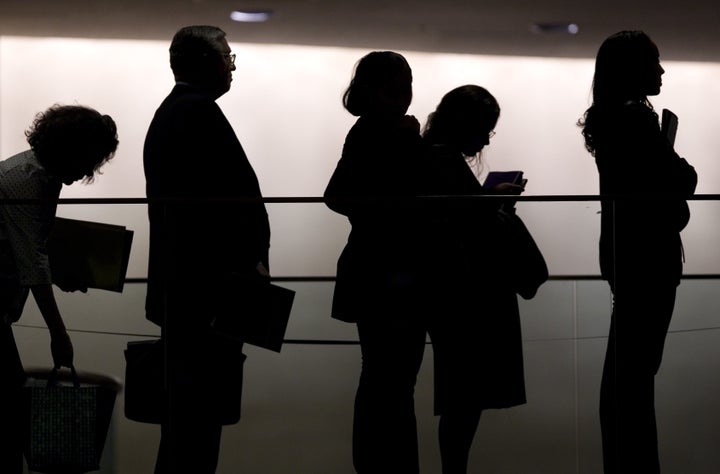 The House of Representatives passed a temporary extension of unemployment benefits and subsidized health insurance for laid-off workers on Wednesday as part of a $636 billion defense spending bill. The Senate will likely pass its defense bill with the same extensions on Friday, according to a Senate Democratic aide.
Last week, state labor commissioners traveled to Washington to implore Congress to extend unemployment benefits and the 65-percent subsidy of COBRA health insurance. Congress passed an extension in November after a wrenching delay by Senate Republicans, but that extension was built on provisions of the stimulus bill set to expire at the end of the year.
The commissioners warned that if Congress doesn't act by the end of this week, some state unemployment offices will need to start sending notices to unemployment recipients letting them know that they will be ineligible for extensions in January.
"The actual deadline for many states is Dec. 19, so not only will you create confusion in the system but there's the possibility of some individuals losing benefits right around the holiday season," said Sandra Vito of the Pennsylvania Department of Labor & Industry. "So the urgency by which Congress must act can't be overstated."
The National Employment Law Project estimated that without congressional action, one million people will lose benefits in January.
Senate Democrats will file for cloture on Wednesday, according to an aide, in hopes of holding a vote on the defense spending bill with its unemployment and COBRA extensions as soon as Friday. The Senate bill, like the House version, will extend unemployment benefits through February and provide 15 months of COBRA subsidies for laid-off workers, an increase over the nine months provided by the stimulus bill.
"I think Friday is optimistic but very possible," said NELP's Judy Conti.
States can't rely on optimism, however, and some are preparing to notify people receiving benefits that they might not get a check in the near future, according to Rich Hobbie, director of the National Association of State Workforce Agencies.
"Some states are preparing to reprogram their software to shut down parts of the extended unemployment benefits program and notify claimants over the next week the program is scheduled to expire at the end of the year."
Popular in the Community