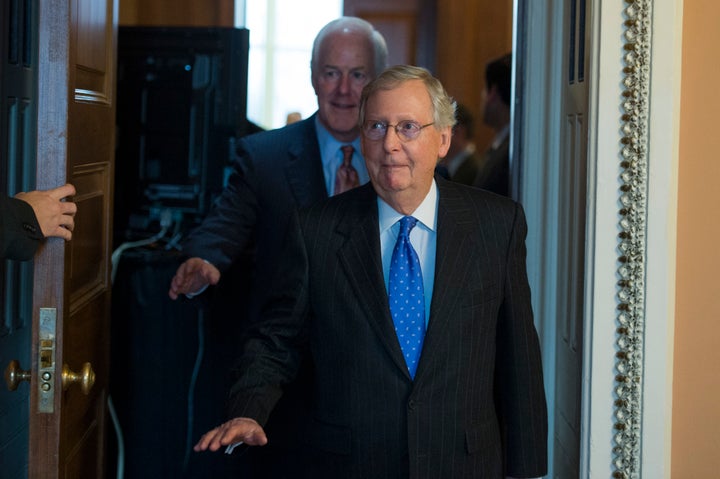 The bill ― which maintains current government funding levels but adds $5.8 billion for a defense account, $4.3 billion for the State Department and $4.1 billion for natural disasters ― is something between a continuing resolution, which would simply extend current funding for a short while, and an omnibus, which would include all sorts of changes to current law.
"It's an omnibus," Rep. Thomas Massie (R-Ky.) told The Huffington Post on Tuesday. "It's an omnibus that lasts until April 28. They call them 'anomalies' in the CR. It's like 'The Matrix.'"
Among the more than three dozen "anomalies," the bill includes $170 million for communities like Flint, Michigan, that were affected by contaminated drinking water, as well as $872 million for the 21st Century Cures Act, which passed the House last week and is expected to pass the Senate on Wednesday. The bill also includes $45 million to pay for health benefits of miners ― a provision that had become a point of contention between Senate Majority Leader Mitch McConnell (R-Ky.) and House Speaker Paul Ryan (R-Wis.) in recent days.
But the legislation does not include money for a miner pension shortfall, and Sen. Joe Manchin (D-W.Va.) said its absence would cause him to object to any unanimous consent request. That means the government could go into a temporary shutdown if the Senate got hung up on timing. Manchin also wanted the miner health benefit funding to go beyond April. If the bill were enacted, the miner health funding would expire with other provisions of the legislation on April 28.
Democrats also didn't get a rider that would lower the quorum threshold for the Export-Import Bank board. Currently, three of the five seats on the export credit agency's board remain vacant, preventing board members from obtaining a quorum to offer loans greater than $10 million.
While Democrats will certainly be disappointed the Ex-Im changes aren't included, many of them will probably still be able to support the legislation, whereas lowering the threshold would have cost Republicans a number of votes with conservatives in the House and Senate.
New House Freedom Caucus Chairman Mark Meadows (R-N.C.) told The Huffington Post Tuesday that the Ex-Im quorum issue was one of the major sticking points for conservatives. With those provisions not included, most Republicans will be able to get behind the bill.
"I think there's a lot of people who believe we've just got to vote and get it on with," Meadows said.
The bill also avoids one of the stickiest points of contention for Democrats: a waiver for Gen. James Mattis to serve as the next Defense Secretary. While the legislation would set up an expedited path for a waiver for Mattis, it would still require 60 votes to allow the former Marine General to serve as the Pentagon chief. (Mattis needs a waiver because the Defense Secretary is supposed to be a civilian for a minimum of seven years. Mattis has only been out of the service for three.)
Some Republicans had wanted a waiver for Mattis included in the CR, but Democrats pushed back hard on that idea on Tuesday. "Brushing aside the law that enshrines civilian control of the military ― without discussion, in a massive must-pass funding bill ― would set a terrible precedent," House Minority Leader Nancy Pelosi (D-Calif.) said in a statement Tuesday.
Republicans weren't exactly adamant that a waiver for Mattis be included in the funding legislation, but they weren't exactly opposed. Senate Armed Services Chairman John McCain (R-Ariz.) called it "disgraceful" Tuesday that Democrats hadn't already given them assurances that the Senate would immediately take up Mattis' waiver when they return in January.
The spending legislation would prevent Democrats from simply refusing to consider the waiver, but it wouldn't remove the 60-vote threshold that is normally required for legislative action in the Senate. Still, Democrats may object to that section.
"I am concerned about the provision establishing a new standard for consideration of the nominee for Secretary of Defense," said the ranking Democrat on the House appropriations committee, Nita M. Lowey (D-N.Y.). "Civilian leadership of the military is a bedrock principle of our democracy that must not be eroded in any way."
Some Democrats are reluctant to make the Mattis question one of their defining fights early in the Trump era. A House Democratic aide told HuffPost Tuesday that he was advising his boss to focus on criticizing other appointments, like those of potential Education Secretary Betsy DeVos or Treasury Secretary Steve Mnuchin.
Still, there's apparent disagreement within the Democratic ranks on this. Three Democrats on the House Armed Services Committee ― ranking member Adam Smith (Wash.), Ruben Gallego (Ariz.) and Del. Madeleine Bordallo (Guam) ― have echoed national security experts by saying they are worried about the appointment despite Mattis's track record.
"Our country has a tradition of civilian control of our military, and the unique circumstances of his potential nomination as Secretary of Defense require a thorough and transparent discussion of the National Security Act and potential implications of setting precedents," Bordallo said in a Tuesday afternoon statement slamming the attempt to link the waiver to the CR. "There is no rush to complete this process and it is not one that should be considered haphazardly, especially before General Mattis has even been nominated, let alone had hearings to review his nomination."
The Mattis provisions could be a flashpoint in the CR.
While neither Democrats nor Republicans will call the pseudo-continuing resolution perfect, members do generally expect both sides to support the bill. A push from a contingent of Democrats or Republicans, however, could reopen negotiations and bring the government into a shutdown.
Democrats were already warning that they wouldn't just swallow the deal because it was close to the Friday deadline, and Manchin has a host of tactics he could take to push for the miners' pension funding or additional health benefits that he wanted ― as any senator could.
As of now, the plan is for the House to vote on Thursday and for the Senate to follow soon after that. But without the normal agreements from Democrats, a shutdown threat is still real.
Akbar Shahid Ahmed, Laura Barron-Lopez and Michael McAuliff contributed to this report.
Calling all HuffPost superfans!
Sign up for membership to become a founding member and help shape HuffPost's next chapter