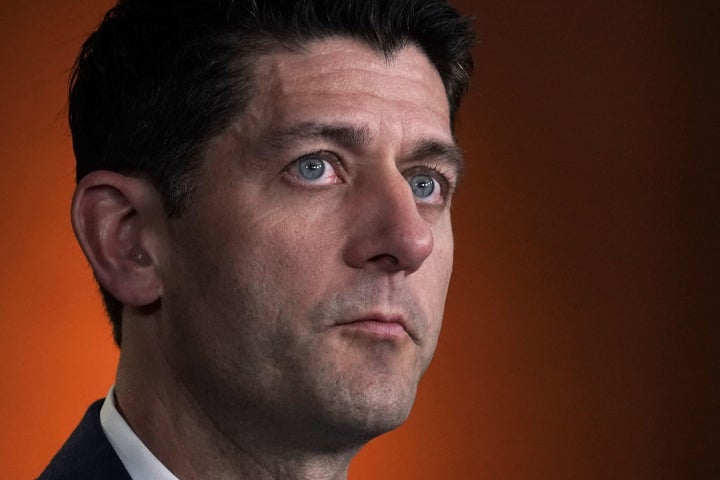 WASHINGTON ― Despite shaky support in the House and an unclear path in the Senate, Republicans remained bullish Wednesday that they could pass ― and potentially get signed into law ― a yet-to-be-finalized bill on the GOP's most touchy issue: immigration.
House Republicans announced Tuesday night that they were moving forward with a plan to bring two bills to the floor ― one that's a more hardline option written by Judiciary Chairman Bob Goodlatte (R-Va.) that conservatives prefer, and another measure that's meant as a compromise bill that Republicans still think could split conservatives and win a narrow majority in the House with only GOP votes.
"I don't think Goodlatte passes, but I think the compromise can pass," Rep. Chris Collins (R-N.Y.) told HuffPost on Wednesday.
Collins, one of the more moderate Republicans on immigration who was curiously the first member of Congress to endorse Donald Trump, explained that Republicans planned to leave some controversial issues out of the compromise bill, such as provisions dealing with agriculture and E-Verify. And Collins, who signed the recent discharge petition to try and force immigration votes, said he thought there was a "pretty credible chance" of getting a trimmed-down bill through that addresses the Deferred Action on Childhood Arrivals program, provides money for border security measures like a wall, curbs family migration, and ends the diversity visa lottery program.
Surprisingly, conservatives didn't necessarily disagree.
Freedom Caucus Chairman Mark Meadows (R-N.C.) wouldn't endorse the legislation until he had seen the actual bill ― "I really have to look at the language," ― but he said he thought there would be members of the Freedom Caucus who vote for both the Goodlatte bill and the compromise measure, just as there were some members who probably wouldn't vote for either.
Two GOP aides familiar with the discussions between moderates, conservatives, and GOP leadership said part of the deal to convince moderates to not move forward with the discharge petition was that the Freedom Caucus would deliver around half of their roughly three-dozen-member group to support the compromise bill, though two conservative members said there was never any formal deal to that effect ― just that Meadows had guessed that around half the members would support the bill.
Another Freedom Caucus leader, Rep. Raul Labrador (R-Idaho), who has worked closely on the Goodlatte bill and has been negotiating with moderates on immigration, also said he thought it was possible that the compromise measure passes. "If we do it the right way, I think you could get a good percentage of the Freedom Caucus," he said.
Labrador himself also wasn't ready to endorse the compromise bill until he had seen the language, but he suggested that his vote might be easier to win over than some other members of the Freedom Caucus, though other HFC conservatives that HuffPost talked to, like Scott Perry of Pennsylvania and Jody Hice of Georgia, sounded surprisingly open to the compromise bill. (Again, with the caveats that no one had seen the bill.)
Moderates who had backed the discharge petition largely seemed to have lost Tuesday when they failed to come up with the last signatures needed to force a vote on a series of immigration proposals. The offer from leadership to vote on two bills looked mostly like a face-saving exercise for all parties involved. Conservatives would get their promised Goodlatte vote, moderates would get an immigration vote, and leadership could say they tried their best ― all while Republicans try to score points on Democrats for opposing a DACA bill, albeit one that immigration proponents will likely oppose too.
But the funny thing about this face-saving, two-bills plan is that might actually work.
While the gambit of voting on two bills seems like a way of ensuring that neither bill passes, as conservatives could say they supported the Goodlatte bill and moderates could say they backed the compromise with neither proposal finding 218 Republicans, passage in the House may be closer than some members think.
The effort could still fall apart rather quickly, particularly if the compromise skews too far in one direction. But if GOP leaders are able to put together a bill that holds the moderates and doesn't turn off a significant number of conservatives, there's reason to believe that the support of President Donald Trump could tip the scales.
Normally, Republicans in redder districts might worry about voting for any immigration bill that provides a pathway to legal status. But with Democrats almost certain to oppose the compromise bill and Trump a good bet to back it, Republicans may be able to argue that the compromise measure wasn't the cave that a future theoretical conservative primary challenger may argue. And with support of Trump becoming the biggest litmus test of conservatism in the Republican Party, there are some Republicans who may worry more about crossing Trump than they do about looking weak on immigration.
Speaker Paul Ryan already told the GOP conference on Wednesday that the compromise bill ― as well as the Goodlatte bill ― will have the support of Trump. And Republicans are betting that, if they can get a GOP-only bill through the House, then they may be able to pressure Senate Majority Leader Mitch McConnell (R-Ky.) to give the immigration debate another try.
The only problem there is that when the Senate took up immigration in February, the Trump-approved plan only got 39 votes of the 60 it would need to pass ― and only three Democrats supported the measure. With the compromise bill still touching issues like family migration that Democrats generally consider to be a non-starter, it's tough to see the House legislation getting through the Senate, though this could be the jumpstart Republicans and Democrats need to restart negotiations.
As Rep. Jody Hice (R-Ga.) said of the Senate, as House members are wont to do, "We need to go wake those guys up, tell 'em the coffee break is over."
Calling all HuffPost superfans!
Sign up for membership to become a founding member and help shape HuffPost's next chapter