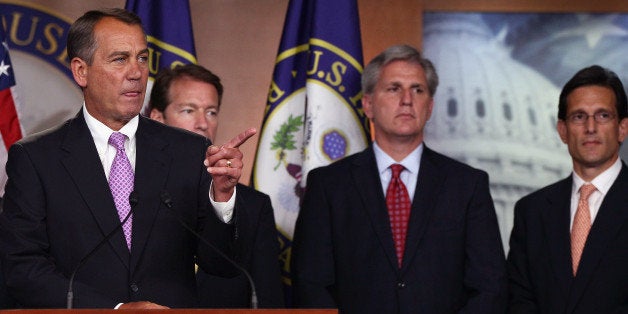 WASHINGTON -- One week after Rep. Eric Cantor (R-Va.) lost his Republican primary election, setting off a mad dash for his job as House Majority Leader, one thing has become clear: The real challenge for GOP lawmakers won't be replacing Cantor, but agreeing on who gets another top job opening up in the party's leadership.
House Republicans appear all but certain to elect House Majority Whip Kevin McCarthy (R-Calif.) as their next majority leader in their elections on Thursday. Already the third most powerful GOP leader in the House, McCarthy moved quickly to lock in support for his bid and effectively shut everyone else out. He still faces a challenge from one colleague, Rep. Raul Labrador (R-Idaho), who is admired by many tea party and libertarian-leaning Republicans. But Labrador hadn't even planned on running until the last minute, and appears to only be doing so because other right-wing members passed on a bid.
As Rep. Tom Cole (R-Okla.) put it Wednesday, McCarthy is expected to "effortlessly" glide into the majority leader post.
The real race would then be for the majority whip slot that McCarthy would leave vacant. It's a three-way race, and it's already looking like none of the candidates has the 117 votes needed to lock in a majority of the GOP conference. That means a second ballot featuring the top two contenders is highly likely.
People running for the post include Rep. Peter Roskam (R-Ill.), who is considered an establishment candidate given his current role as McCarthy's chief deputy whip and the fact that he represents an industrial blue state. Also running is Rep. Steve Scalise (R-La.), who leads the conservative Republican Study Committee but whose bona fides are considered suspect by some right-wing lawmakers. Conservative two-termer Marlin Stutzman (R-Ind.) is also running, but his biggest problem is low name recognition.
Scalise appears to be leading the race -- his allies frequently cite his votes at around 100. But Roskam supporters say those numbers are soft, and that while Scalise is busy running his numbers through the press, Roskam is privately working his colleagues. Rep. Richard Hudson (R-N.C.), an ally of Roskam's, estimated his whip count at around 90 votes and pointed out that Scalise's numbers haven't moved much in recent days.
"Our yeses are much harder than his," said one Republican involved in Roskam's campaign. "We've got half of the committee chairmen and half of the steering committee."
With Stutzman likely to get knocked out in the first round of votes, his supporters could then have the potential to tip the race. Some may go with Scalise, given his more conservative credentials, but others may back Roskam out of frustration with some of Scalise's past votes -- namely his strong support for flood insurance legislation that was loudly opposed by conservative groups.
Roskam's backers have been urging members to take another look at his conservative record. They argue that as chief deputy whip, Roskam has been required to go along with leadership without making his own positions known, thus limiting what he's been able to do.
A GOP strategist said while it may appear that Scalise has a slight lead, there's no question that the race is tight. At this point, it may come down to a candidate's ability to prove that he knows how to count votes -- the primary job of the majority whip.

"Far-right conservatives have never understood that these races are not won or lost on ideology," the strategist said in an email. "I wouldn't count out Roskam yet. Depends on what McCarthy does/pushes behind scenes."
Several members leaving a candidate forum on Wednesday downplayed any significant ideological differences between the two camps. Many said the current leadership has too often bowed to the Democratic-controlled Senate, and thus raised more procedural questions than policy concerns.
"They were talking mostly about the criteria for bringing bills to the floor -- is it because the Republican conference wants it or is it because it can pass the Senate?" Rep. Darrell Issa (R-Calif.) said. Some members, he added, don't even feel as though Republicans have taken charge in the House.
"When did we take control? That's the question they're asking," Issa said.
In the end, some members may not care which of the two candidates takes the slot since both have conservative track records. Rep. Kevin Brady (R-Texas), who is helping to build support for Scalise's bid, said he's feeling "pretty good" about their campaign. But if Scalise doesn't win, he'd be okay with that too.
"All three of these guys are really good," Brady said. "I would absolutely be fine with any of them."
CORRECTION: A previous version of this story said Stutzman is a Republican representative from Michigan; he represents Indiana.
REAL LIFE. REAL NEWS. REAL VOICES.
Help us tell more of the stories that matter from voices that too often remain unheard.
BEFORE YOU GO
PHOTO GALLERY
Eric Cantor