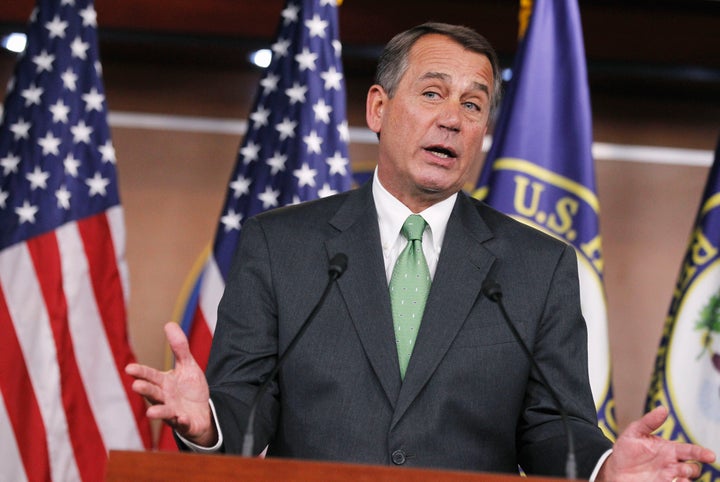 This story has been updated.
WASHINGTON -- House Republicans plan to pay former Solicitor General Paul Clement and his legal team from King & Spalding as much as $500,000 of taxpayer money to uphold the Defense of Marriage Act (DOMA) on behalf of House of Representatives, according to a document obtained by the Huffington Post.
"The General Counsel agrees to pay the Contractor for all contractual services rendered a sum not to exceed $500,000.00," the Contract for Legal Services obtained by The Huffington Post says. The cap could be raised "by written agreement between the parties with the approval" of the House, the document states.
The hourly rate that King & Spalding will be receiving a "blended rate" of $520 per hour -- which could actually be considered a deal. Some reports say that the firm's top attorneys receive as much as $900 per hour. It will also be getting "75 percent of the Contractor's usual and customary rates for all reasonable non-attorney time expended in connection with the Litigation," as well as reimbursements for "reasonable expenses" related to the case.
Boehner's decision to have the House intervene and defend the law, which defines federal marriage as between one man and one woman, came after Attorney General Eric Holder announced in February that the administration would no longer argue in support of the law after it concluded that the law is unconstitutional.
Last month, a five-person House Bipartisan Legal Advisory Group voted along party lines (3-2) to direct the House General Counsel to initiate a legal defense of DOMA.
House Minority Leader Nancy Pelosi (D-Calif.) has repeatedly asked Boehner for how much it will cost taxpayers for the House to defend DOMA, but has not yet received a direct response.
"The hypocrisy of this legal boondoggle is mind-blowing," Pelosi spokesman Drew Hammill said in a statement to The Huffington Post. "Speaker Boehner is spending half a million dollars of taxpayer money to defend discrimination. If Republicans were really interested in cutting spending, this should be at the top of the list."
"Obviously, this whole thing would be unnecessary if the White House and the Justice Department would do their job and defend a law that was passed by both Houses of Congress and signed by the President of the United States -- a Democratic President, at that," said Boehner spokesman Michael Steel.
Clement's office did not immediately return a request for comment.
"There are currently at least nine cases challenging the constitutionality of section 3 of DOMA which bars federal recognition of marriages between same-sex couples," said Human Rights Campaign President Joe Solmonese in a statement. "If the House were to intervene in all nine that would mean less than 100 billable hours would be spent per case in order to hit the $500,000 cap. Clearly this fee cap is a lowball estimate that hides the true cost of this litigation."
In a House Appropriations subcommittee hearing last month, Eric Holder said the Justice Department would not save much money by no longer defending DOMA.
Sen. Kirsten Gillibrand (D-N.Y.), one of the co-sponsors of legislation to repeal DOMA, has also pressed Boehner not to use taxpayer funding to defend the law.
Popular in the Community