WASHINGTON -- When reports surfaced that House Republicans sang "Amazing Grace" during a Tuesday morning meeting, Rep. Gerry Connolly (D-Va.) responded with a laugh.
"Isn't that usually sung at funerals?" he joked with reporters.
But it turned out Connolly was more right than he realized. Right after the GOP conference sang the hymn -- all three verses, according to one lawmaker -- the meeting turned into a funeral for the latest proposal put forward by party leaders for raising the debt ceiling and ending the government shutdown. It turned out the plan laid out by House Republican leaders, which would have reopened the government and extended the debt ceiling for a few months, in addition to delaying a medical device tax under Obamacare, was dead on arrival.
Boehner conceded to reporters afterward that negotiations are in flux, and one GOP aide told CNN's Dana Bash that party leaders are "struggling" to lock in the votes for their plan. House Minority Leader Nancy Pelosi (D-Calif.) later characterized Boehner's appearance as that of "a speaker who did not have the votes for their proposal."
Still, House Republicans leaving the meeting were pleased with their singing abilities. Rep. Steve Southerland (R-Fla.) took the lead in singing the hymn in place of the conference's typical opening prayer, and Rep. Michael Burgess (R-Texas) said later that he was moved that he and his colleagues were able to sing all three verses without the words written out.
"Isn't that impressive," Burgess told reporters.
Rep. John Fleming (R-La.) said Southerland is "a very spiritual guy, a soulful guy, and it was his turn to pray, and he led off with three verses from Amazing Grace."
Told of Connolly's joke about the song being sung at funerals, Fleming said, "Well, that's really a level of cynicism that's surprising even for Democrats, to be honest with you."
On a more serious note, Connolly, who studied to become a priest before getting into politics, said it was curious that Republicans had chosen to sing "one of the most evocative hymns" in the midst of a government shutdown and on the verge of the country defaulting on its debt, a process that's been prolonged by Republicans demanding concessions from Democrats.
"I hope they understand the derivations of those lyrics," Connolly said. "It was written by a slave trader who came to be filled with remorse for his actions. His words say, 'I was blind but now I see' ... He is remorseful for his past and takes responsibility for those actions and sees the saving light of grace, even for a wretch like himself."
"I'm not saying my colleagues are wretches," he added. "But I hope what that indicates, the symbolism of singing that beautiful hymn that all Americans share, is that there's some saving grace here."
Asked what he thinks Democrats will sing in their next caucus meeting, Connolly thought for a second. Then he sounded a note of optimism, given the recent progress toward a bipartisan Senate fiscal deal.
"Here Comes The Sun," he said.
Sabrina Siddiqui and Michael McAuliff contributed reporting.
Before You Go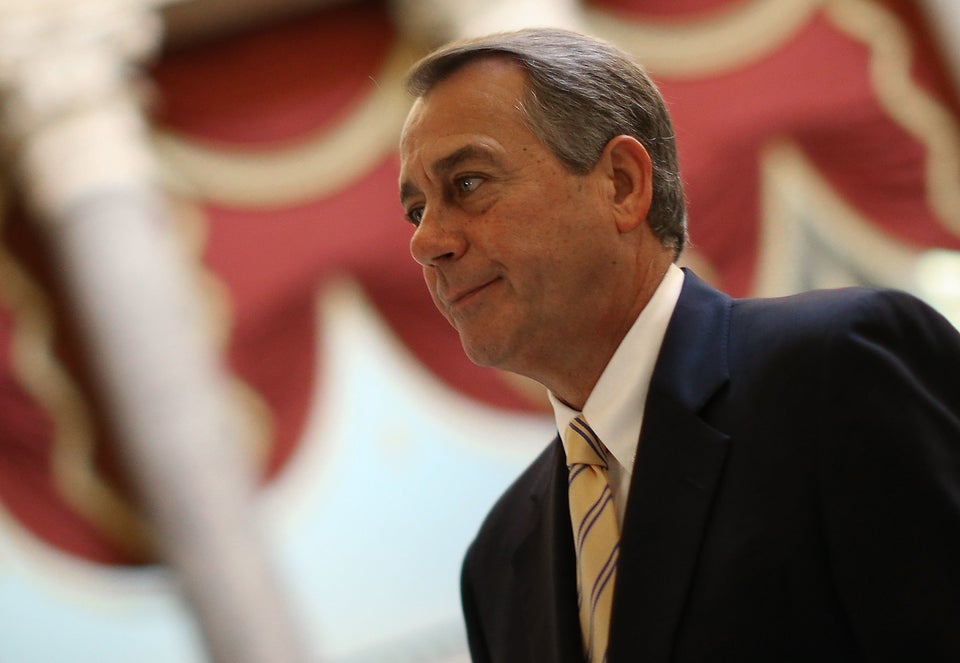 John Boehner's Shutdown Showdown Stares
Popular in the Community