WASHINGTON -- House Republicans plan to vote Thursday on a bill that would provide less than a fifth of the funding the president requested to address the ongoing border crisis.
"I think we should do something before we go home, and we're working to get there," House Speaker John Boehner (R-Ohio) told reporters after meeting with Republican members.
Two-thirds of the bill's funding would go toward border security, such as dispatching National Guard troops to the border, while one-third of the money is meant to provide humanitarian assistance. House Appropriations Chairman Hal Rogers (R-Ky.) told reporters he was "optimistic" that the bill would get strong support from Republicans, and said the lower price tag would help attract fiscal conservatives.
The bill also would tweak a 2008 human trafficking law that was designed to protect unaccompanied minors who enter the U.S. illegally from countries other than Mexico and Canada from being swiftly deported before they can make a case that they deserve to stay. This piece is expected to be a sticking point with the Senate, where Democrats are moving their own bill that does not make any changes to the 2008 law.
Republicans leaving the meeting were widely supportive of the bill and said they expected it to pass when it comes to the floor, most likely on Thursday, just before they leave Washington for the August recess.
But given the likely opposition from Democrats, the bill would need a significant number of votes from GOP members, some of whom were critical of the proposal. It notably excludes provisions to do away with the Deferred Action for Childhood Arrivals program, or DACA, which allows undocumented young people who entered the country years ago to receive authorization to stay and work temporarily. Many Republicans have said the policy is to blame for the current crisis -- even though minors who immigrate illegally now are ineligible for DACA -- and wanted a vote on a resolution about ending it before they would approve funding.
They expressed frustration after the meeting that ending DACA won't be part of the bill, and said they received no assurances from leadership that there would be a vote this week on the program.
Rep. Steve King (R-Iowa) said if GOP leadership was "serious" about fixing the problem, they should pass a standalone bill that changes the 2008 law. "The package is not going to become law," he said. "It's an opportunity for the Senate to do what they will with it. It does give members cover to go home for August."
King, who said he expects to vote against the bill, was also frustrated that the bill does not cut off funding for DACA. At the very least, Republicans should first move a resolution explicitly stating that the crisis was created by Obama, he said.
Rep. John Fleming (R-La.) said the bill appeared to be more about "political cover" than addressing the problem, given that it's not paired with a resolution to end DACA.
"I don't see any purpose in spending a lot of money to allow the president to continue his malicious activities with our immigration laws," Fleming told reporters, referring to DACA.
Rep. Tom Cole (R-Okla.) said that despite the criticism from a few members over DACA, there was mostly unanimity around the proposal, and DACA was "not directly related" to it.
"There's room for debate there, but let's keep this bill targeted on this particularly crisis," Cole said.
Rep. Peter King (R-N.Y.) said it was more important to reach an agreement than to continue arguing over what should and shouldn't be in the bill.
"You shouldn't vote against it because you want more in it," King said. "You win the first battle, then you have the second."
The Obama administration has not yet released an official statement of policy on the House legislation, but gave support on Monday for the Senate funding bill.
"Unlike the House Republican approach, this bill responsibly addresses the humanitarian situation without injecting partisan provisions that are unworkable and would increase costs without solving the problem," the White House wrote in a statement of administration policy. "Rather than holding necessary resources hostage to partisan provisions, the Administration encourages the Congress to move forward on long-lasting solutions provided by common-sense immigration reform."
Rep. Adam Kinzinger (R-Ill.) said the House had done its part and shouldn't be expected to give the president everything he wants.
"We're willing to work with him, we gave him some of what he needs and it's his decision whether he wants to do it," Kinzinger said. "And it's up to Harry Reid whether he wants to pass something or not."
House Minority Whip Steny Hoyer (D-Md.) said Republicans' proposed funding level is "inadequate" and "short-sighted," but he stopped short of saying Democrats would oppose it.
He also said Republicans would be "deluding" themselves if they think the Senate will just pass the House bill, given Democratic opposition to some of its policy provisions.
"They know the Senate will not take their legislative language. They won't get 60 votes to do that," Hoyer said during a sit-down with reporters, emphasizing that the bill is an emergency spending measure that's supposed to be clean of additional items.
"They do know that they can get 60 votes on a dollar figure," he said.
Jennifer Bendery contributed reporting.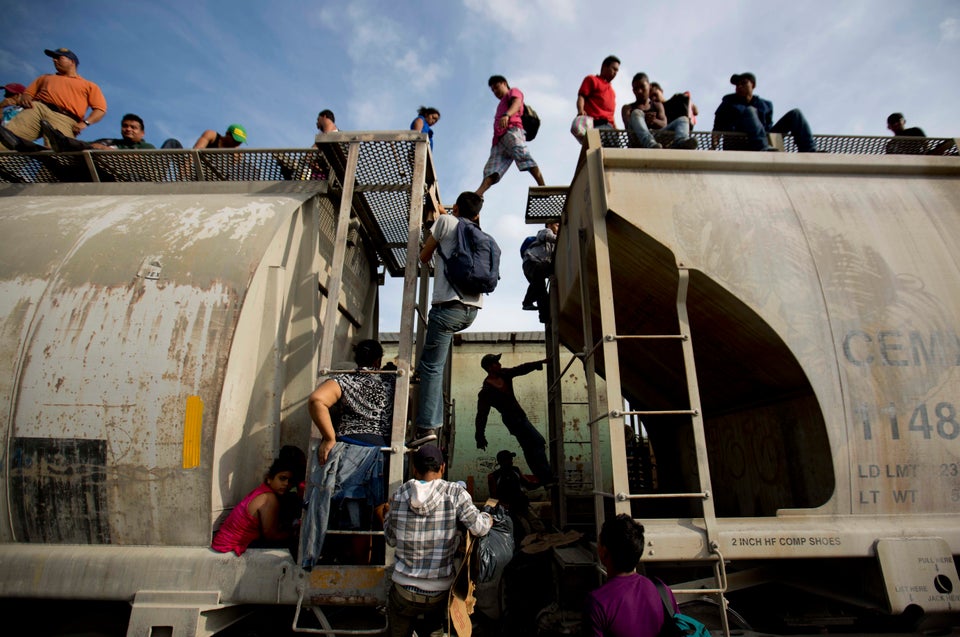 Why Latin Americans Really Come To The U.S.