WASHINGTON -- The House is expected to vote later Friday on a reworked and even more conservative package to address the ongoing border crisis, with measures that would speed up deportations and a separate vote to end a policy that protects from deportation undocumented young people with long-standing ties to the U.S.
Then they'll leave Washington, having successfully gone after one of President Barack Obama's key policies but approving funding legislation that couldn't get through the Senate -- which isn't here to pass it anyway.
Congress, in other words, is set to skip town until September without sending a bill to the president's desk to deal with an influx of more than 57,500 unaccompanied minors who have been apprehended at the border since the beginning of October -- even though nearly all members in both chambers have deemed the situation a crisis.
House Republicans brought more GOP members on board Friday for a funding bill that would now offer $694 million to address the border crisis. They said after a meeting Friday morning that they're optimistic the bill can pass after the changes.
"Those new ideas were rolled out today and it was the best rendition of 'Kumbayah' I've ever heard in my life," Rep. Matt Salmon (R-Ariz.), a member of the working group that helped draft the bill's policies, told reporters.
Leadership was forced to scrap a vote at the last minute on Thursday when it appeared it couldn't get the 218 votes needed for passage. Nearly all Democrats opposed that legislation, along with some Republicans.
Along with the original bill's $659 million in funding -- a fraction of President Barack Obama's $3.7 billion request and the Senate's failed $2.7 billion package -- it included measures to send National Guard troops to the border, add immigration lawyers and change a 2008 law so unaccompanied minors from countries other than Mexico and Canada could be deported more quickly.
It still wasn't considered strong enough for some Republicans, so leadership promised an additional vote on Thursday, if the first bill were to pass, on legislation that would end the president's Deferred Action for Childhood Arrivals policy on undocumented young people and prevent him from taking additional executive action in the future.
That wasn't enough to win over hard-line GOP members, either. But the revised package presented to members on Friday received more support, Republicans said after a meeting.
It will include the general framework of the original package, but will sub in language from Rep. John Carter (R-Texas) to change the 2008 law so minors can be removed more quickly.
The bill will also provide $35 million in funding to reimburse border states who send National Guard troops to the border -- a move already made by Gov. Rick Perry (R) in Texas, which is facing most of the influx. A GOP aide said the $35 million will be offset, as is the rest of the legislation.
If the funding bill passes, a vote is expected on legislation to end DACA and prevent the president from further moves to slow deportations. The language for that bill was changed as well, members said.
The revisions pleased immigration hawks. Even Rep. Steve King (R-Iowa), the most vocal opponent of comprehensive immigration reform in the House, said he was leaning toward voting for the bill after leadership made some of the changes he requested.
"The changes brought into this are ones I've developed and advocated for over the past two years," he told CQ Roll Call. "It's like I ordered it off the menu."
The White House issued a veto threat earlier this week for the House Republicans' $659 million bill and gave a strong condemnation of the plan to vote to end DACA.
Even if the House passes something, it won't make much of a difference. The Senate has already finished votes until September, after the Democrats' bill to address the border crisis was killed in a 50-44 vote Thursday, with Democratic Sens. Joe Manchin of West Virginia and Mary Landrieu of Louisiana joining Republicans in opposition.
Some House Republicans called for the Senate to come back from the August recess to work on border funding, should it get through the House.
"There's always hope the Senate will come to their senses and pass this bill over there. If we're able to pass this here, I would hope that the Senate would come back," said House Appropriations Committee Chairman Hal Rogers (R-Ky.). "I would hope that they do their job."
Marina Fang, Sam Levine and David McCabe contributed reporting.
This article was updated to include comments from Rep. Steve King.
Before You Go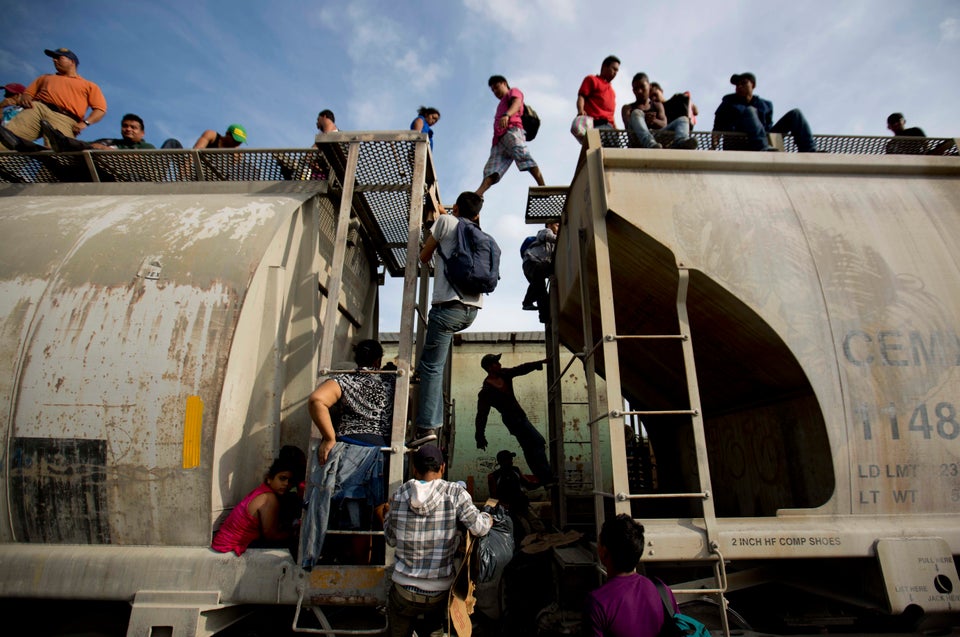 Why Latin Americans Really Come To The U.S.
Popular in the Community