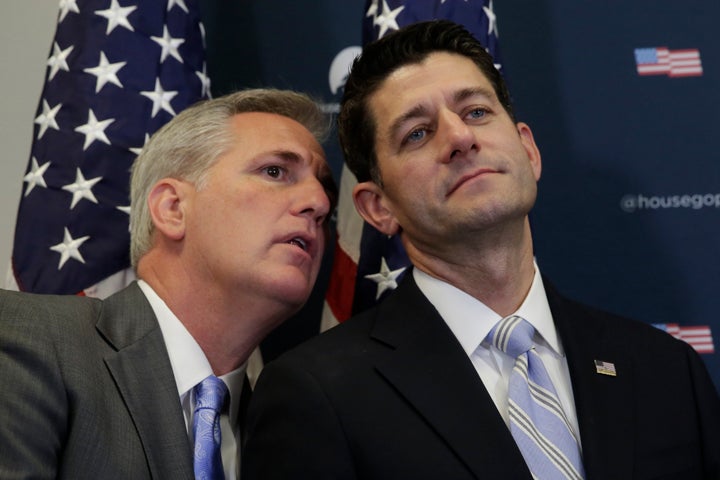 Before lawmakers left for a seven-week break, two GOP chairmen in the House asked the FBI to investigate whether Clinton had lied to Congress when she told the Benghazi Committee there was nothing marked classified in her emails ― something that turned out to be untrue.
Now, with Congress back, Majority Leader Kevin McCarthy (R-Calif.) seems to be hedging a bit ― not rhetorically, mind you, just about whether to actually pursue charges against the Democratic presidential nominee.
"I think it's been answered whether she lied to Congress," McCarthy told reporters on Tuesday. "I think the American people understand that too."
"It seems every day more and more information comes out, more and more emails are found, there's more questions out there ― it's very unfortunate, that's why she has a very hard problem with truthfulness in the scoring, in the polling with the American people," McCarthy continued. "I think people want to see answers."
McCarthy said that when Clinton often contradicts herself when she gives the public new information. But when pressed, he largely ignored the question of whether Clinton had committed a felony by lying to Congress, and whether she should therefore should be charged.
"FBI looked at a lot of things," McCarthy said.
The reporter asking the question, Todd Zwillich of WNYC, noted that the FBI didn't look at whether Clinton lied to Congress, but McCarthy forged ahead with his answer.
"I think we're just now getting to see the notes from the FBI, so, we'll let the American public be able to see, and whatever we have to do to follow through, we will," McCarthy said.
Oversight and Government Reform Chairman Jason Chaffetz (R-Utah) told Comey at the time that he would have a letter in the next few hours. Chaffetz and Judiciary Chairman Bob Goodlatte (R-Va.) did write a letter to the FBI to request a perjury investigation, but there has been little action on it since Congress left. (Chaffetz also sent a letter on Tuesday to the U.S. Attorney for the District of Columbia requesting a review of whether Clinton obstructed justice.)
Republicans could press the issue further by holding hearings on whether Clinton lied or by adopting a resolution stating Congress believes she did, but GOP leadership seems to want to avoid those theatrics so close to Election Day. 
"We have a lot of work to get done," McCarthy said, when asked again if there should be hearings on Clinton, adding that he wanted to see action on other items.
McCarthy did say that if there was "a place and a role," then committees should follow through. But he didn't seem to think it was a pressing issue. Instead, he seemed satisfied to simply claim that Clinton had lied.
By doing so, Republicans may avoid the charges that they're twiddling their legislative thumbs and conducting nakedly political witch hunts ― while preserving the talking point that Clinton isn't trustworthy. (If the FBI's previous investigation is any indication, Comey could just as easily find that Clinton didn't willfully lie to Congress.)
So, for now, GOP leadership appears to be holding its fire on Clinton and perjury charges. But if McCarthy is actually committed to allowing chairmen to make their own decisions on the issue, a full-blown investigation could be coming anyway.
Calling all HuffPost superfans!
Sign up for membership to become a founding member and help shape HuffPost's next chapter