House Republicans passed a government funding bill last week that would both enact massive federal spending cuts and raise the so-called national debt ceiling for less than a year.
House Speaker Kevin McCarthy (R-Calif.) and his deputies celebrated passage of the Limit, Save, Grow Act, using the occasion to challenge President Joe Biden to begin bargaining with him.
"Continuing to ignore the problem is not an option," the House GOP leaders said in a statement on Wednesday. "The President must come to the table to negotiate."
But House Democrats have wasted no time trying to turn the bill into a political liability. They are depicting the legislation, which does not explicitly exempt the Department of Veterans Affairs from federal spending caps, as a devastating cut to the health care and cash benefits that military veterans receive.
"It is a fundamental breaking of faith with people that risked their lives for the country," Rep. Pat Ryan (D-N.Y.), an Iraq War veteran running for reelection in a swing seat, told HuffPost by phone on Monday.
The House bill itself is more conservative than what is likely to become law after Biden and Senate Democrats weigh in.
National Democratic Party organs are nonetheless vowing to use the vote against Republicans in competitive House races in 2024. A spokesperson for the Democratic Congressional Campaign Committee, House Democrats' campaign arm, said in a statement on Wednesday that "these extremists will have to answer for their hypocrisy to voters in 2024."
House Majority PAC, House Democrats' main super PAC, was more explicit about its plans to feature the vote in paid communication.
"House Majority PAC will use these extreme votes by MAGA Republicans to slash veterans care by 22% in races across the country to ensure that Democrats take back the House," C.J. Warnke, a spokesperson for House Majority PAC, told HuffPost in a Monday statement.
Biden got in his own dig via Twitter on Tuesday, posting a simplified flow chart he said explained the charge.
Taking the criticism seriously, House Republicans are on the defensive. On Sunday, they convened a conference call with reporters to angrily deny the charges, accusing Democrats of "shamelessly lying."
"Democrats realize they are on the wrong side of the debt crisis and are making up false attacks out of thin air in an attempt to deflect from their unpopular and untenable position," Will Reinert, a spokesperson for the National Republican Congressional Committee, House Republicans' campaign arm, told HuffPost in a statement.
The debate over how to characterize the potential effects of House Republicans' bill revolves around how much credence to give Republican leaders' spoken assurances that the spending caps would not affect veterans' benefits.
"I will not bring a bill that cuts our veterans," House Majority Leader Steve Scalise (R-La.) said Sunday on ABC's "This Week."
But Democrats note that Republicans put their commitment to holding Social Security, Medicare and Medicaid harmless into the bill itself.
"It's a safe assumption that you've cut everything you didn't say you're going to protect in the plan," said Ryan, who is one of 37 House Democrats that the NRCC is already targeting.
"Your average voter doesn't like the idea of debt, and debt is not popular in a vacuum, but when you lay out for people, 'Oh, what's being proposed here is holding a lot of these programs that are very popular hostage,' that changes people's opinions very quickly."
Of course, what House Republicans say is that the spending caps are just budget-wide targets rather than across-the-board cuts and that they would protect veterans' benefits and other sensitive programs in the annual appropriations process. But the ambitiousness of their overall spending reduction targets makes some of those assurances sound either dubious or even more draconian to the programs that they would not spare.
The Republican bill sets limits each year for the next 10 budget years, starting Oct. 1, on how much Congress can dole out in regular appropriations, or discretionary spending. That's the money that goes to things people think of as general government ― the departments of Defense, Health and Human Services and Justice, as well as the Environmental Protection Agency and other agencies. By contrast, the bill doesn't touch programs like Social Security, Medicare and Medicaid, which are called "mandatory spending" because annual spending on those programs is basically on autopilot rather than subject to annual appropriation.
In the pool of so-called discretionary spending, defense made up 53% of the pie for 2023, while non-defense spending, which includes the Department of Veterans Affairs, made up only 47%. That's where the math comes in.
Because of the almost even split between defense and non-defense discretionary spending, protecting defense means almost doubling the cuts to non-defense outlays if defense is not allowed to be cut as well. Protecting other politically sensitive priorities also means the cuts in the remaining areas would be even deeper.
Officially, the Republican plan would reduce discretionary spending to its 2022 level and allow it to grow at an annual rate of 1%, thereafter. But Democratic groups note that amid year-over-year inflation of about 5%, those caps would effectively entail big cuts ― even if they were distributed equally between defense and non-defense discretionary spending.
Since House Republicans made it clear early on that they wanted to keep military spending on its present growth path, the White House produced an estimate of how much the GOP would have to cut from all other agencies, including the Department of Veterans Affairs, to still achieve its spending reduction goals. That's where the 22% cut comes from. According to the White House, if the 2024 overall pool of discretionary spending was limited to 2022's level and the defense spending was held at this year's level, everything else would have to be cut by 22% to stay below the cap.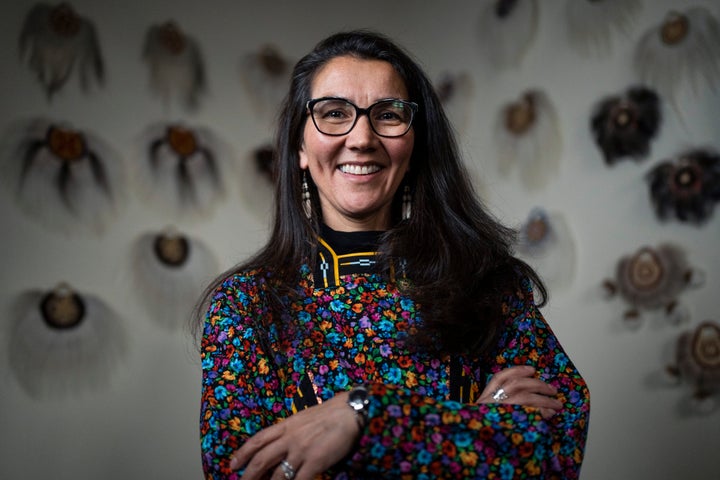 Liberal think tanks have drafted their own analyses of exactly how deeply Republicans would have to cut other programs ― things like food stamps and federal funding for preschools and police officers ― if Republicans held both military spending and veterans' benefits harmless.
Third Way, a centrist Democratic think tank, projected that keeping defense and veterans funding safe from discretionary cuts would mean a $2.8 billion cut to the FBI, at the cost of 11,000 agents, analysts and staff. In that scenario, Customs and Border Patrol would also lose 2,400 officers and the Federal Aviation Authority would lose about 9,400 positions.
The liberal Center on Budget and Policy Priorities said protecting nothing — simply applying the cuts across the board to both defense and non-defense discretionary spending — would result in a 13% cut in all programs next year and a 24% cut by 2033. If defense and veterans' programs were protected, it said, those cuts would be even deeper, 33% next year and 59% by 2033.
And the Center for American Progress, the Democratic Party's unofficial think tank, calculated that if defense spending is allowed to grow at 5.2% a year ― the average rate in the last six years ― and veterans programs were protected from cuts, the resulting cuts to everything else would be a whopping 94% by 2033.
"In short, budget caps are budget cuts," said Bobby Kogan, CAP's senior director for federal budget policy.
And budget cuts to programs voters care about are generally unpopular.
"Your average voter doesn't like the idea of debt, and debt is not popular in a vacuum, but when you lay out for people, 'Oh, what's being proposed here is holding a lot of these programs that are very popular hostage,' that changes people's opinions very quickly," said Democratic pollster Madeline Conway. "And so certainly it's good strategy for Democrats to point out that Republicans are going after a bunch of programs that are very popular."
Sure enough, Ryan isn't the only frontline Democrat to react strongly to House Republicans' bill.
Reps. Chris DeLuzio (Pa.), Wiley Nickel (N.C.), Mike Levin (Calif.) and Angie Craig (Minn.) are among the many other Democrats in swing state seats who issued scathing indictments of House Republicans' bill, singling out cuts to veterans' programs in particular.
"We're committed to protecting the safety-net programs."
Even the office of centrist Democratic Rep. Mary Peltola of Alaska, one of three House Democrats urging McCarthy and Biden to reach an agreement ― rather than pushing for a "clean" debt ceiling increase ― had unkind things to say about the House Republicans' bill.
"Representative Peltola is deeply concerned that this bill would cut $2 billion in spending on veterans' healthcare, which could result in 100,000 fewer outpatient visits at Alaska VA medical facilities," Peltola spokesperson Sam Erickson said in a statement. "Alaska has the highest percentage of veterans of any state, and this much of a disruption to their health care system could be devastating to many individuals and families."
So why would Republicans vote for the bill, or at least vote for something that could plausibly be portrayed as cutting veterans' health benefits and other popular programs?
Rep. Cathy McMorris Rodgers (R-Wash.) told HuffPost the debt limit package may have been more attractive to party moderates because it didn't include mandatory programs like Social Security or Medicare.
"We are protecting the safety-net programs," said McMorris Rodgers, a former chair of the House Republican Conference. "We're committed to protecting the safety-net programs."
"I think what we're talking about is making sure that the programs are focused on where they need to be focused and clawing back some of the reckless spending that was put into place by the Biden administration in recent years," she added.
Liam Donovan, a principal at lobbying firm Bracewell, posited another theory: Moderate Republicans, who ordinarily may have balked at such cuts, had to sign on to strengthen McCarthy's negotiating hand and advance the party's interests as a whole.
"If you're in a majority-making seat, your fortunes rise and fall with the broader strength of the party. And if House Republicans descend into chaos, as would have surely happened if this bill failed, enabling Biden to hold out for a clean bill amid GOP capitulation, it would likely have more downside than the sorts of attacks this messaging bill opens them up to," he told HuffPost.
Besides, he said, the actual cuts will wind up being much smaller than those that would be set in motion by the House bill.
"These fantasy hits over theoretical programmatic cuts are also obsolete if/when they actually vote on appropriations," he said.