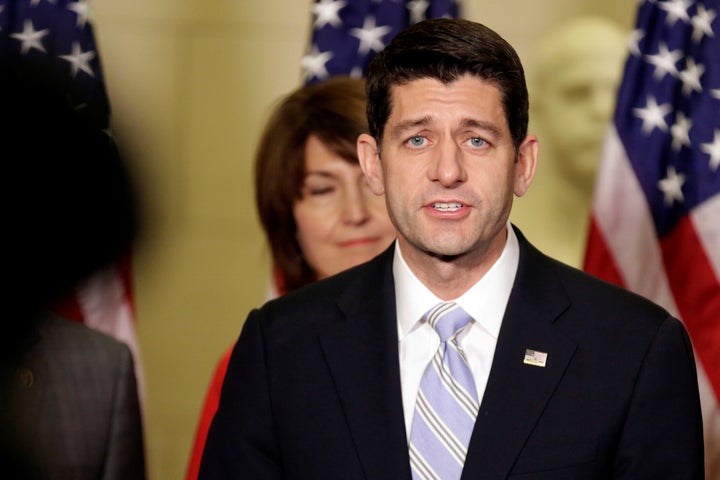 WASHINGTON ― House Republicans are expected to vote on whether to water down a key piece of former House Speaker John Boehner's (R-Ohio) legacy ― the 2011 ban on earmarks.
The House Republican Conference on Wednesday will consider a narrowly tailored amendment that would allow lawmakers to direct funding to some federal agencies or state and local governments for a "federal purpose."
The measure ― filed by Reps. John Culberson (Texas), Mike Rogers (Ala.) and Tom Rooney (Fla.) ― would not allow members of Congress to direct federal funding for recreational facilities, museums or parks. It would also require lawmakers proposing earmarks to be identified and their requests to originate in committee.
"This makes sure the entire process is out in the sunshine," Culberson told HuffPost in a Tuesday interview. "It's gotta go through the entire committee process. You've got to put your name on it and be proud of it. Don't hide your light under a bushel basket."
Earmarks are congressional spending items for specific local projects, including, infamously, a "Bridge to Nowhere" in Alaska that became a symbol of wasteful spending designed only to benefit its sponsor. Republicans banned earmarks in 2011 after taking control of Congress, but some government watchdog groups have judged the ban to be counterproductive ― and constitutionally questionable, since the Constitution specifically gives Congress the power to spend money. Proponents of lifting the ban say doing so would reduce gridlock and also serve as a check on the executive branch of government.
"You cannot hand sacks of money to the executive branch and let the unelected bureaucrats pass it out any way they want," Culberson added.
The proposal is likely to be met with fierce resistance from conservative groups. Jim DeMint, president of The Heritage Foundation, panned the effort in a statement released by the conservative think tank on Tuesday.
"We need to focus on balancing the budget, not pork-barrel spending that has wasted money on bridges to nowhere, teapot museums, and monuments to politicians," DeMint said.
The Agenda, a newsletter from The Heritage Foundation, also objected to the amendment, arguing it would fly in the face of President-elect Donald Trump's promise to "drain the swamp" in Washington.
"You can't drain the swamp by bringing back earmarks," the newsletter said.
Americans for Prosperity, a conservative budget group, also urged Republicans to oppose lifting the ban. Brent Gardner, the group's chief government affairs officer, said Americans "did not send their lawmakers to Washington to spend recklessly, but that's exactly what they're proposing to do."
A senior House aide told The Daily Signal, a publication of The Heritage Foundation, that the proposal is the "first step to completely ending the earmark ban by slowly peeling it away."
Culberson wouldn't say whether he believed the measure had enough support to pass. House Republicans may be more amenable to passing new spending now that they maintain full control of the government.
A key person to watch will be House Speaker Paul Ryan (R-Wis.), who has yet to comment publicly about the issue. A spokesperson for Ryan would not say whether he supports doing away with the ban. His House website notes that earmarks can be abused but says they "aren't inherently problematic."
"I won't speak for Speaker Ryan but I'm very encouraged by the support we've received," Culberson said.
Calling all HuffPost superfans!
Sign up for membership to become a founding member and help shape HuffPost's next chapter
BEFORE YOU GO
PHOTO GALLERY
Scenes From 114th Congress And Capitol Hill