WASHINGTON -- On Monday evening, the Employment Non-Discrimination Act was about to clear a key hurdle in the Senate. But first, Republicans who opposed the bill were given a chance to voice their criticism on the Senate floor. After all, there had already been speeches from senators who backed the legislation.
But then something surprising happened. When Sen. Mazie Hirono (D-Hawaii), who was presiding over the Senate, asked, "Who yields time in opposition?" no one spoke up. Not a single senator took to the floor to give a speech explaining why he or she opposes barring workplace discrimination against LGBT individuals.
In an interview with a small group of reporters on Wednesday, Senate Majority Leader Harry Reid (D-Nev.) said he found it amazing that not even Sen. Ted Cruz (R-Texas), who railed against Obamacare for more than 21 hours in September, took the opportunity to get up and speak.
"You know, that was funny," said Reid. "[Sen. Dick Durbin (D-Ill.)] pointed to [Sen. Marco Rubio (R-Fla.)], and Rubio pointed to Cruz, because we were told that it was Cruz who was going to give the speech. I find it terribly interesting that he was unwilling to stand and say anything, because we found him willing to talk about anything. But he wasn't willing to do that."
A spokesman for Cruz said the senator never had any intention of speaking about ENDA, and Rubio's spokesman said the senator was just joking when he pointed at Cruz.
The bill cleared the procedural hurdle in a bipartisan 61-30 vote. It will receive a final passage vote on Thursday.
ENDA would outlaw workplace discrimination on the basis of sexual orientation or gender identity. It is already illegal for employers to discriminate on the basis of race, color, sex, nationality, religion, age or disability.
House Speaker John Boehner (R-Ohio) opposes ENDA, and senior aides say it is unlikely it will even come up for a vote in the lower chamber. Reid, however, predicted a different outcome.
"I think the House is going to have to capitulate, if they have any hope of having a president that can be a viable candidate or they think they can elect some Republicans and they want to hang onto the House," Reid said, pointing out that the majority of Americans favor the workplace protections the bill would afford.
In March, the Republican National Committee released an autopsy report that examined what went wrong for the party during the 2012 elections. It concluded that the GOP needs to change the way its reaches out to constituencies that don't usually vote Republican.
Reid said that so far, Republicans are doing a pretty poor job listening to their own advice, blocking not only ENDA but also comprehensive immigration reform.
"They're wrong on policy and tone," he said. "So they don't follow their own very expensive report that they had prepared."
LGBT advocates have been pushing President Barack Obama to issue an executive order barring federal contractors from discriminating on the basis of sexual orientation and gender identity. It would obviously cover far fewer people than ENDA would, but it's a start. Obama has refused to do so, saying he wanted to see Congress send legislation to his desk.
But Reid said he thinks that if the House does indeed continue to block ENDA, Obama will be more likely to issue some sort of executive action, just as he did on immigration when he announced his administration would stop deporting young undocumented immigrants known as DREAMers. Reid added that he would "rather try to get it done legislatively first."
"The Republican Party is staggering right now ... They have offended everybody," he said. "Over the years, what they've done to African-Americans is really hard to comprehend. Now the new people they're beating up on are Hispanics. Women. They went after the poor with cutting food stamps by $40 billion. Lesbians, gays and the other people we've included in this bill -- they have whacked on them for a long, long time."
On Monday, Reid predicted that if the House did vote on ENDA, it would pass. The House version of the bill was introduced this year by Rep. Jared Polis (D-Colo.) and currently has 193 cosponsors, five of whom are Republican.
This story has been updated with comment from Sen. Marco Rubio's spokesman.
Before You Go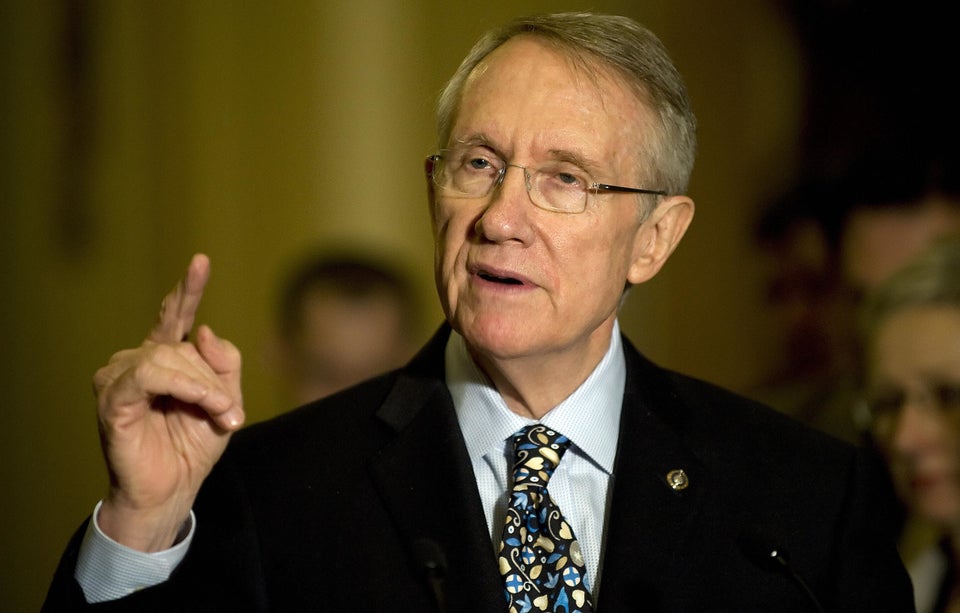 Senate Majority Leaders Through The Years
Popular in the Community