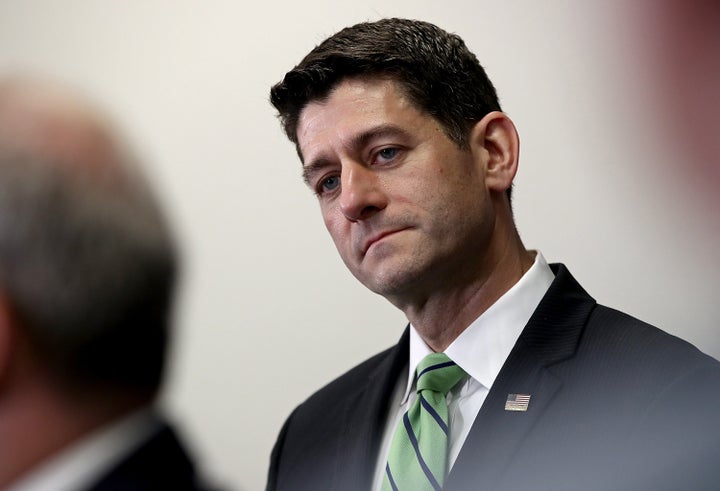 WASHINGTON ― House GOP leaders, unable to find the votes for their health care bill simply by pressuring reluctant Republicans, are now considering changes that will win over moderates.
House Majority Leader Kevin McCarthy (R-Calif.) began a closed-door meeting on Tuesday by telling members, "Now is not the time to decide what to do or how to do it; now is the time to do it," according to a Republican present.
But just hours later, after it was clear that strategy wasn't working, leaders were toying with an amendment that would add more funding for the high-risk coverage pools that states would set up to insure people with costly pre-existing conditions.
"Obviously some members are looking for changes, but we've not made any at this point, and don't know that we will," AshLee Strong, a spokeswoman for House Speaker Paul Ryan (R-Wis.) told HuffPost.
If the current legislation isn't doing the trick, however, the need for an amendment may become obvious.
According to the last Congressional Budget Office estimate, Republicans have roughly $150 billion in savings over the next 10 years that they could dole out to bolster the high-risk pools and mollify centrists. But that assumes other changes in the bill won't reduce those savings.
It's unclear how the Congressional Budget Office will score other GOP modifications, partly because the office would have to predict whether states will opt out of the protections for people with pre-existing conditions. Some members believe that lowering premiums for healthy young people could increase the number of people taking advantage of the government's tax credits, thereby increasing the overall cost of the bill and eating into the savings.
And while Republicans argue that high-risk pools would work for sick people, that historically hasn't been the case. The Center for American Progress estimated on Tuesday that the Republican health care plan falls $200 billion short of sufficiently funding high-risk pools.
Either way, leaders are considering how to shore up support from moderates. And while there isn't any firm proposal at this point, some moderates on the fence could probably be won over with additional funding for the high-risk pools.
"That sounds good," Rep. Kevin Yoder (R-Kan.), who is undecided on the bill, said when HuffPost asked him about adding money to the high-risk pools. "That sounds positive."
Another undecided Republican, Rep. Adam Kinzinger (R-Ill.), said he'd be willing to look at that change, and Rep. Don Young (R-Alaska), also undecided, said that sort of amendment "might help."
(Young also told HuffPost on Tuesday that he thought the GOP health care bill, which would change how rural states are reimbursed for costs, "hurts Alaska," so his vote might be more difficult to get than leaders think.)
Those members are just undecided, however. When HuffPost described the potential amendment to Republicans who have taken firmer stances against the GOP health care bill, it didn't seem to entice them much.
Rep. Frank LoBiondo (R-N.J.) said that sort of amendment probably wouldn't change his vote and that he was "not really in play" at this point. Former Energy and Commerce Chairman Fred Upton (R-Mich.), who came out in opposition to the bill on Tuesday, also said the proposal wouldn't change his mind if Republicans didn't fix the protections for people with pre-existing conditions. "More money does not do the trick," Upton said.
Rep. Charlie Dent (R-Pa.), the chairman of the moderate Tuesday Group, said that even with that sort of amendment, he still would have a number of concerns. Rep. Ileana Ros-Lehtinen (R-Fla.) said she was concerned that Republicans were making coverage for people with pre-existing conditions "in name only," and that even $50 billion in new funding for high-risk pools would be "a little baby down payment."
When HuffPost asked Rep. Chris Smith (R-N.J.) about how an amendment adding money to high-risk pools would affect his vote, he interrupted, raised his hand and said, "I'm just 'No.'"
Still, the margins on this bill are so tight that any proposal that flips even a few members may make a difference. Various whip counts show a very tight situation.
"If they had the votes, we would have voted."
One constant, however, has been a number of hard "No" votes that do not seem to be moving. If Republican leaders can't start flipping those members, they may never be able to pass the bill. They can only lose about 22 Republicans ― depending on absences ― and they've already lost about 20.
"Seems to me that adding money to the high-risk pools is probably the easiest way for leadership to attempt to coax some moderates without losing the Freedom Caucus," one senior GOP aide with a sense of the vote told HuffPost. "The question is, does it flip your hard 'No' members, or continue to just help with the undecideds? Seems like at some point, they need to pick off a few of the 'No' and 'lean-No' members."
Many moderates are having a hard time with a number of the bill's provisions. The legislation would allow insurers to charge seniors five times as much as young people (currently they can only charge three times as much) and would cut $880 billion from Medicaid over the next 10 years.
The Congressional Budget Office projects that 24 million more people would not have health insurance in 10 years if the legislation is enacted ― to say nothing of these latest changes, which could dramatically increase prices for sick people and undermine what's covered by health insurance.
Moderates also worry that handing the conservative Freedom Caucus a win, particularly when this legislation doesn't look like it'd go anywhere in the Senate, is a dangerous precedent to set in lawmaking.
"There is a concern that this is going to be the model: Try to placate the hard right and get these bills out of the House knowing they have an uncertain fate in the Senate," Dent said. "Because we know darn well that the bill on the rebound from the Senate won't satisfy those on the hard right."
"All this political capital is being expended on the first launch, knowing damn well that on the battle that matters ― the last one ― you won't get the support of those very same people," he added.
The other complication with an amendment that adds money to the high-risk pools is that GOP leadership could lose some conservative support, though conservatives seem relatively happy with the bill after the latest changes. While Freedom Caucus members have always said this bill should cost less than Obamacare, that's never been the primary reason they want to repeal the Affordable Care Act.
"That's important," former Freedom Caucus Chairman Jim Jordan (R-Ohio) said of saving money. "But what's most important is we keep our word ― which this bill doesn't quite get there, but it's a good start ― and that we lower premiums. That's been our position from the beginning. That's most important."
Jordan reiterated that the Freedom Caucus would have to review any new changes, but he seemed to support tweaks if they'll get the legislation over the finish line.
It's just a matter of whether more changes actually will get Republicans there. As it stands now, the current bill appears to fall short.
As Dent said on Tuesday, "If they had the votes, we would have voted."
Here is the current HuffPost whip count on the latest version of the GOP health care proposal. This whip count is based on conversations with lawmakers and staffers with knowledge of how members are voting. Not every lawmaker on this list has confirmed how he or she will vote ― this is our best guess:

No (20)
Mark Amodei (Nev.)
Andy Biggs (Ariz.)
Barbara Comstock (Va.)
Ryan Costello (Pa.)
Jeff Denham (Calif.)
Charlie Dent (Pa.)
Dan Donovan (N.Y.)
Brian Fitzpatrick (Pa.)
Jaime Herrera Beutler (Wash.)
Walter Jones (N.C.)
John Katko (N.Y.)
Leonard Lance (N.J.)
Frank LoBiondo (N.J.)
Billy Long (Mo.)
Thomas Massie (Ky.)
Patrick Meehan (Pa.)
Ileana Ros-Lehtinen (Fla.)
Chris Smith (N.J.)
Fred Upton (Mich.)
David Young (Iowa)

Lean No (7)
Paul Cook (Calif.)
Mario Diaz-Balart (Fla.)
David Joyce (Ohio)
Michael Turner (Ohio)
David Valadao (Calif.)
Daniel Webster (Fla.)
Rob Wittman (Va.)

Undecided (13)
Justin Amash (Mich.)
Mike Coffman (Colo.)
Carlos Curbelo (Fla.)
John Faso (N.Y.)
Darrell Issa (Calif.)
Adam Kinzinger (Ill.)
Steve Knight (Calif.)
Bruce Poliquin (Maine)
Peter Roskam (Ill.)
Ed Royce (Calif.)
Elise Stefanik (N.Y.)
Kevin Yoder (Kan.)
Don Young (Alaska)

Lean Yes (14)
Rod Blum (Iowa)
Ted Budd (N.C.)
Bradley Byrne (Ala.)
Tom Emmer (Minn.)
Rick Crawford (Ark.)
Jeff Fortenberry (Neb.)
Rodney Frelinghuysen (N.J.)
Peter King (N.Y.)
Erik Paulsen (Minn.)
Dave Reichert (Wash.)
Hal Rogers (Ky.)
Scott Tipton (Colo.)
Glenn Thompson (Pa.)
Lee Zeldin (N.Y.)

Arthur Delaney and Laura Barrón-López contributed to this report.
Popular in the Community