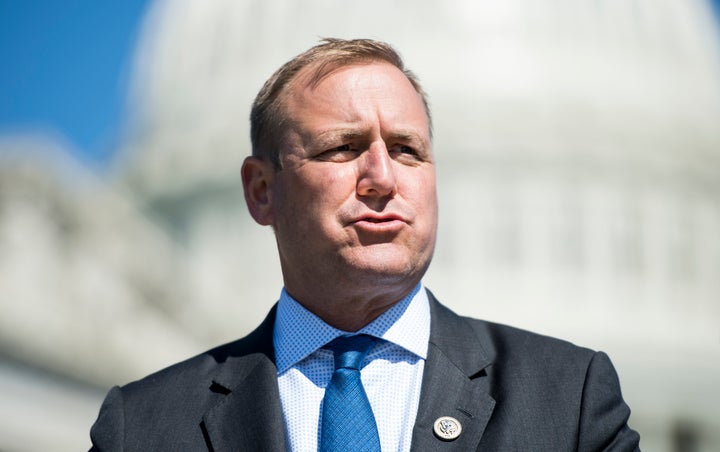 WASHINGTON ― Days before a self-imposed Tuesday deadline, House Republicans are scrambling to reach an immigration deal to dissuade moderate GOP members and Democrats from forcing a number of immigration votes using a discharge petition, a little-used procedural move that bypasses GOP leaders to allow votes on the competing measures.
More than a dozen members representing Republican leadership, moderates, and conservatives met Friday afternoon to review a proposal meant to split the difference between what moderates want ― in essence a renewal of the Deferred Action for Childhood Arrivals program that would allow young immigrants who were brought to the U.S. as children to stay permanently ― and what conservatives want: stiff border security measures, such as a wall, an end to the diversity visa lottery program, a reduction in family migration and no "special" pathway to legal status.
Each side has met somewhat in the middle, with conservatives floating the idea of a merit-based point system for green cards that DACA recipients could participate in and moderates willing to give in on most of the other conservative priorities.
But there are still a number of sticking points in any tentative agreement, including enforcement, the size of the population eligible for visas and green cards, and just how the pathway to legal permanent status would work. And without an agreement on all of the items, conservatives and moderates don't see an agreement on any of the proposals.
As Rep. Mario Diaz-Balart (R-Fla.), an immigration proponent,  told HuffPost on Friday afternoon, "There isn't a deal until there's a deal."
Part of the problem for Republicans at this point is that, beyond their policy disagreements, members have different political motivations. If this immigration debate is just an exercise in messaging, with the Senate looking somewhat intractable, then moderates may be better off using the discharge petition to work with Democrats and demonstrate to their voters that they're willing to compromise on immigration.
For leaders of the discharge petition, like Rep. Jeff Denham (R-Calif.) and Will Hurd (R-Texas), there may be more political gain in showing their independence from GOP leaders on immigration. And for conservatives, not having to support a bill with a special pathway to legal permanent residence for undocumented immigrants means they aren't open to attack from the right.
Even if every lawmaker at the negotiating table were acting in good faith, a deal might still be doubtful just based on the policy differences ― at least before Tuesday, when moderates are expected to gather the final three signatures they need to reach 218 supporters of a discharge petition.
(Discharge petition backers want to have the signatures by Tuesday so they could force a vote by June 25, one of the few days that a vote is possible because of rules that only allow a vote on the second or fourth Monday of a month, and there aren't many days in the congressional calendar where the House would be in session on one of those days.)
Republicans acknowledge that conservatives and moderates could keep working on a compromise past Tuesday even if there are 218 signatures on the discharge petition. The new deadline may become June 25 ― when moderates are expected to force a vote on four immigration proposals, including one favored by Democrats ― but even then, Republicans could keep negotiating if there is no movement in the Senate.
Backers of the discharge petition argue that immediate action is necessary to protect young undocumented immigrants who came to the U.S. as children, a group often referred to as Dreamers. Nearly 700,000 of them are at risk of losing deportation protections and work authorization they received under DACA. President Donald Trump rescinded the program last year but it is still operating under court order, putting Dreamers in a precarious situation.
Lawmakers have struggled for years to find a workable immigration bill, and the issues that killed past efforts remain now. One of the thorniest issues is whether undocumented immigrants should receive a path to citizenship, something Trump said he would approve if he gets other concessions but that restrictionists strongly oppose as "amnesty."
Even if House Republicans strike a deal, its future would be shaky. It would be unlikely to get substantial Democratic support, given widespread opposition to many of the measures Trump has said are necessary for his signature. And without Democratic support in the Senate, it'd be impossible to get the proposal to Trump's desk.
Senate Majority Leader Mitch McConnell (R-Ky.) said on Thursday that immigration wasn't on the agenda for the remainder of the year, after the Senate voted on multiple immigration proposals ― including one supported by Trump ― in February, and none garnered enough votes to pass.
Still, moderates seem to think McConnell's calculus could change if the House passed a bill. And with Trump stating his desire to address DACA and to get border wall funding, any deal that leads to those two objectives could feasibly win his support, potentially backing McConnell into a corner.
With those dynamics in mind, moderates may not be wrong that their best bet is to force the House GOP's hand with the discharge petition, both for their own political interests and potentially for policy results.
REAL LIFE. REAL NEWS. REAL VOICES.
Help us tell more of the stories that matter from voices that too often remain unheard.