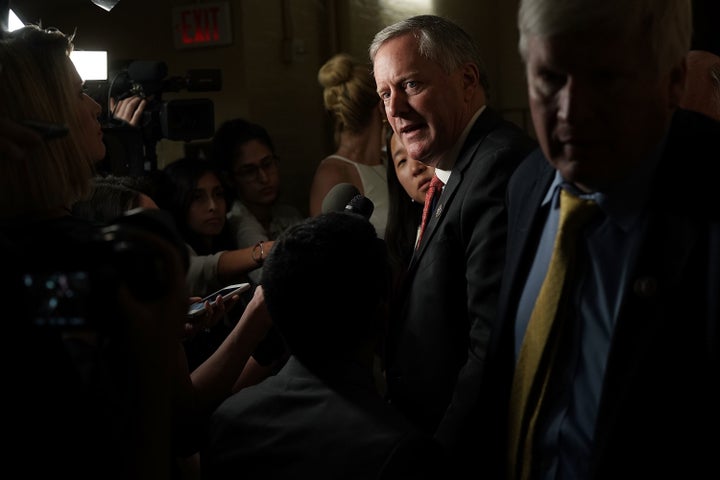 It's probably the latter.
The tension in the House was on full display Wednesday night when Freedom Caucus Chairman Mark Meadows (R-N.C.) and Speaker Paul Ryan (R-Wis.) passionately argued on the House floor over the final versions of two immigration bills that lawmakers will vote on Thursday. Meadows was upset over some last-minute changes to the so-called compromise bill, as well as over which version of the more conservative measure, written by Judiciary Chairman Bob Goodlatte (R-Va.), will get a vote.
Most conservatives wanted to vote on a modified version of the Goodlatte bill, hoping for as much GOP support as possible, but the Republican leadership decided to put forward the original version of the Goodlatte bill. That move has some Republicans claiming the House leadership is trying to sabotage the more conservative measure by putting up a less palatable version.
"They are trying to tank Goodlatte because they know that modified Goodlatte will probably get close to 218," one GOP member told HuffPost, referring to the number of votes needed to pass a bill in the House.
Conservatives took issue with leaders putting up an older version of the Goodlatte bill because aides were telling reporters that it was the Freedom Caucus who wanted a vote on the proposal "as introduced." Conservatives say that was never their demand, and, according to a source with knowledge of the exchange, when Meadows confronted Ryan about the claim, Ryan then said it was the moderates who demanded the original version of Goodlatte. And when Meadows asked moderates if they cared which version of the bill got a vote, and they said they didn't, Meadows blew up at Ryan, saying he was "done," that it "doesn't matter," even threatening to sign a discharge petition to trigger a whole new set of immigration votes.
The feud also centered on the compromise bill. Leaders made changes to that proposal, too, dropping some language on the "Chevron deference" ― which deals with how much judicial deference is given to an agency's interpretation of a law (Meadows wanted less deference). The leaders also watered down a provision dealing with funding for a border wall.
Those changes seem to have cost the compromise bill the support of Meadows and a number of other Freedom Caucus members, which will likely sink the bill. But the votes were already in question for both measures.
Leaders have privately said for months that the Goodlatte bill doesn't have enough support to pass, but they've held out hope that the compromise bill ― with President Donald Trump's strong support ― could potentially find enough votes. At this point, with Trump's support looking more confused than strong, it would take a small miracle for Republicans to pass either bill.
"This bill being rushed to the floor, coupled with the president's vague endorsement, dooms this bill to failure," a senior GOP aide told HuffPost on Wednesday.
Aides have been careful to note that Trump still could pick up his lobbying effort and win over some key holdouts. Republicans were literally driving members over to the White House on Wednesday, and the president has nearly an entire day to pressure Republicans before the vote on Thursday.
But members have felt that, despite saying Tuesday that he's behind both bills "1,000 percent," Trump is less than enthusiastic about the compromise bill. The president's mistaken comments in opposition to the bill on Friday, which the White House says was due to the president misunderstanding a question, were never quite cleaned up sufficiently. And his unfamiliarity with the actual policies in either bill is giving lawmakers reason to believe that there's room for them to oppose either measure on any one of the numerous contentious provisions.
Plus, Trump showed Wednesday just how quickly he can reverse course on immigration issues after he spent the better part of a week falsely claiming he couldn't reverse family separation policies at the border and then issued an executive order to stop family separations, albeit one that does so through a massive expansion of detention of kids and parents.
All the uncertainty has led Republicans into their familiar foxholes of inaction on immigration, believing that any compromise on the issue will just lead to more and more compromise.
"Here's what happened," Rep. Ken Buck (R-Colo.) told HuffPost on Wednesday. "We had a bill that came out of a representative group of the Republican conference that was a compromise bill, and that was the Goodlatte bill. And then we compromised further to get a compromise bill of the Goodlatte bill. And now, if that doesn't pass, they'll just compromise even more."
Buck said he was leaning toward opposing the compromise bill.
Calling all HuffPost superfans!
Sign up for membership to become a founding member and help shape HuffPost's next chapter