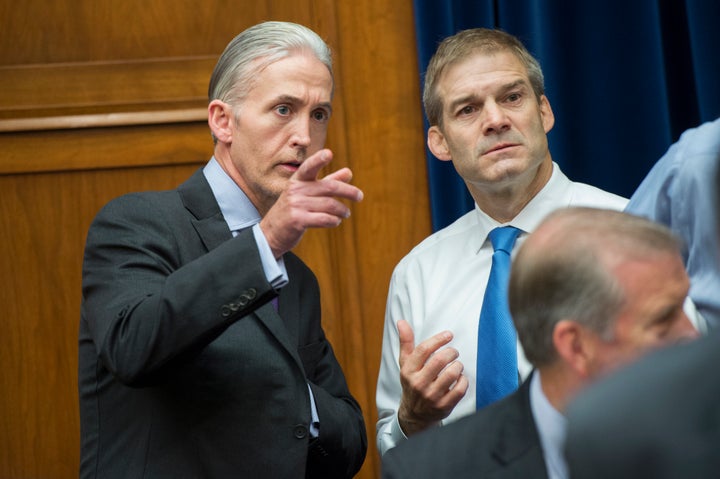 WASHINGTON ― After clamoring about the IRS commissioner for over a year, House conservatives were all set to vote to impeach John Koskinen on Thursday. And then they didn't.
Instead, members of the House Freedom Caucus took a last-minute deal with Judiciary Chairman Bob Goodlatte (R-Va.) to hold a hearing with Koskinen next Wednesday, when they'll talk about the IRS destroying emails regarding the alleged political targeting of tea party groups applying for tax-exempt status.
After Rep. John Fleming (R-La.) went to the House floor on Tuesday and set up consideration of a privileged resolution calling for the impeachment of Koskinen, there were renewed calls in the GOP conference to reach some sort of agreement to avoid what would have been an uncomfortable vote for many Republicans. (Members are generally split as to whether Koskinen deserves to be impeached, but they see the issue as an unnecessary wedge for GOP voters, dividing those who think Republicans are just wasting their time, and those who are shocked to learn that some Republicans don't think Koskinen should be reprimanded.)
Under the deal that came together late Wednesday, the Freedom Caucus agreed not to call for the impeachment vote. In exchange, Koskinen will testify under oath at Judiciary next Wednesday. What will happen then remains unclear.
Freedom Caucus member Tim Huelskamp (R-Kan.) noted Thursday that "it only takes one" member to bring up the privileged resolution for impeachment. "So I anticipate we're going to have a vote next week," Huelskamp said.
But Speaker Paul Ryan (R-Wis.) said Thursday that his understanding of the deal was that no one would bring up the articles of impeachment before the November elections.
Either way, Republicans could potentially dodge the issue by holding the hearing on Wednesday, and then departing early for their October recess, if they can pass a continuing resolution in time. (Most members expect the House and Senate to pass a continuing resolution next week and then cancel the last week of legislative business in September so both sides can get back to their districts to campaign.)
Regardless, the exact terms of the deal ― and whether the Freedom Caucus could actually prevent a single member from acting unilaterally to force a vote ― aren't the only unknown issues.
According to sources familiar with the negotiations, Goodlatte had repeatedly rejected the Freedom Caucus' offer to back off a vote in exchange for a hearing. When the HFC tried to circumvent Goodlatte by going to Ryan, the speaker told them he would stand behind whatever decision his chairman made.
That's when Rep. Trey Gowdy (R-S.C.) stepped in. Gowdy, understanding the division that this vote was causing within the GOP conference, convinced Goodlatte to give the Freedom Caucus the hearing ― although it isn't clear how exactly he did that. (Spokespeople for Gowdy and Goodlatte did not return requests for comment.)
What is certain is that the Freedom Caucus is claiming this as a victory.
"At the 11th hour, they finally agreed to do what we should have done 15 months ago," House Freedom Caucus Chairman Jim Jordan (R-Ohio) told The Huffington Post on Thursday. "We got what we've been after for a year."
In Jordan's telling, the Freedom Caucus had always said they wouldn't force a vote if Judiciary forced Koskinen to testify, though Jordan was careful to note that HFC members aren't giving up their right to potentially force a vote down the road. Still, getting a hearing and avoiding the vote seems like the preferred outcome for the HFC.
According to two Freedom Caucus members, the Koskinen impeachment vote wasn't even a slam dunk within their group of 40 hard-line Republicans. There were some members who felt this wasn't the issue the HFC needed to press, not when the impeachment looked like it would go down on the House floor and almost certainly wouldn't get the two-thirds needed in the Senate.
So when Gowdy was able to convince Goodlatte to hold the hearing, Freedom Caucus leaders jumped at the compromise. Jordan and fellow HFC founder Mark Meadows (R-N.C.) huddled with Ryan on the House floor Wednesday night until he gave his blessing.
When Ryan was asked about his involvement in the negotiations Thursday, he said the various members worked out their differences, not him. "That's how I like things getting handled here," Ryan said, "which is instead of going to leadership, members work these things out among themselves."
That seems to be the truth, more or less.
Ryan's position all along was that he would go with whatever Goodlatte decided. Ryan had Goodlatte's back when he refused to give conservatives a hearing, and he supported Goodlatte when the Virginia Republican decided to go ahead with the hearing.
Asked about GOP leadership's involvement in working out the deal, Jordan told HuffPost that "all kinds of people were talking about all kinds of things."
"What I know is," he continued, "we got the hearing." 
Calling all HuffPost superfans!
Sign up for membership to become a founding member and help shape HuffPost's next chapter