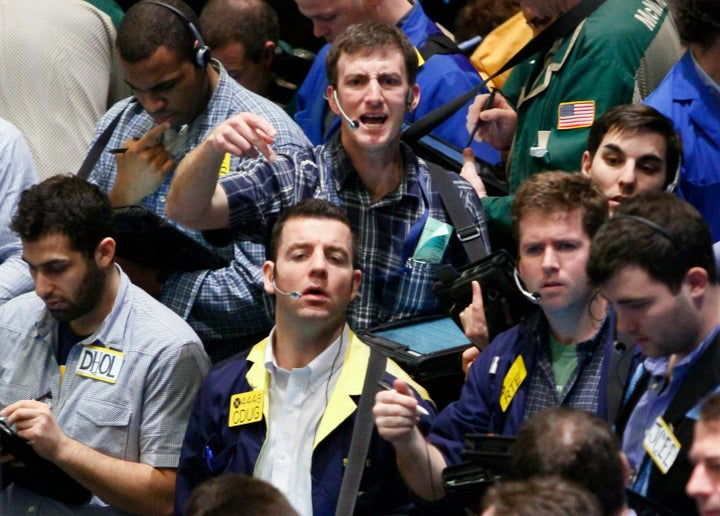 WASHINGTON -- With gas prices approaching record highs and soaring food prices fueling global unrest, Republicans on the House Agriculture Committee passed a plan Wednesday to delay regulation on financial speculation, including in the food and oil markets.
In a Wednesday vote, the committee approved a bill to delay by 18 months the writing of many key regulations outlined in last year's Dodd-Frank financial reform law. Dodd-Frank requires regulators to write a host of new rules to tighten oversight over derivatives, financial instruments designed to help farmers and manufacturers hedge their risk that are also used by financial speculators. Warren Buffett has called derivatives "financial weapons of mass destruction" and the financial tools played a key role in the downfall of insurance giant AIG.
During Wednesday's debate, Rep. Joe Courtney (D-Conn.) introduced an amendment to the bill that would have exempted from the 18-month delay key rules designed to rein in speculation in food and energy markets. The rules, called "position limits," would restrict the size of the bets that Wall Street traders can make, which experts say would ease commodity price swings.
All 20 Democrats on the panel voted in favor of Courtney's amendment, as did two Republicans: Reps. Jeff Fortenberry (Neb.) and Chris Gibson (N.Y.). But, the amendment was defeated, with the 23 other Republicans on the committee voting against it.
"I'm starting to wonder why I'm the only one talking about this at the hearings," Courtney told HuffPost. "But it really validated my point to watch the committee tie itself in knots," he said, adding that he thought the Republican opposition appeared uncomfortable during the hearing and did not want to seem to be siding with higher gas prices.
"The public may not know the ins and outs of Dodd-Frank, but they really suspect that something is a mess with the system," Courtney said. "When you go to work in the morning and the price of gas goes up 5 or 6 cents before you come home, you know something's wrong." Mike Conaway (R-Texas), who voted against the amendment, declined to comment, as did Reps. Fortenberry and Gibson.
Unrest in the Middle East is almost certainly contributing to the rising price of oil, but several economists and analysts, including Goldman Sachs analyst David Greely, have voiced concern that financial speculation in the derivatives markets is exacerbating those increases, if not driving them outright. The Commodity Futures Trading Commission, the regulator responsible for overseeing those markets, says the number of speculative bets are at an all-time high.
President Barack Obama has created a new inter-agency working group to prosecute fraud and manipulation in the oil markets, but some experts worry that, despite the merits of increased law enforcement, outright fraud will only have a minor impact on prices. Since the CFTC has not yet issued its rules to crack down on excessive speculation, much of the activity that may be driving up prices is likely legal, they say.
Sen. Bernie Sanders (I-Vt.) sent a letter to Obama last week urging him to ease gas prices by taking action on excessive financial speculation within the commodity markets.
Popular in the Community