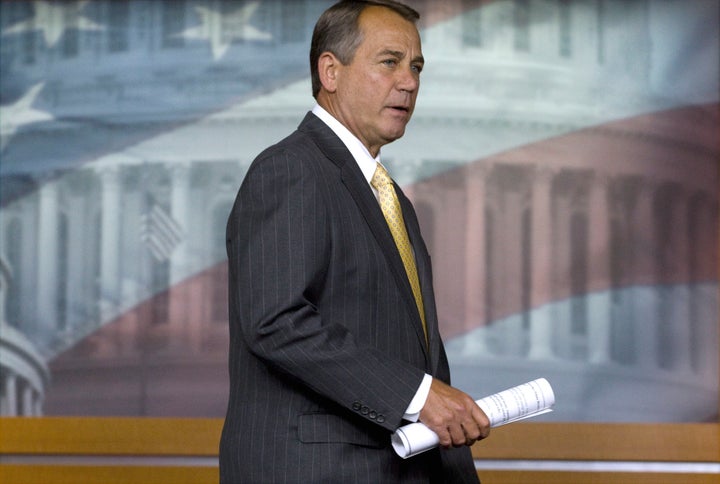 WASHINGTON -- House Speaker John Boehner (R-Ohio) will allow two votes on Friday against the president's actions in Libya: a resolution written by Rep. Dennis Kucinich (D-Ohio) and a resolution Boehner authored himself that is meant to pull away support from the more drastic Kucinich measure.
The Boehner resolution borrows a great deal from an amendment drafted by a Democrat, Rep. John Conyers of Michigan, that passed the House 416-5 on May 26. Both measures specifically bar the administration from putting American troops on the ground unless it is to rescue a member "of the Armed Forces from imminent danger," but Boehner's goes a step further, demanding that the White House explain its rationale for intervening in Libya in mid-March.
Still, it is a far weaker measure than Kucinich's resolution, which will also go up for a vote on Friday but is not expected to pass. The resolution, which was gathering steam earlier this week, would condemn the president's actions in Libya as illegal under the 1973 War Powers Act. The resolution would demand that the U.S. stop aiding NATO in its mission in Libya within 15 days -- a short timeline that the speaker said could hurt American interests.
During a closed-door meeting Thursday, Boehner told the Republican Conference that voting for Kucinich's resolution could send a bad message to foreign partners, according to sources in the room. Republicans now expect the Kucinich measure to fail -- a shift from Wednesday, when the GOP leadership feared it would pass.
"From the tone of the meeting and other meetings I've been to this week, there was a big change," Howard McKeon, chairman of the House Armed Services Committee told reporters after the meeting. "The speaker has a lot of respect in this room and I think he did an excellent job of selling what his feelings are."
Still, House Republicans said that the GOP should not be seen as aiding the White House by suppressing the Kucinich resolution in favor of a measure by Boehner.
"I guarantee no one in that room is interested in saving face for the White House," McKeon said. "I don't think we should be sending a message to the world that because we're mad at the president that we would take it out on our allies and others."
The Boehner resolution is drastically weaker than resolutions by Kucinich and Republican Rep. Tom Rooney (R-Fla.), both of whom argue President Barack Obama violated the law by acting in Libya without consulting Congress.
Boehner's resolution will ask the White House to deliver its reasoning for intervening in Libya within two weeks, with no set penalty for if the administration does not comply. The key goal is to say the president should consult Congress before taking such an action, McKeon said.
"I think there are other national interests there that they could have told us about," McKeon said, mentioning the possibility of chemical weapons in Libya. "Maybe that's what he can come back with and tell us more importantly, why those are the interest of our national security."
But the bill will not accuse Obama of violating the War Powers Act, as Kucinich and Rooney did. Still, Rooney said he plans to support the Boehner resolution on Friday, although he said he may also vote for the Kucinich resolution.
"The thing that I'm going to weigh with Kucinich is the withdrawal within 15 days and how that will affect our allies, versus me not wanting to be there," he said.
Popular in the Community