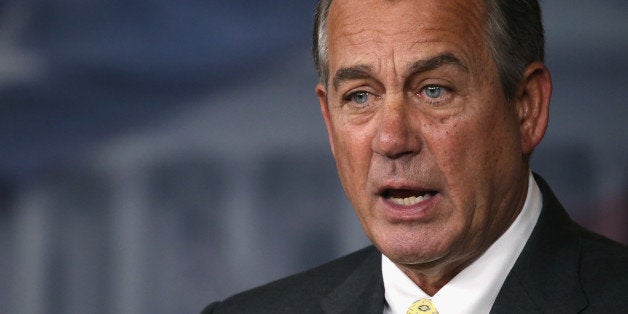 WASHINGTON, April 30 (Reuters) - Republicans in the U.S. House of Representatives passed the first joint House-Senate budget plan in six years on Thursday, a measure that aids the party's goal of dismantling President Barack Obama's signature healthcare reform law this year.
The Republican-authored plan would eliminate deficits by 2024 through deep cuts to social programs while increasing military spending by nearly $40 billion next year.
It passed 226-197 with no Democrats supporting it and 14 Republicans opposing it.
The Republican-controlled Senate is expected to pass the budget plan next week. Because it is a non-binding resolution, Obama does not sign it into law and most of its prescribed cuts are cast aside.
The House quickly pivoted to follow-on spending bills, passing a $76.6 billion measure to fund the Veterans Affairs Department and military construction projects.
But that normally popular bill drew much more opposition from Democrats than in previous years and a veto threat from the White House, which said the measure would fail to provide adequate funding for veterans health care and military facilities.
The White House also said Obama's advisers would recommend he veto any other spending bills based on the Republican budget framework because it keeps "sequester" spending caps in place.
A protracted standoff over spending levels would raise the risk of another government shutdown when the 2016 fiscal year starts Oct. 1, with a debt limit increase needed perhaps a month later.
The Republican budget seeks to slash about $5.3 trillion from domestic spending over 10 years, with deep cuts to programs that serve the poor, education and infrastructure. It contains no tax increases.
"It will not only get Washington's fiscal house in order but pave the way for stronger economic growth, more jobs and more opportunity," Republican Budget Committee Chairman Tom Price said on the House floor.
Democrats criticized its use of an off-budget war funding account to boost military spending next year.
"This agreement uses gimmicks to balance the budget, and does so on the backs of the poor and the middle class and senior citizens," said Representative Bill Pascrell, a New Jersey Democrat.
Passage of the budget gives Republicans a rare opportunity to use a procedural tool that would ease the repeal or replacement of "Obamacare."
This will allow them to pass such legislation with only a simple majority in the Senate, rather than a nearly impossible 60-vote threshold that would require the support of some Democrats. (Editing by Sandra Maler, Eric Walsh and Ken Wills)
Calling all HuffPost superfans!
Sign up for membership to become a founding member and help shape HuffPost's next chapter
BEFORE YOU GO
PHOTO GALLERY
Scenes From 114th Congress And Capitol Hill