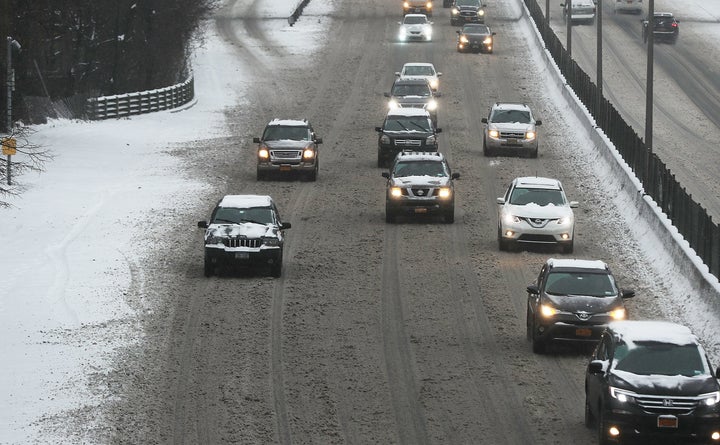 WASHINGTON -- Congress will fall off a fiscal cliff in four days if it fails to come to a consensus on how to fund the nation's transportation infrastructure. 
House Republicans are urging the Senate to take up legislation they passed two weeks ago that would extend the Highway Trust Fund for five months, while the upper chamber continues to push forward with a three-year funding fix.
House Majority Leader Kevin McCarthy (R-Calif.) on Monday warned the Senate not to send over its 1,030-page bill, which would authorize spending levels for six years and pay for three of those years through a variety of offsets.
"We are not taking up the Senate bill," McCarthy said.  
"We are set to depart on Thursday," he added. "We did this three weeks ahead of time ... How do you bring up a more than 1,000-page bill that deals with it and send it to the House on the day of departure?"
McCarthy's comments didn't sit well with Sens. Barbara Boxer (D-Calif.) and Jim Inhofe (R-Okla.), who are leading the push for the longer-term bill. 
"If we have a bill we are sending it," Boxer said on the Senate floor, scoffing audibly at McCarthy's statement. "I just say to my friends from the House, I know you want to get out of town ... But, you know what, we are staying an extra week in August. You can stay an extra week in August. That's not such a terrible thing."
"I'm very disturbed about what the House is doing right now," Inhofe added.
Little time remains, however, for the Senate to take up the House version, which would pay for the Highway Trust Fund until Dec. 18. At that time, Congress would need to pass another short-term funding patch or a long-term bill. 
The ailing Highway Trust Fund has suffered from 33 short-term fixes since 2009, making it harder for states to launch work on needed large-scale transportation projects. The majority of the money for the fund comes from the federal gas tax of 18.4 cents per gallon, which has remained untouched since the early 1990s, failing to account for inflation and increased fuel efficiency in vehicles. 
CORRECTION: This story previously misstated that the House passed its funding measure three weeks ago. The measure was passed two weeks ago.
Calling all HuffPost superfans!
Sign up for membership to become a founding member and help shape HuffPost's next chapter