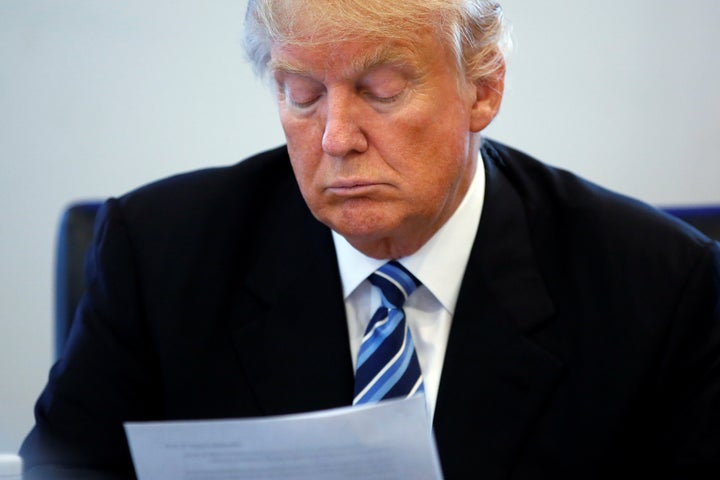 Over and over again Wednesday, The Huffington Post asked House Republicans about the monthslong investigation from Washington Post reporter David Fahrenthold on the Trump Foundation. And over and over again, House Republicans told HuffPost they hadn't heard anything about that.
"Really?!" Rep. Cynthia Lummis (R-Wyo.) asked, when offered a summary of the Trump Foundation's greatest hits. "I didn't know that."
"I can't comment on that because what you told me is all news [to me]," Lummis continued.
For other members, it was the same thing.
"I haven't read it," Rep. Jeff Fortenberry (R-Neb.) said.
"I don't know anything about it," Budget Chairman Tom Price (R-Ga.) offered.
"I've only seen the top line run across my television screen," Rep. David Schweikert (R-Ariz.) said.
"I don't know. I don't know the facts of it," answered Rep. Peter Roskam (R-Ill.), who explained that he supports Trump because "Trump is a wild card, and I'll take a wild card over unworthy anytime."
Of the few members who had heard about the reports, all were basically willing to shrug them off ― either because Hillary Clinton has her own problems with the Clinton Foundation, or because The Washington Post is some sort of Democratic propaganda machine.
"The issues are being raised by Democrats who don't want to talk about the real issues," Trump's first congressional supporter, Rep. Chris Collins (R-N.Y.), said.
When HuffPost countered that these issues had been raised by The Washington Post, Collins answered, "I'm saying what I just said." (Pressed on this point later, Collins said The Washington Post has "an agenda behind them.")
Collins also brought up the Clinton Foundation.
"One thing about Donald Trump, he never used any charities he was involved in to employ his family, as a patronage pit for employing friends and family like the Clinton Foundation has," he said, eventually admitting that Clinton and Trump "both have some issues."
"But frankly, America's focus on trade, Social Security and the other things, and frankly they're not worried that much about either one of them, both of whom have significant issues that the other side will continue to bring up," Collins said.
For Rep. John Fleming (R-La.) ― who also said he didn't know the details of reports on the Trump Foundation ― Trump's problems paled in comparison to Clinton's.
"What the Clintons have done with their so-called charitable organization overshadows anything that anybody else has ever done in history," Fleming said. "Obviously making themselves extremely wealthy, and, really, apparently doing very little."
Fleming continued that the Clinton Foundation was an "obvious pay-to-play interaction with the State Department," and he stated as fact that "half or more people didn't get a meeting unless they wrote a big check" ― even though that claim has been widely dispelled.
Asked if those issues were grounds enough to impeach Clinton if she were to become president, Fleming said he'd "reserve a decision on that."
"I'm sure that Donald Trump's going to win so that won't be necessary," he said.
"Well, we'll see," said Fleming, who is already Congress' chief proponent of impeaching IRS Commissioner John Koskinen.
Popular in the Community