WASHINGTON ― President Donald Trump wants to lock up more undocumented immigrants, highlight the criminals among them and punish local jurisdictions that limit how they help with deportation efforts, and he has hundreds of allies in the U.S. House.
On Thursday, the House approved two bills related to immigration. Kate's Law, which increases penalties for people who reenter the U.S. after being deported or convicted of a crime, passed 257 to 167, with 24 Democrats joining nearly all Republicans in voting yes. The No Sanctuary for Criminals Act, which aims to pressure so-called sanctuary cities into full cooperation with Immigration and Customs Enforcement, passed 228 to 195, with support from most Republicans and three Democrats.
It was a win for Trump, who made public statements of support for the bills and had his attorney general and homeland security secretary do the same, including by meeting with family members of people who had been killed by undocumented immigrants. The bills face a difficult path in the Senate, where Kate's Law failed in 2015, but the fact that they got through the House so easily sends a message: Trump isn't an extremist on immigration; he's in step with the GOP in Congress.
If signed into law, the No Sanctuary for Criminals Act would allow Trump to crack down on sanctuary cities, which he vowed to do in a January executive order. He hit a roadblock, though: Although his administration implied jurisdictions were breaking the law by not fully cooperating with ICE, that wasn't true. As the Justice Department finally acknowledged in May, jurisdictions cannot ban law enforcement from sharing information about immigration status with the federal government, but there's no legal obligation that they detain people without a warrant on ICE's behalf.
Many local officials, including those in law enforcement, argue that "sanctuary" policies are about public safety: They encourage community trust in police and allow them to save resources and funds for going after non-immigration crimes. They also say that detaining people on ICE's request without a warrant can be a legal liability, since multiple courts have ruled that such detentions are unconstitutional.
But the bill that passed Thursday would pressure cities into compliance by adding a rule that prohibits local officials from restricting cooperation with ICE. If localities maintained policies against detaining people on the federal government's request, they would lose access to some grants. They could also be sued if people they released went on to commit other crimes ― even if the release was by court order.
The No Sanctuary bill would also require the federal government to detain people without bond if they were arrested or charged with crimes that resulted in death or serious injury to another person, or if they were convicted of a drunk driving offense.
Kate's Law ― named for Kate Steinle, who was killed in 2015, allegedly by an undocumented immigrant who had previously been deported ― would also likely lead to lengthier detention. Illegally reentering the U.S. after being deported currently can result in a prison sentence of up to two years. Kate's Law would create a 10-year maximum sentence for those removed or denied entry more than twice who cross without authorization or ask for admission at the border. Under the bill, people could be sentenced to up to 25 years if they reentered the U.S. after being convicted of certain crimes, some of them immigration-related. This could lead to a large increase in the federal prison population.
Democrats and human rights advocates warned that the bill could lead to prosecution even of asylum seekers who present themselves at the border ― something that is not currently illegal ― after being previously deported. John Conyers (D-Mich.), ranking member of the House Judiciary Committee, said the offense would also apply to people who request entry because they are seeking protection from sex trafficking or persecution, or those who ask for humanitarian parole to donate organs to relatives who are U.S. citizens.
"My colleagues say this bill is about protecting us from criminals, but don't be fooled about the ultimate effect of this bill," Conyers said on the House floor. "It does far more than target immigrants with criminal histories."
That's not a surprise, given that the Trump administration has gone beyond targeting immigrants with criminal histories for deportations as well. Homeland Security Secretary John Kelly appeared with House Republicans at the Capitol on Thursday and said the bills will help ICE "uphold our nation's immigration laws and help make our communities more safe."
"President Trump has made it clear that our borders are not open to illegal immigration, that we are a nation of laws and we will no longer look the other way," Kelly said. "We will no longer look the other way in the interior, either."
Before You Go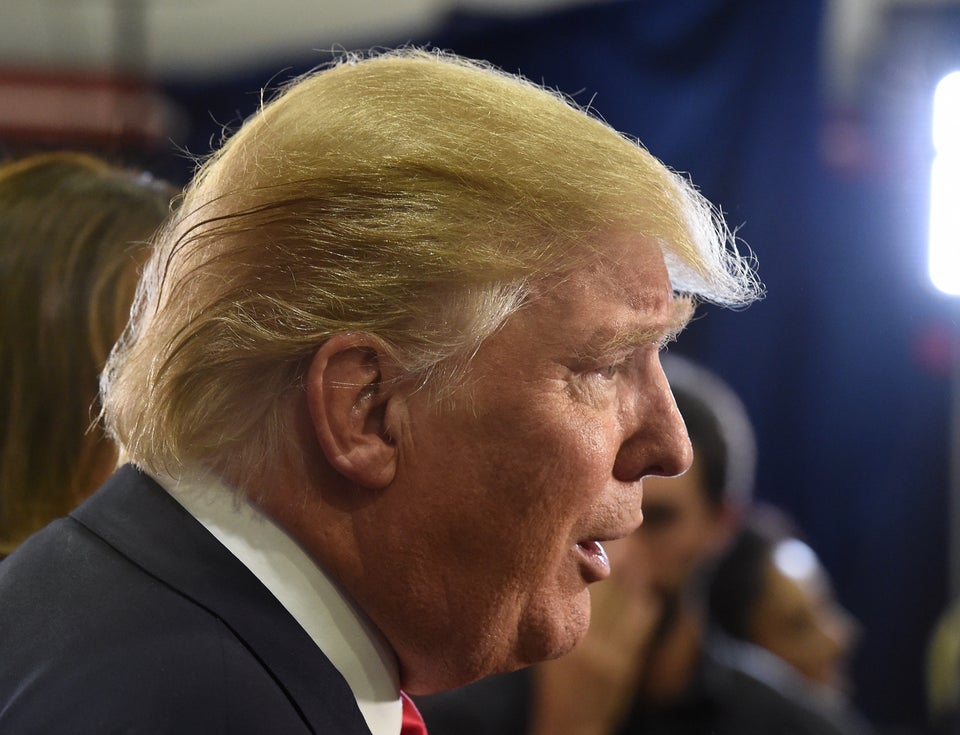 How Donald Trump Talks About Undocumented Immigrants
Popular in the Community