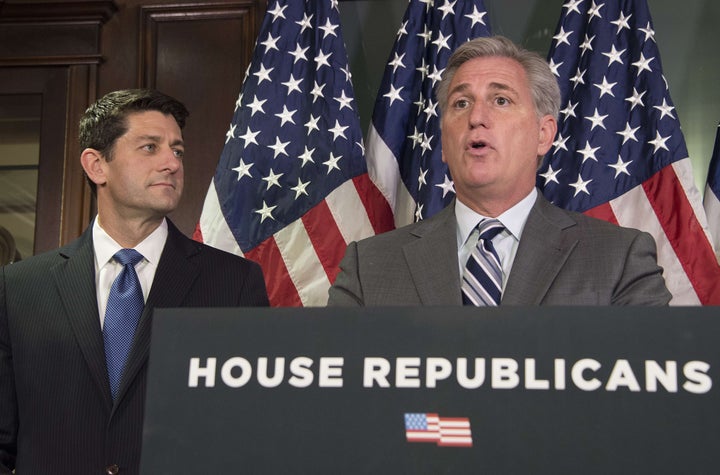 WASHINGTON -- The House will vote next week on a bill to stiffen requirements for some foreign visitors to the U.S., an effort that Majority Leader Kevin McCarthy (R-Calif.) said Thursday should receive heavy bipartisan support.
The bill targets the visa waiver program, which allows citizens of 38 countries to visit the U.S. for up to 90 days without applying for a tourist visa -- a process that allows for some screening, but not as much as other foreigners receive. About 20 million visitors per year enter the U.S. through the program, according to the White House.
"That is obviously a huge vulnerability," said Rep. Candice Miller (R-Mich.), who helped author the bill. Miller, McCarthy and several other committee chairmen announced the bill at a press conference.
The vote will come on the heels of last month's terrorist attacks in Paris, as the alleged ringleader and most of the attackers were citizens of western countries that are part of the visa waiver program.
Under the bill, dual nationals from Syria, Iraq, Sudan and Iran -- and anyone who has traveled to those countries since March 1, 2011  -- would be excluded from the visa waiver program, but could still apply for a visa to visit the U.S.
The bill would also put additional requirements on countries using the visa waiver program. They would be required to share counterterrorism information with the U.S. and report lost and stolen passports to Interpol.
McCarthy said the bill would also require those participating in the visa waiver program to use e-passports, which would allow U.S. authorities to collect more biometric data and information on where the travel documents had been used previously. 
House Minority Leader Nancy Pelosi (D-Calif.) indicated in a separate press conference that Democrats will support the bill. She said Republicans and Democrats agreed to its terms on Wednesday evening. 
"I think it's a good bill and strikes a balance," she said.
The House bill also has support from the U.S. Travel Association, which represents the travel industry. Jonathan Grella, the organization's executive vice president of public affairs, said they have concerns with some aspects of the Feinstein-Flake bill, but that they think the House bill was a "thoughtful, balanced approach."
"Without security there can be no travel, and travelers need to have the confidence to fly for our industry to thrive," he said told The Huffington Post. "Strengthening the program is not considered a loss so long as we don't do things that undermine the program."
White House press secretary Josh Earnest said at a press briefing later Thursday that the bill "would make some positive reforms" to the visa waiver program and that they are "encouraged" about its bipartisan support.
"This has been the subject of ongoing conversation between administration officials and leaders on Capitol Hill and we're pleased to see that those talks ... have yielded a piece of legislation that would actually make the country safer," he said.
The White House opposed the House's last effort to respond to the Paris terrorist attacks, a bill that would make it harder for the government to approve Syrian and Iraqi refugees. That bill passed with a veto-proof majority and support from 47 Democratic votes and a veto-proof majority. 
Since the Paris attacks the White House and many Democrats have argued that the visa waiver program leaves the U.S. more vulnerable to a terrorist attack than accepting Syrian refugees.
The Obama administration announced plans on Monday to strengthen the screening system, including by tracking more information about whether would-be visa waiver program travelers had previously visited countries that have a terrorist presence.
Sens. Dianne Feinstein (D-Calif.) and Jeff Flake (R-Ariz.) also introduced a visa waiver program bill earlier this week. It too would require visa waiver participants to have e-passports, and would block recent visitors to Syria and Iraq from participating in the program. 
House Homeland Security Committee Chairman Michael McCaul (R-Texas) said that the bill proposed Thursday would get a vote next Tuesday, but leaders did not clarify whether it would be added to other legislation. McCarthy did not rule out inserting the bill in a spending measure that needs to pass by Dec. 11, which could also include provisions on Syrian refugees.
McCarthy said he was not concerned about the potential economic impact of the visa waiver program bill, though it could make it harder for some tourists to visit the U.S.
He said he wants to make sure visitors can still come in to "enjoy the freedoms, to see the attractions that we have" but also "make sure terrorists do not come to the United States."
"I think this bill is the first step in the right direction," he continued.
Update: This post has been updated to include comment from the White House and the U.S. Travel Association.
Calling all HuffPost superfans!
Sign up for membership to become a founding member and help shape HuffPost's next chapter