 At a March 26 hearing of the U.S. House Committee on Science, Space, and Technology, Republican congressmen took turns attacking President Obama's top science advisor, John Holdren. On climate change, their statements became increasingly heated, accusatory, and bizarre.
Southern California conservative Rep. Dana Rohrabacher (R-Calif.) challenged Holdren on the fact that about 97 percent of the world's practicing climate scientists agree that human activity is responsible for climate change. "Why can't anybody admit that you've got a group of people putting out a bogus figure here?" he charged.
Rep. Bill Posey (R-Fla.) noted that the earth had warmed in between ice ages, without any people around. So how could humans be blamed for the current warming?
"Just because we're alive now," he reasoned, "the tectonic plate shifts aren't gonna stop, the hurricanes [and] tsunamis aren't gonna stop, the asteroid strikes aren't gonna stop."
Finally, Rep. Randy Weber (R-Texas), an air-conditioning company founder from Pearland, Texas, noted to Holdren, a climate scientist and MacArthur "Genius Grant" recipient, that "I may want to get your cell phone, because if we go through cycles of global warming and then back to global cooling, I need to know when to buy my long coat on sale."
Soon after, a Scientific American headline concluded that the committee was becoming "a national embarrassment."
Since Rep. Lamar Smith (R-Texas) took over as chairman of the House Science Committee in the beginning of 2013, the GOP majority has been waging a war. Its enemies list is long: The Environmental Protection Agency. The National Science Foundation. Rules that prevent industries from polluting the air and groundwater. Climate scientists studying the effects of a warming planet. The very notion of non-politicized, peer-reviewed scientific inquiry.
For years, the House Science Committee was a quiet congressional backwater. Typically, its most contentious battles were over the future of American space exploration.
Smith has changed that. The traditionally collegial committee has been pursuing a more aggressive and party-driven agenda –- one that's closely aligned with the GOP's relentless promotion of the fossil-fuel industry. Though critics say Smith's campaign has been scattershot and at least somewhat dysfunctional, they're alarmed about what could result from the various bills he's pushed over the last 18 months.
Stocked with corporate-trained lobbyists in key staff positions, the committee's majority has repeatedly attacked the EPA from several different vantage points. The committee participated in the congressional GOP's efforts to block or limit virtually all regulations on coal, oil and natural gas facilities – including a reinvigorated effort to delegitimize and ultimately scrap the most important existing such laws like the Clean Air Act by tarnishing seminal studies conducted by researchers with Harvard University and the American Cancer Society. After encountering resistance to that effort, committee Republicans went much further by pushing a bill that would disallow the EPA from using any confidential data or information – a measure seemingly designed to completely disrupt its ability to protect the public.
The GOP majority likewise has taken the lead in efforts to place tight reins on the National Science Foundation by attempting to exert political control over federally funded scientific research, an effort that has science advocates up in arms.
Through the "EPA Science Advisory Board Reform Act," the committee's majority is trying to alter the way the EPA selects and uses its internal Science Advisory Boards, which are meant to provide independent review of the science conducted by the agency. One of the bill's main consequences, a committee Democrat concluded, would be to ensure "an overrepresentation of industry voices" on the panels.
And at every turn, GOP committee members have been working to deny the reality of global warming –- not surprising, given that at least 20 of the committee's 22 Republicans are either skeptics or outright deniers of the notion that the world's climate is steadily warming and that human activity is playing a significant role.
(Smith does have a penchant for at least one branch of science. Late last year, he hosted a hearing that investigated the possibility of life in outer space entitled "Astrobiology: Search for Biosignatures in our Solar System and Beyond.")
The majority of Smith's attacks on science use the language of scientific ethics. He recently told the San Antonio Express-News that he employs the gavel to "make sure that the president's policies are based upon good science – not science fiction." Smith used the same "science fiction" line in a February email interview about his campaign against what he has dubbed "secret science." He noted, for example, that "[r]equiring transparency is a basic tenet of good government."
Yet critics –- and there are many –- take fundamental issue with Smith's notion of good government.
The pushback from the committee's top-ranking Democratic, Rep. Eddie Bernice Johnson (D-Texas), has been unusually impassioned, even in this hyper-partisan –- and on the Republican side, extreme –- era in the House. In an email interview, she said she's noticed a shift even further to the right under Smith, even though he took over from the conservative former GOP chairman, Rep. Ralph Hall (R-Texas). Six of the 22 Republicans on the committee hail from the Lone Star State –- more than one in four.
After Republicans took control in 2011, "the Committee became more partisan and more focused on issues that appeal to the conservative base rather than on the research, technology advancement, and education issues that were the primary focus areas during the four years Democrats controlled the Committee," Johnson said. "Unfortunately, that change has become even more pronounced in the last year. In particular, the steady drumbeat of attacks against the EPA's efforts to protect public health and the environment have become louder and louder over this time."
During an April 28 speech before the National Academy of Sciences, EPA Administrator Gina McCarthy said she believed that by vilifying the work of reputable scientists and the EPA, critics of the agency are "looking to cloud the science with uncertainty – to keep EPA from doing the very job that Congress gave us to do."
Said McCarthy: "You can't just claim the science isn't real when it doesn't align well with your political or financial interests"
When the Republican Party rode the Tea Party wave in 2010 to retake control of the House of Representatives, Rep. Ralph Hall (R-Texas), the oldest member of the House at 86, became the new head of the House Committee on Science and Technology. Only two years later, the elderly Hall passed the chairman's gavel to fellow Texan Smith, the former chair of the House Judiciary Committee who helped found the House Tea Party Caucus. Smith won the chair after a brief but public battle with other senior Republican members of the committee, including Rep. Jim Sensenbrenner (R-Wis.), a former Science Committee chairman, and Rohrabacher of California, the bombastic global-warming denier who has sat on the Science Committee since entering Congress in 1989. (Rohrabacher was also an also-ran against Hall.)
Smith's previous stint as Judiciary chair was ill-starred, as the long-serving congressman with a reputation as a moderate, corporate-friendly politician became embroiled in the catastrophic collapse of the Stop Online Piracy Act, the bipartisan intellectual-property legislation that led Google, Wikipedia, Reddit, and hundreds of other key Internet players to turn their sites black in protest.
Despite that misstep, there were expectations around Capitol Hill that Smith, whose district includes small pieces of San Antonio and Austin and big parts of Texas Hill Country, would bring an intelligent, sober, and competent –- albeit partisan –- hand to the Science Committee.
Those expectations have been shattered, say numerous lobbyists and committee staffers on both sides of the aisle, most of whom have asked not to be identified by name. The most frequent sentiment, more than dismay or anger, was bafflement, as if their teetotaling, bachelor uncle showed up for Christmas dinner drunk and accompanied by a mail-order bride.
"The Science Committee is totally dysfunctional," a scientific society lobbyist said on background during a legislative markup in the committee's formal hearing room. He complained not just of partisanship, but of a lack of competence among the majority staff. A frequent sentiment expressed to me in interviews was exasperation with hasty scheduling, slip-shod legislative drafts, and haphazard research. "They're too dumb to be evil," one Democratic staffer told me in his representative's cramped office.
This internal chaos is a consequence of Smith's work to establish his imprint on the committee. Over 2013, with Smith's chief deputy for the science committee, GOP policy director Chris Shank, managing the process, most of the existing Republican staffers left –- some amicably, others considerably less so. Of the 37 staffers on the Republican side under Hall, at least 27 have gone since Smith took over.
Despite Smith's professed commitment to transparency, this staff shuffle had to be pieced together from a combination of public records and interviews. Under Hall, the full staff listing was published on the committee website. All links to those pages were removed when Smith became chair.
The stonewalling of the public is no problem for those within many of Washington's already-powerful fossil fuel industry lobby shops -- they can just call on former colleagues now working on the committee.
Examples of the revolving door abound: former chief counsel Margaret Caravelli had joined the committee from the National Petrochemical and Refiners Association; she is now on the Senate Environment and Public Works Committee staff. Dan Byers, the Energy and Environment Subcommittee staff director, went to the U.S. Chamber of Commerce's Institute for 21st Century Energy Institute, its fossil-industry lobbying wing. Before Smith became committee chair, Environment Subcommittee staffer Clinton Woods came from the energy task force of the conservative American Legislative Exchange Council, where he helped the American Gas Association draft a report on "EPA's hostility to fossil fuels."
The committee's majority is now also home to a new generation of lobbyists for the fossil fuel industry. After the Energy and Environment subcommittee was split into two, it gained two new staff directors, Stephen Sayle for Energy and Allyne Todd Johnston for Environment. Given their backgrounds, the subcommittees could more appropriately be named Fracking and Coal.
Sayle is a prominent fossil-industry lobbyist who got his start with Rep. Joe Barton (R-Texas). In the 1990s, he was the chief counsel for Barton's investigations into EPA fine particle air quality rules. While a top lobbyist at the Dutko and Dow Lohnes lobbying shops, Sayle's clients included a cavalcade of oil, gas, and coal companies and front groups: Duke Energy, Cinergy, Chevron, Iroquois Gas, National Grid, Calpine, ITC, Tenaska, PSEG, Tesoro, the American Chemical Council, the National Petrochemical and Refiners Association, and the Electric Power Supply Association. (Sayle also represented the Environmental Working Group, an environmental health research and advocacy group, on toxic-chemical regulation in 2010.) Sayle was one of The Hill's top lobbyists of 2012 for his "background on the House Energy and Commerce Committee."
Sayle's return to the committee is somewhat surprising –- the energy subcommittee primarily has jurisdiction over the Department of Energy science labs, which focus on nuclear research, advanced biofuels, battery technology, and climate research -– not well aligned with Sayle's focus on natural-gas and petrochemical lobbying.
However, the explosive growth of fracking in the nation in the past decade has raised serious new scientific questions about the risks and benefits of this formerly obscure method of extracting natural gas. How the federal government responds to scientific evidence of fracking's threat to water supplies and our climate is a multi-billion-dollar question. That Republicans would add a fracking lobbyist to the House Science Committee is hardly surprising: Obama's new Secretary of Energy is Ernest Moniz, a natural-gas-industry-funded scientist expected to steer the agency towards supporting oil and gas development.
Johnston came to the House Science Committee in 2013 from the staff of Sen. Jim Inhofe (R-Okla.), where he was the chief climate policy advisor for the senator, a climate-science conspiracy theorist. Prior to that, Johnston was the Director of Air Quality for the coal industry's primary trade group, the National Mining Association, from 2005 to 2007. During his tenure, he worked as a representative of the "Coarse Particle Coalition," a group of gravel, cement and minerals groups that aimed to block scientifically backed soot standards during the George W. Bush administration.
Johnston then joined Sen. George Voinovich's (R-Ohio) staff, drafting climate legislation in 2007 that supported a continued increase in greenhouse pollution and massive subsidies for the coal industry. In 2011 he moved to Inhofe's staff, replacing Tom Hassenboehler when that operative moved over to America's Natural Gas Alliance.
Johnston and Sayle declined comment for this story. According to committee Republican press aide Zachary Kurz, the committee has a policy of not making staffers available for public comment.
Environmentalists say industry groups are taking advantage of the key staff placements to help drive their plans.
"Industrial polluters are using the back rooms of Congress in this traditionally sleepy committee to assert an extreme corporate agenda," clean-air advocate John Walke of the Natural Resources Defense Council argued in a telephone interview. "If you connect the dots, the agenda is to systematically bias the system, whether by weakening conflict of interest standards when corporations serve on scientific advisory bodies or thwarting regulations that address industrial pollution."
The ties between the committee's Republicans and oil, gas and coal groups run deeper than staffing, of course. Press accounts in recent years have noted that fossil fuel interests have donated large amounts to Republicans on the House Science Committee.
Smith has received at least $10,000 from the Kochs, and a whopping $550,000 from the oil and gas industries over the course of his career, for example. Rohrabacher has received $189,444 in campaign contributions from the energy industry, including $91,294 from the oil and gas industry, over his career. And according to data from the Center for Responsive Politics, Weber has received $10,000 from Koch Industries and another $45,000 from the energy sector in campaign contributions, the vast majority -– $39,000 –- coming from oil and gas.
The Republicans have "been unabashed in attacking anyone who points out the negative effects of fossil fuel development," Eddie Bernice Johnson said in an interview. "It has been obvious since the first day of the 112th Congress that the oil and gas and coal industries have an outsized influence over the Republican agenda."
In our February interview, Smith took umbrage at the assertion that he or his GOP colleagues are beholden to corporate interests, or that the panel's majority is somehow anti-science.
"The Committee conducts objective oversight and should not be influenced by either environmental or energy lobbyists," said Smith. "My goal as Chairman is to promote the discovery of science, exploration of space and development of new technologies. This will increase our nation's productivity, improve Americans' standard of living and create new jobs."
Since taking over as committee chairman, Smith gained the most attention after he subpoenaed the EPA on Aug.1 of last year for data collected from air pollution studies from the 1970s. He argued that the data from the seminal Harvard Six Cities Study and another sponsored by the American Cancer Society, known as the Cancer Prevention Study II, need to be made public so that it can be analyzed again, because of the costs associated with the regulations the studies have helped spur.
Smith tried to preemptively justify his move in a Wall Street Journal op-ed a few days before the committee issued the subpoena, headlined "The EPA's Game of Secret Science."
"Virtually every major EPA air-quality regulation under President Obama has been justified by citing two sets of decades-old data from the Harvard Six Cities Study and the American Cancer Society's Cancer Prevention Study II," wrote Smith in the July 29, 2013 column.
Yet despite two years worth of letters to EPA administrators, Smith said, President Obama and the EPA were "unwilling" to reveal the underlying personal health data the studies used to justify a multibillion-dollar regulatory agenda. "The federal government has no business justifying regulations with secret information," he wrote.
Reactions from the committee's Democrats was impassioned. "You are abusing Congressional power to harass the EPA administrator. You are undermining our legitimate scientific research enterprise. You are violating the trust that hundreds of thousands of research volunteers placed in our country's premier research institutions," wrote Johnson in an Aug. 6 letter to Smith. "And for what purpose? To provide human health data to tobacco industry consultants? If you continue on this path, you will cause irreparable harm to our Committee and our country."
Smith's campaign against the EPA's "secret science" has involved multiple hearings, the first subpoenas issued by the Science Committee in living memory, and draft legislation that could shut down the agency.
Smith is challenging the process by which the United States government acts to protect the health of its citizens from industrial pollution, calling into question the consensus position of the nation's scientific and medical establishment on the risks of smog, soot, and greenhouse pollution. If he's right, then the era of clean-air regulation that began with the enactment of the Clean Air Act in 1970 has relied on scientific fraud and misconduct on an epic scale.
To gauge the validity of Smith's assertions, it's imperative to look at the decade the world kindled to the idea that its air was dirty: the 1950s.
Sometime during Dwight Eisenhower's second presidential term, a medical student named Frank Speizer pulled up to a stoplight in Los Angeles in his state-issued automobile, emblazoned with a California health agency logo. A pedestrian knocked on his window.
"When are you going to stop air pollution?" the man asked.
The 1950s was the decade of a global awakening about air pollution. In 1952, the Great Smog of London, a pea-soup miasma of polluted air, sickened more than 100,000 people in five days. Medical researchers found that coal and vehicular pollution had caused somewhere between 4,000 and 12,000 deaths in the city. In response, England passed the Clean Air Acts of 1956 and 1958.
Meanwhile, the post-war economic boom in the United States was adding millions of cars to the hundreds of thousands of miles of new freeways and highways. Factories and coal-fired power plants were bringing economic prosperity but also dumping waste products into the nation's water and air with catastrophic consequences.
Speizer started working on air pollution-related cases in 1958, while treating pulmonary function ailments in veterans in Los Angeles. He would go to hospital wards and see patients dying of respiratory diseases. He saw it as his responsibility not only to offer them treatment, but also find out why these people weren't part of the population that was aging healthily.
As Speizer told me in his cozy Harvard School of Public Health office, "I'm a doctor and that's my job -– to take care of people and find out why they get sick."
Over the next fifty years, Speizer would become one of the most influential epidemiologists in the world. He is renowned not only for his work on air pollution but also for founding the Nurses' Health Study, the landmark study that uncovered the risks of cigarettes and oral contraceptives to women's health. His research, combined with that of thousands of other doctors and scientists, has since prevented the suffering and untimely death of millions.
In the late 1950s, smoggy air blanketed Los Angeles. "Our air pollution test was checking if you can see the mountains, which turns out to be a pretty good measure of fine particulate pollution actually."
Speizer's work joined a growing body of evidence showing that coal-fired power plants, factories, and vehicles produced pollution that harmed public health.
It was another decade before the United States was to pass the Clean Air of 1970, which established guidelines for the new U.S. Environmental Protection Agency to develop scientifically grounded air pollution limits. A year later, in 1971, EPA administrator William Ruckelshaus announced the first national standards for sulfur oxides, particulate matter (soot), carbon monoxide, photochemical oxidants, nitrogen oxides and hydrocarbons to protect vulnerable Americans.
Ruckelshaus cautioned the standards he established would likely be found wanting, because they reflected "the outer limits of our capability to measure connections between levels of pollution and effects on man."
In 1973, a blue-ribbon commission of the National Institute of Environmental Health Sciences called for research into the health impacts of the nation's expected switch from oil to coal in the wake of the Arab oil embargo.
Speizer, by then a Harvard School of Public Health researcher, joined pediatrician Benjamin Ferris to propose to the health sciences agency an ambitious, long-term study comparing the impacts of air pollution in six different American cities. Ferris had done groundbreaking work exposing the deadly impact of the sulfur dioxide emissions of a wood pulp mill in Berlin, New Hampshire, on the health of its residents. (Ferris had initially wanted to study the health impacts on the factory's workers, but the mill owners refused him access, so he studied the entire community instead.)
It's unlikely Speizer and Ferris had any idea of the impact their study would generate – or the blowback from an emerging national right-wing power structure and its corporate backers.
The Harvard Six Cities study, as it became known, involved 8,111 participants ages 25 to 74 in six U.S. cities (St. Louis; Topeka, Kansas; Watertown, Mass.; Harriman, Tenn.; Steubenville, Ohio; and Portage, Wisc.) who filled out a detailed medical questionnaire and also underwent a test of their lung vitals. Follow-up questionnaires were sent every year. With parental consent, groups of school-age children were examined in a similar way. The study was funded in part by the health sciences agency, which is a part of the National Institutes of Health, the EPA, and the Electric Power Research Institute, a utility-industry think tank.
Within a dozen years, the Harvard Six Cities researchers found that life expectancy was two years shorter in the dirtiest city than the cleanest, with a linear relationship found between air pollution and mortality in all six cities. They published these results in 1993 in the New England Journal of Medicine.
"After adjusting for smoking and other risk factors, we observed statistically significant and robust associations between air pollution and mortality," the researchers wrote, adding their findings to the "large and growing body of literature that documents the adverse health effects associated with particulate air pollution."
The industries that produced the pollution in question quickly struck back. Researchers funded by the Electric Power Research Institute, the American Iron and Steel Institute and American Petroleum Institute immediately demanded access to the medical data for their own re-analysis; using different methodologies, they found little-to-no connection between particulate air pollution and public health. (These same researchers have done work paid for by the asbestos industry questioning the danger of asbestos, and the liquor industry questioning the health risks of alcohol.)
At the time, other long-term medical "cohort" studies –- surveys about the histories of specific population segments -– were already underway, which could be examined independently for the effects of air-pollution on cardiopulmonary disease and mortality. The most comprehensive of these studies, which remains the most thorough, was conducted by the American Cancer Society, starting in 1982.
The study includes confidential questionnaires for about 1.2 million Americans in all 50 states, the District of Columbia, and Puerto Rico, including personal and family medical histories, menstrual and reproductive histories, drug use and dietary habits. The cancer society has collected blood and tissue samples from over half of its survey group, and has also collected mortality and cause of death information for the 491,188 deaths that have occurred between 1982 and 2006 among the participants.
Brigham Young University researcher Arden Pope independently confirmed the Harvard Six Studies findings in 1995, by comparing EPA air pollution data for 151 U.S. cities against the ACS study's medical records. "Increased mortality is associated with sulfate and fine particulate air pollution at levels commonly found in U.S. cities," Pope and his co-authors wrote in the American Journal of Respiratory Critical Care Medicine.
Smith's claim that the EPA air-quality rules are justified solely on these two landmark studies is false. Other researchers from the Health Effects Institute -– an independent research institution jointly funded by EPA and the automotive industry in the 1980s to resolve similar disputes about diesel pollution -– conducted re-analyses of the results in multiple studies, also confirming the Harvard Six Cities findings. Over the following twenty years, there have since been further reanalyses and confirmations of these studies conducted by the health effects group and other institutions.
Meanwhile, laboratory research found cardiovascular effects in animals from inhaled pollutants. Now, the evidence supporting new limits on soot pollution included not only a broad array of epidemiological work but medical proof of how inhaled soot damaged the lungs, heart, and circulatory system.
The toll on American lives was enormous.
"The city-by-city analysis estimates that approximately 64,000 people may die prematurely from heart and lung disease each year due to particulate air pollution. Lives are not just being shortened by days or weeks, but by an average of 1 to 2 years in the most polluted areas," Deborah Shprentz wrote in report by the Natural Resources Defense Council, published in May 1996.
Finally, the EPA during the Clinton Administration began moving toward establishing limits on sulfur dioxide and fine-particulate pollution based on this research.
It was then that the Koch brothers joined the fray.
This story was supported by The American Independent Institute. It is the first in a three-part series.
Before You Go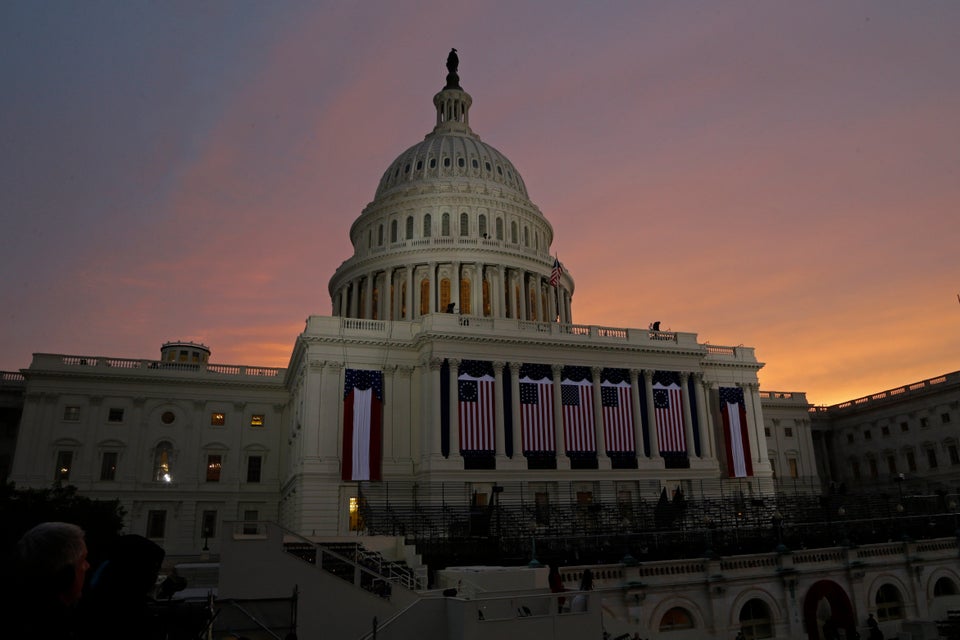 U.S. Capitol Photos
Popular in the Community