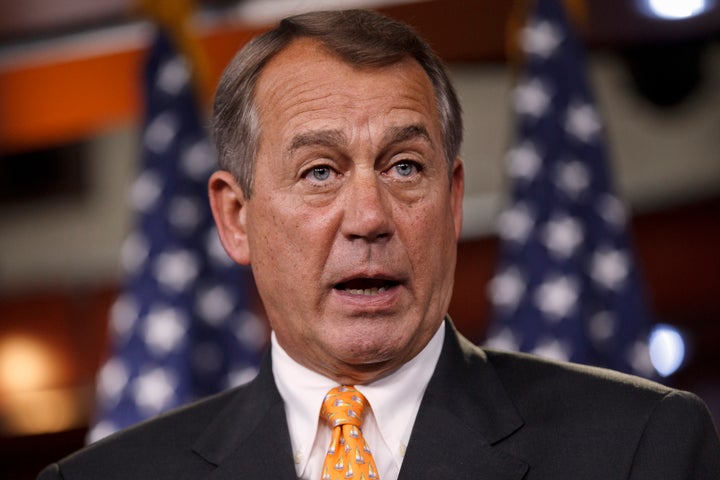 WASHINGTON -- Congressional Democrats on Monday took another shot at persuading House Speaker John Boehner (R-Ohio) into dropping his legal support for the Defense of Marriage Act, the federal law that bans same-sex marriage. It appears the effort will have little effect, however.
Six House Democrats sent Boehner a letter highlighting a Feb. 22 federal court decision that declared the Defense of Marriage Act unconstitutional. That, along with similar rulings, should be enough proof that Boehner should join their fight to repeal the law instead of defending it in court, the Democrats said. Boehner stepped in to defend the law in court on behalf of the federal government in March 2011, just after Attorney General Eric Holder deemed it unconstitutional and stopped defending it.
"We write to bring your attention to another court decision declaring Section 3 of the 'Defense of Marriage Act' (DOMA) unconstitutional and to again urge you to work with us to repeal this harmful law rather than prolonging it through litigation," reads the letter from Reps. Jerrold Nadler (N.Y.), Barney Frank (Mass.), Tammy Baldwin (Wisc.), Jared Polis (Colo.), David Cicilline (R.I.) and John Conyers (Mich.). All are lead sponsors of the Respect for Marriage Act, which would repeal the Defense of Marriage Act.
"There simply is no legitimate federal interest served by denying married same-sex couples the federal responsibilities and rights that other married couples receive, and the harm caused to these families is unjustifiable. Two federal courts have agreed, and it is no longer credible to claim that the law is not constitutionally suspect," the representatives wrote.
But Boehner spokesman Michael Steel squashed any chance that the Speaker would relent.
"Washington Democrats had two years of unified control over the House, the Senate, and the White House to overturn the Defense of Marriage Act," Steel told The Huffington Post. "They chose not to try. We will continue to respect the law, which passed both Houses of Congress with bipartisan support and was signed into law by President Bill Clinton."
Steel's comments may not be surprising, but they are noteworthy given that the Speaker has been silent on the topic for months -- and his office has regularly declined to comment on the issue when asked.
"If the Republican leadership is willing to authorize $1.5 million in taxpayer funds to defend this harmful law, and if counsel continues to purport to represent the House as an institution, then all members are clients and, as such, are entitled to such a briefing," they wrote.
Calling all HuffPost superfans!
Sign up for membership to become a founding member and help shape HuffPost's next chapter