WASHINGTON -- Forty-seven House Democrats broke with the White House on Thursday to vote for a bill aimed at pausing admittance of Syrian and Iraqi refugees by adding requirements to an already lengthy screening process, and putting pressure on intelligence, law enforcement and homeland security officials to act with caution.
The Obama administration threatened a veto on Wednesday evening. But a number of Democrats peeled off anyway, under significant pressure from constituents to act after terrorist attacks in Paris last week. The bill passed 289-137 -- with enough support to override a veto, should there be one.
Some Democrats said the legislation simply wasn't as bad as the administration made it out to be, even after a briefing earlier in the day with White House Chief of Staff Denis McDonough and Secretary of Homeland Security Jeh Johnson.
"It isn't what it was characterized as, so why would we oppose that?" Rep. Gerry Connolly (D-Va.). He voted for the bill Thursday.
They also expressed frustration that the White House hadn't better explained the refugee vetting process, which many agreed is already extensive, with voters and politicians.
"I've seen better presentations in my time here," Rep. Steve Israel (D-N.Y.), who voted with Republicans Thursday, told reporters. "They may have strong arguments on their side, but they're not expressing those strong arguments sufficiently."
An aide in the room said Rep. Sean Patrick Maloney (D-N.Y.), who also voted for the bill Thursday, was particularly outspoken in asking for a better explanation from administration officials on why he should oppose the bill.
"A lot of us went in with open minds and really wanted to understand administration's position on this," Maloney told reporters afterward. "But if you read the bill, you have a pretty simple certification process sitting on top of an existing and extensive screening process. Some of us just don't understand why you can't verify that and you can't do it fast."
The vote was on the first of what will likely be several pieces of legislation in response to last week's terrorist attacks in France. The House decided to initially take aim at the refugee resettlement program, based on the argument that terrorists might try their luck at getting to the U.S. through that cumbersome, typically 18- to 24-month process rather than coming to the country through other methods.
The Obama administration said the House bill would "unacceptably hamper our efforts to assist some of the most vulnerable people in the world."
It may already be the end of the road for the bill. Never mind the veto threat; Senate Minority Leader Harry Reid (D-Nev.) told reporters that the bill "won't get passed" in the upper chamber. Senators are expected to leave town as soon as Thursday afternoon for a week and a half, and by the time they come back, the frantic push to block Syrian refugees may have eased.
"The initial reaction was overreaction," a senior Senate Democratic aide said, "and cooler heads will probably prevail when Congress reconvenes after Thanksgiving."
Sen. John Thune (R-S.D.), the third-ranking GOP senator, told reporters on Wednesday evening that the chamber would be unlikely to vote on anything before the Thanksgiving break.
Some senators have proposed focusing on limiting the visa waiver program instead, which currently allows people from certain countries to come to the U.S. without a visa. A bill set to be introduced by Sens. Jeff Flake (R-Ariz.) and Dianne Feinstein (D-Calif.) would block anyone who has visited Iraq or Syria in the past five years from entering the U.S. without a visa through that program. Most of the Paris attackers, including the Belgian national who allegedly planned them, were citizens of visa waiver countries.
Other senators are pushing measures that do target refugee resettlement -- including one from GOP presidential candidate and Texas Sen. Ted Cruz that would block nearly all refugees from countries with a heavy terrorist presence.
Obama has been heavily critical of efforts to limit refugee resettlement, although he and other administration officials said they are open to ideas to strengthen the screening process. He has said he remains committed to his previous plan to admit 10,000 Syrians in the 2016 fiscal year, as long as they go through the screening process.
He said the rhetoric coming from Republicans -- and some Democrats -- would only hurt the country's security.
"I cannot think of a more potent recruitment tool for ISIL than some of the rhetoric that's been coming out of here during the course of this debate," Obama said Tuesday.
Laura Barron-Lopez and Jennifer Bendery contributed reporting.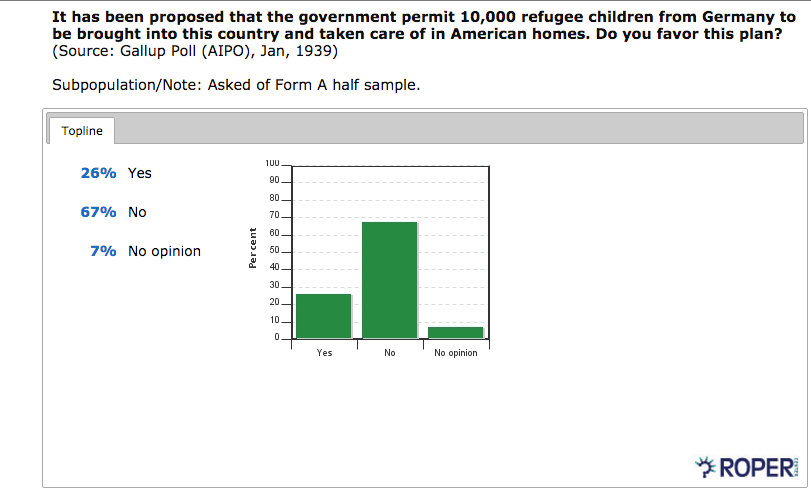 Public Opinion On Refugees Since The 20th Century
Popular in the Community